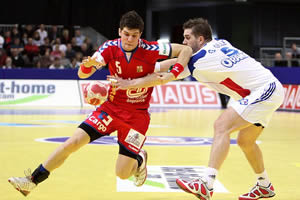 See a complete list of World Men's Handball Champions. Denmark defeated France 34-29 to win the 2023 Championships. This was their third championship title.
Fast Facts:
The next World Championships will take place January, 2025 in Croatia, Denmark and Norway
France has won the most Men's World Handball titles with six victories.
Qatar is the first country that is not from Europe to medal. They lost to France in the 2015 finals.
The first World Championship organized by the International Handball Federation took place in Germany in 1938 involving four teams from Europe.
European teams have dominated the championships.
World Men's Handball Champions:
| | | | |
| --- | --- | --- | --- |
| Year | Winner | Score | Runner Up |
| 2023 | Denmark | 34-29 | France |
| 2021 | Denmark | 26-24 | Sweden |
| 2019 | Denmark | 31-22 | Norway |
| 2017 | France | 33-26 | Norway |
| 2015 | France | 25-22 | Qatar |
| 2013 | Spain | 35-19 | Denmark |
| 2011 | France | 37-35 | Denmark |
| 2009 | France | 24-19 | Croatia |
| 2007 | Germany | 29-24 | Poland |
| 2005 | Spain | 40-34 | Croatia |
| 2003 | Croatia | 34-31 | Germany |
| 2001 | France | 28-25 after extra time | Sweden |
| 1999 | Sweden | 25-24 | Russia |
| 1997 | Russia | 23-21 | Sweden |
| 1995 | France | 23-19 | Croatia |
| 1993 | Russia | 28-19 | France |
| 1990 | Sweden | 27-23 | Soviet Union |
| 1986 | Yugoslavia | 24-22 | Hungary |
| 1982 | Soviet Union | 30-27 after extra time | Yugoslavia |
| 1978 | West Germany | 20-19 | Soviet Union |
| 1974 | Romania | 14-12 | East Germany |
| 1970 | Romania | 13-12 after second extra time | East Germany |
| 1967 | Czechoslovakia | 14-11 | Denmark |
| 1964 | Romania | 25-22 | Sweden |
| 1961 | Romania | 9-8 after second extra time | Czechoslovakia |
| 1958 | Sweden | 22-12 | Czechoslovakia |
| 1954 | Sweden | 17-14 | West Germany |
| 1938 | Germany | no final | Austria |