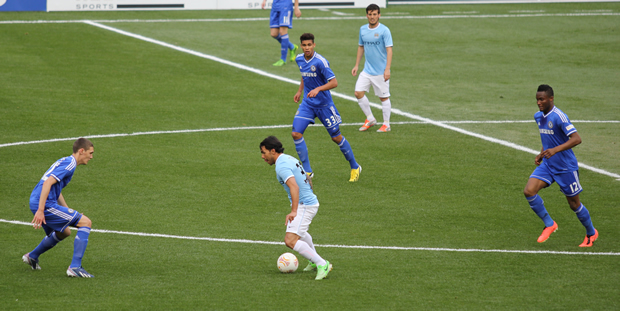 See a complete list of Premier League Champions. Manchester City is the 2022/23 English Football Champions. This was their ninth championship title. Manchester United is the most decorated team in English Football League with twenty Championship titles.
Fast Facts:
The English football champions are the winners of the highest league in English football, which is currently the Premier League.
The first ball kicked in the Premier League was on August 15, 1992.
Seasons run from August to May, with teams playing 38 matches each, totaling 380 matches in the season.
The Premier League is currently sponsored by Barclays Bank and therefore officially known as the Barclays Premier League.
The Premier League is one of Football's most watched leagues and the most lucrative in terms of revenue – attracting the top players from all over the world.
The Premier League Champions are:
| | | | | |
| --- | --- | --- | --- | --- |
| Year | Champions (number of titles) | Runners-up | Third Place | Winning Manager |
| 2022–23 | Manchester City (9) | Arsenal | Liverpool | Pep Guardiola |
| 2021–22 | Manchester City (8) | Liverpool | Chelsea | Pep Guardiola |
| 2020–21 | Manchester City (7) | Manchester United | Liverpool | Pep Guardiola |
| 2019–20 | Liverpool (19) | Manchester City | Manchester United | Jürgen Klopp |
| 2018–19 | Manchester City (6) | Liverpool | Chelsea | Pep Guardiola |
| 2017–18 | Manchester City (5) | Manchester United | Tottenham Hotspur | Pep Guardiola |
| 2016–17 | Chelsea (6) | Tottenham Hotspur | Manchester City | Antonio Conte |
| 2015–16 | Leicester City | Arsenal | Tottenham Hotspur | Claudio Ranieri |
| 2014–15 | Chelsea[e] (5) | Manchester City | Arsenal | José Mourinho |
| 2013–14 | Manchester City (4) | Liverpool | Chelsea | Manuel Pellegrini |
| 2012–13 | Manchester United (20) | Manchester City | Chelsea | Alex Ferguson |
| 2011–12 | Manchester City (3) | Manchester United | Arsenal | Roberto Mancini |
| 2010–11 | Manchester United (19) | Chelsea | Manchester City | Alex Ferguson |
| 2009–10 | Chelsea (4) | Manchester United | Arsenal | Carlo Ancelotti |
| 2008–09 | Manchester United (18) | Liverpool | Chelsea | Alex Ferguson |
| 2007–08 | Manchester United (17) | Chelsea | Arsenal | Alex Ferguson |
| 2006–07 | Manchester United (16) | Chelsea | Liverpool | Alex Ferguson |
| 2005–06 | Chelsea (3) | Manchester United | Liverpool | José Mourinho |
| 2004–05 | Chelsea[e] (2) | Arsenal | Manchester United | José Mourinho |
| 2003–04 | Arsenal[a] (13) | Chelsea | Manchester United | Arsène Wenger |
| 2002–03 | Manchester United (15) | Arsenal | Newcastle United | Alex Ferguson |
| 2001–02 | Arsenal (12) | Liverpool | Manchester United | Arsène Wenger |
| 2000–01 | Manchester United (14) | Arsenal | Liverpool | Alex Ferguson |
| 1999–2000 | Manchester United (13) | Arsenal | Leeds United | Alex Ferguson |
| 1998–99 | Manchester United[h] (12) | Arsenal | Chelsea | Alex Ferguson |
| 1997–98 | Arsenal (11) | Manchester United | Liverpool | Arsène Wenger |
| 1996–97 | Manchester United (11) | Newcastle United | Arsenal | Alex Ferguson |
| 1995–96 | Manchester United (10) | Newcastle United | Liverpool | Alex Ferguson |
| 1994–95 | Blackburn Rovers (3) | Manchester United | Nottingham Forest | Kenny Dalglish |
| 1993–94 | Manchester United (9) | Blackburn Rovers | Newcastle United | Alex Ferguson |
| 1992–93 | Manchester United (8) | Aston Villa | Norwich City | Alex Ferguson |
| 1991–92 | Leeds United (3) | Manchester United | Sheffield Wednesday | Howard Wilkinson |
| 1990–91 | Arsenal (10) | Liverpool | Crystal Palace | George Graham |
| 1989–90 | Liverpool (18) | Aston Villa | Tottenham Hotspur | Kenny Dalglish |
| 1988–89 | Arsenal (9) | Liverpool | Nottingham Forest | George Graham |
| 1987–88 | Liverpool (17) | Manchester United | Nottingham Forest | Kenny Dalglish |
| 1986–87 | Everton (9) | Liverpool | Tottenham Hotspur | Howard Kendall |
| 1985–86 | Liverpool (16) | Everton | West Ham United | Kenny Dalglish |
| 1984–85 | Everton[g] (8) | Liverpool | Tottenham Hotspur | Howard Kendall |
| 1983–84 | Liverpool (15) | Southampton | Nottingham Forest | Joe Fagan |
| 1982–83 | Liverpool (14) | Watford | Manchester United | Bob Paisley |
| 1981–82[f] | Liverpool (13) | Ipswich Town | Manchester United | Bob Paisley |
| 1980–81 | Aston Villa (7) | Ipswich Town | Arsenal | Ron Saunders |
| 1979–80 | Liverpool (12) | Manchester United | Ipswich Town | Bob Paisley |
| 1978–79 | Liverpool (11) | Nottingham Forest | West Bromwich Albion | Bob Paisley |
| 1977–78 | Nottingham Forest | Liverpool | Everton | Brian Clough |
| 1976–77 | Liverpool[d] (10) | Manchester City | Ipswich Town | Bob Paisley |
| 1975–76 | Liverpool[c] (9) | Queens Park Rangers | Manchester United | Bob Paisley |
| 1974–75 | Derby County (2) | Liverpool | Ipswich Town | Dave Mackay |
| 1973–74 | Leeds United (2) | Liverpool | Derby County | Don Revie |
| 1972–73 | Liverpool[c] (8) | Arsenal | Leeds United | Bill Shankly |
| 1971–72 | Derby County | Leeds United | Liverpool | Brian Clough |
| 1970–71 | Arsenal (8) | Leeds United | Tottenham Hotspur | Bertie Mee |
| 1969–70 | Everton (7) | Leeds United | Chelsea | Harry Catterick |
| 1968–69 | Leeds United | Liverpool | Everton | Don Revie |
| 1967–68 | Manchester City (2) | Manchester United | Liverpool | Joe Mercer |
| 1966–67 | Manchester United (7) | Nottingham Forest | Tottenham Hotspur | Matt Busby |
| 1965–66 | Liverpool (7) | Leeds United | Burnley | Bill Shankly |
| 1964–65 | Manchester United (6) | Leeds United | Chelsea | Matt Busby |
| 1963–64 | Liverpool (6) | Manchester United | Everton | Bill Shankly |
| 1962–63 | Everton (6) | Tottenham Hotspur | Burnley | Harry Catterick |
| 1961–62 | Ipswich Town | Burnley | Tottenham Hotspur | Alf Ramsey |
| 1960–61 | Tottenham Hotspur (2) | Sheffield Wednesday | Wolverhampton Wanderers | Bill Nicholson |
| 1959–60 | Burnley (2) | Wolverhampton Wanderers | Tottenham Hotspur | Harry Potts |
| 1958–59 | Wolverhampton Wanderers (3) | Manchester United | Arsenal | Stan Cullis |
| 1957–58 | Wolverhampton Wanderers (2) | Preston North End | Tottenham Hotspur | Stan Cullis |
| 1956–57 | Manchester United (5) | Tottenham Hotspur | Preston North End | Matt Busby |
| 1955–56 | Manchester United (4) | Blackpool | Wolverhampton Wanderers | Matt Busby |
| 1954–55 | Chelsea | Wolverhampton Wanderers | Portsmouth | Ted Drake |
| 1953–54 | Wolverhampton Wanderers | West Bromwich Albion | Huddersfield Town | Stan Cullis |
| 1952–53 | Arsenal (7) | Preston North End | Wolverhampton Wanderers | Tom Whittaker |
| 1951–52 | Manchester United (3) | Tottenham Hotspur | Arsenal | Matt Busby |
| 1950–51 | Tottenham Hotspur | Manchester United | Blackpool | Arthur Rowe |
| 1949–50 | Portsmouth (2) | Wolverhampton Wanderers | Sunderland | Bob Jackson |
| 1948–49 | Portsmouth | Manchester United | Derby County | Bob Jackson |
| 1947–48 | Arsenal (6) | Manchester United | Burnley | Tom Whittaker |
| 1946–47 | Liverpool (5) | Manchester United | Wolverhampton Wanderers | George Kay |
| | |
| --- | --- |
| 1915–16 to 1918–19 | League suspended due to World War I |
| | | | | |
| --- | --- | --- | --- | --- |
| 1914–15 | Everton (2) | Oldham Athletic | Blackburn Rovers | Will Cuff |
| 1913–14 | Blackburn Rovers (2) | Aston Villa | Middlesbrough | Robert Middleton |
| 1912–13 | Sunderland (5) | Aston Villa | The Wednesday | Bob Kyle |
| 1911–12 | Blackburn Rovers | Everton | Newcastle United | Robert Middleton |
| 1910–11 | Manchester United (2) | Aston Villa | Sunderland | Ernest Mangnall |
| 1909–10 | Aston Villa (6) | Liverpool | Blackburn Rovers | George Ramsay |
| 1908–09 | Newcastle United (3) | Everton | Sunderland | Frank Watt |
| 1907–08 | Manchester United | Aston Villa | Manchester City | Ernest Mangnall |
| 1906–07 | Newcastle United (2) | Bristol City | Everton | Frank Watt |
| 1905–06 | Liverpool (2) | Preston North End | The Wednesday | Tom Watson |
| 1904–05 | Newcastle United | Everton | Manchester City | Frank Watt |
| 1903–04 | The Wednesday (2) | Manchester City | Everton | Arthur Dickinson |
| 1902–03 | The Wednesday | Aston Villa | Sunderland | Arthur Dickinson |
| 1901–02 | Sunderland (4) | Everton | Newcastle United | Alex Mackie |
| 1900–01 | Liverpool | Sunderland | Notts County | Tom Watson |
| 1899–1900 | Aston Villa (5) | Sheffield United | Sunderland | George Ramsay |
| 1898–99 | Aston Villa (4) | Liverpool | Burnley | George Ramsay |
| 1897–98 | Sheffield United | Sunderland | Wolverhampton Wanderers | Joseph Wostinholm |
| 1896–97 | Aston Villa (3) | Sheffield United | Derby County | George Ramsay |
| 1895–96 | Aston Villa (2) | Derby County | Everton | George Ramsay |
| 1894–95 | Sunderland (3) | Everton | Aston Villa | Tom Watson |
| 1893–94 | Aston Villa | Sunderland | Derby County | George Ramsay |
| 1892–93 | Sunderland (2) | Preston North End | Everton | Tom Watson |
| 1891–92 | Sunderland | Preston North End | Bolton Wanderers | Tom Watson |
| 1890–91 | Everton | Preston North End | Notts County | Dick Molyneux |
| 1889–90 | Preston North End (2) | Everton | Blackburn Rovers | William Sudell |
| 1888–89 | Preston North End | Aston Villa | Wolverhampton Wanderers | William Sudell |