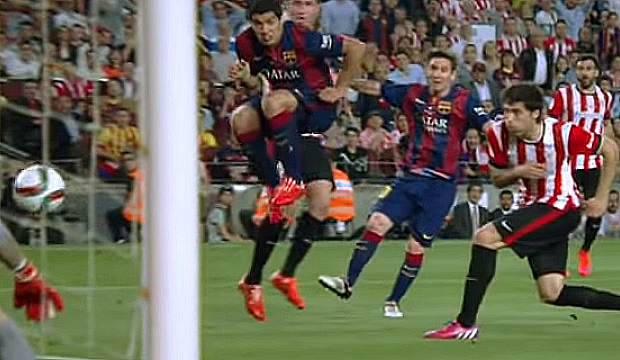 See a complete list of teams that have won the Copa del Rey. Real Madrid won their 20th Championship title in the 2022-23 season defeating Osasuna 2 – 1.
Fast Facts:
Copa del Rey (King's cup) played the first game in 1903 making it the oldest Spanish football competition.
Barcelona has won the most cup titles at 31.
Copa del Rey Champions
| | | | |
| --- | --- | --- | --- |
| Season | Champion | Runner-up | Score |
| 2023 | Real Madrid | Osasuna | 2–1 |
| 2022 | Real Betis | Valencia | 1–1 (penalties, 5–4) |
| 2021 | Barcelona | Athletic Bilbao | 4–0 |
| 2020 | Real Sociedad | Athletic Bilbao | 1–0 |
| 2019 | Valencia | Barcelona | 2–1 |
| 2018 | Barcelona | Sevilla | 5–0 |
| 2017 | Barcelona | Alavés | 3–1 |
| 2016 | Barcelona | Sevilla | 2–0 |
| 2015 | Barcelona | Athletic Bilbao | 3–1 |
| 2014 | Real Madrid | Barcelona | 2–1 |
| 2013 | Atlético Madrid | Real Madrid | 2–1 |
| 2012 | Barcelona | Athletic Bilbao | 3–0 |
| 2011 | Real Madrid | Barcelona | 1–0 |
| 2010 | Sevilla | Atlético Madrid | 2–0 |
| 2009 | Barcelona | Athletic Bilbao | 4–1 |
| 2008 | Valencia | Getafe | 3–1 |
| 2007 | Sevilla | Getafe | 1–0 |
| 2006 | Espanyol | Zaragoza | 4–1 |
| 2005 | Betis | Osasuna | 2–1 |
| 2004 | Zaragoza | Real Madrid | 3–2 |
| 2003 | Mallorca | Recreativo | 3–0 |
| 2002 | Deportivo La Coruña | Real Madrid | 2–1 |
| 2001 | Zaragoza | Celta de Vigo | 3–1 |
| 2000 | Espanyol | Atlético Madrid | 2–1 |
| 1999 | Valencia | Atlético Madrid | 3–0 |
| 1998 | Barcelona | Mallorca | 1–1 (penalties, 5–4) |
| 1997 | Barcelona | Betis | 3–2 |
| 1996 | Atlético Madrid | Barcelona | 1–0 |
| 1995 | Deportivo La Coruña | Valencia | 2–1 |
| 1994 | Zaragoza | Celta de Vigo | 0–0 (penalties, 5–4) |
| 1993 | Real Madrid | Zaragoza | 2–0 |
| 1992 | Atlético Madrid | Real Madrid | 2–0 |
| 1991 | Atlético Madrid | Mallorca | 1–0 |
| 1990 | Barcelona | Real Madrid | 2–0 |
| 1989 | Real Madrid | Valladolid | 1–0 |
| 1988 | Barcelona | Real Sociedad | 1–0 |
| 1987 | Real Sociedad | Atlético Madrid | 2–2 (penalties, 4–2) |
| 1986 | Zaragoza | Barcelona | 1–0 |
| 1985 | Atlético Madrid | Athletic Bilbao | 2–1 |
| 1984 | Athletic Bilbao | Barcelona | 1–0 |
| 1983 | Barcelona | Real Madrid | 2–1 |
| 1982 | Real Madrid | Sporting de Gijón | 2–1 |
| 1981 | Barcelona | Sporting de Gijón | 3–1 |
| 1980 | Real Madrid | Castilla | 6–1 |
| 1979 | Valencia | Real Madrid | 2–0 |
| 1978 | Barcelona | Las Palmas | 3–1 |
| 1977 | Betis | Athletic Bilbao | 2–2 (penalties, 8–7) |
| 1976 | Atlético Madrid | Zaragoza | 1–0 |
| 1975 | Real Madrid | Atlético Madrid | 0–0 (penalties, 4–3) |
| 1974 | Real Madrid | Barcelona | 4–0 |
| 1973 | Atlético Bilbao | Castellón | 2–0 |
| 1972 | Atlético Madrid | Valencia | 2–1 |
| 1971 | Barcelona | Valencia | 4–3 |
| 1970 | Real Madrid | Valencia | 3–1 |
| 1969 | Atlético Bilbao | Elche | 1–0 |
| 1968 | Barcelona | Real Madrid | 1–0 |
| 1967 | Valencia | Atlético Bilbao | 2–1 |
| 1966 | Zaragoza | Atlético Bilbao | 2–0 |
| 1965 | Atlético Madrid | Zaragoza | 1–0 |
| 1964 | Zaragoza | Atlético Madrid | 2–1 |
| 1963 | Barcelona | Zaragoza | 3–1 |
| 1962 | Real Madrid | Sevilla | 2–1 |
| 1961 | Atlético Madrid | Real Madrid | 3–2 |
| 1960 | Atlético Madrid | Real Madrid | 3–1 |
| 1959 | Barcelona | Granada | 4–1 |
| 1958 | Atlético Bilbao | Real Madrid | 2–0 |
| 1957 | Barcelona | RCD Español | 1–0 |
| 1956 | Atlético Bilbao | Atlético Madrid | 2–1 |
| 1955 | Atlético Bilbao | Sevilla | 1–0 |
| 1954 | Valencia | Barcelona | 3–0 |
| 1953 | Barcelona | Atlético Bilbao | 2–1 |
| 1952 | Barcelona | Valencia | 4–2 |
| 1951 | Barcelona | Real Sociedad | 3–0 |
| 1950 | Atlético Bilbao | Valladolid | 4–1 |
| 1949 | Valencia | Atlético Bilbao | 1–0 |
| 1948 | Sevilla | Celta de Vigo | 4–1 |
| 1947 | Real Madrid | RCD Español | 2–0 |
| 1946 | Real Madrid | Valencia | 3–1 |
| 1945 | Atlético Bilbao | Valencia | 3–2 |
| 1944 | Atlético Bilbao | Valencia | 2–0 |
| 1943 | Atlético Bilbao | Real Madrid | 1–0 |
| 1942 | Barcelona | Atlético Bilbao | 4–3 |
| 1941 | Valencia | RCD Español | 3–1 |
| 1940 | RCD Español | Real Madrid | 3–2 |
| 1939 | Sevilla | Racing de Ferrol | 6–2 |
| 1936 | Madrid | Barcelona | 2–1 |
| 1935 | Sevilla | Sabadell | 3–0 |
| 1934 | Madrid | Valencia | 2–1 |
| 1933 | Athletic Bilbao | Madrid | 2–1 |
| 1932 | Athletic Bilbao | Barcelona | 1–0 |
| 1931 | Athletic Bilbao | Betis | 3–1 |
| 1930 | Athletic Bilbao | Real Madrid | 3–2 |
| 1929 | RCD Español | Real Madrid | 2–1 |
| 1928 | Barcelona | Real Sociedad | 3–1 |
| 1927 | Real Unión | Arenas | 1–0 |
| 1926 | Barcelona | Atlético Madrid | 3–2 |
| 1925 | Barcelona | Arenas | 2–0 |
| 1924 | Real Unión | Real Madrid | 1–0 |
| 1923 | Athletic Bilbao | Europa | 1–0 |
| 1922 | Barcelona | Real Unión | 5–1 |
| 1921 | Athletic Bilbao | Atlético Madrid | 4–1 |
| 1920 | Barcelona | Athletic Bilbao | 2–0 |
| 1919 | Arenas | Barcelona | 5–2 |
| 1918 | Real Unión | Madrid FC | 2–0 |
| 1917 | Madrid FC | Arenas | 2–1 |
| 1916 | Athletic Bilbao | Madrid FC | 4–0 |
| 1915 | Athletic Bilbao | RCD Español | 5–0 |
| 1914 | Athletic Bilbao | Espanya | 2–1 |
| 1913 | Racing de Irún | Athletic Bilbao | 1–0 |
| 1913 | Barcelona | Real Sociedad | 2–1 |
| 1912 | Barcelona | Gimnástica | 2–0 |
| 1911 | Athletic Bilbao | RCD Espanyol | 3–1 |
| 1910 | Athletic Bilbao | Vasconia | No final |
| 1910 | Barcelona | Español de Madrid | No final |
| 1909 | Real Sociedad | Español de Madrid | 3–1 |
| 1908 | Madrid FC | Real Vigo Sporting | 2–1 |
| 1907 | Madrid FC | Bizcaya | 1–0 |
| 1906 | Madrid FC | Athletic Bilbao | No final |
| 1905 | Madrid FC | Athletic Bilbao | No final |
| 1904 | Athletic Bilbao | — | No final |
| 1903 | Athletic Bilbao | Madrid FC | 3–2 |