WNBA
WNBA All-Star Game Champions and MVP's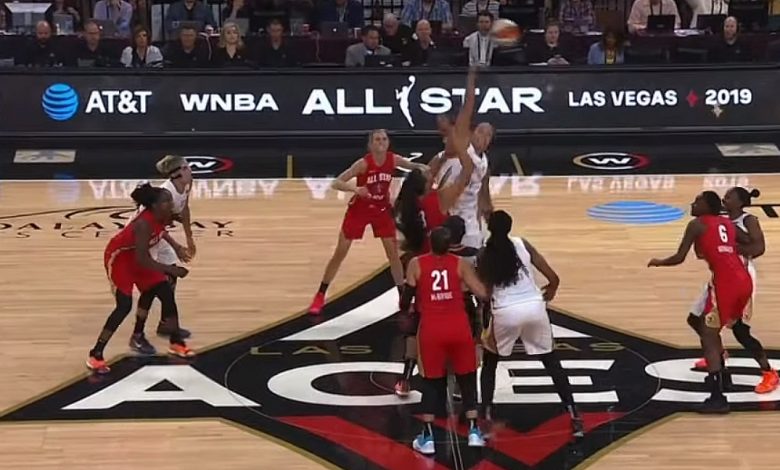 See a complete list of WNBA All-Star Game Champions and MVP's. In the 2019 All-Star game, Team Wilson beat Team Delle Donne 129 – 126 to win the 21st edition of the game.

Fast Facts:
There will be no 2020 WNBA All-Star Game due to the 2020 Summer Olympics in Tokyo, Japan.
The All-Star Game starting line-up is selected by the fans.
The WNBA All-Star Game is played between the Eastern Conference and Western Conference players.
In the 2018 the All-Star Game team captains for each conference was decided by the leading vote-getter.
In 2010 the Star at the Sun game was played between the USA women's national team and a team of WNBA All-Stars.
WNBA All-Star Game Champions
| | | | |
| --- | --- | --- | --- |
| Year | Result | Host city | Game MVP |
| 2019 | Team Wilson 129 – Team Delle Donne 126 | Las Vegas – Nevada | Erica Wheeler – Indiana Fever |
| 2018 | Team Parker 119 – Team Delle Donne 112 | Minneapolis – Minnesota | Maya Moore (3) – Minnesota Lynx (3) |
| 2017 | West 130 – East 121 | Seattle – Washington | Maya Moore (2) – Minnesota Lynx (2) |
| 2016 | No game held due to the 2016 Summer Olympics | | |
| 2015 | West 117 – East 112 | Uncasville – Connecticut (4) | Maya Moore – Minnesota Lynx |
| 2014 | East 125 – West 124 (OT) | Phoenix – Arizona (2) | Shoni Schimmel – Atlanta Dream |
| 2013 | West 102 – East 98 | Uncasville – Connecticut (3) | Candace Parker – Los Angeles Sparks (5) |
| 2012 | No game held due to the 2012 Summer Olympics | | |
| 2011 | East 118 – West 113 | San Antonio – Texas | Swin Cash (2) – Seattle Storm (2) |
| 2010 | Stars at the Sun | | |
| 2009 | West 130 – East 118 | Uncasville – Connecticut (2) | Swin Cash – Seattle Storm |
| 2008 | No game held due to the 2008 Summer Olympics | | |
| 2007 | East 103 – West 99 | Washington – D.C. (2) | Cheryl Ford – Detroit Shock |
| 2006 | East 98 – West 82 | New York – New York (3) | Katie Douglas – Connecticut Sun |
| 2005 | West 122 – East 99 | Uncasville – Connecticut | Sheryl Swoopes – Houston Comets (2) |
| 2004 | The Game at Radio City | | |
| 2003 | West 84 – East 75 | New York – New York (2) | Nikki Teasley – Los Angeles Sparks (4) |
| 2002 | West 81 – East 76 | Washington – D.C. | Lisa Leslie (3) – Los Angeles Sparks (3) |
| 2001 | West 80 – East 72 | Orlando – Florida | Lisa Leslie (2) – Los Angeles Sparks (2) |
| 2000 | West 73 – East 61 | Phoenix – Arizona | Tina Thompson – Houston Comets |
| 1999 | West 79 – East 61 | New York – New York | Lisa Leslie – Los Angeles Sparks |