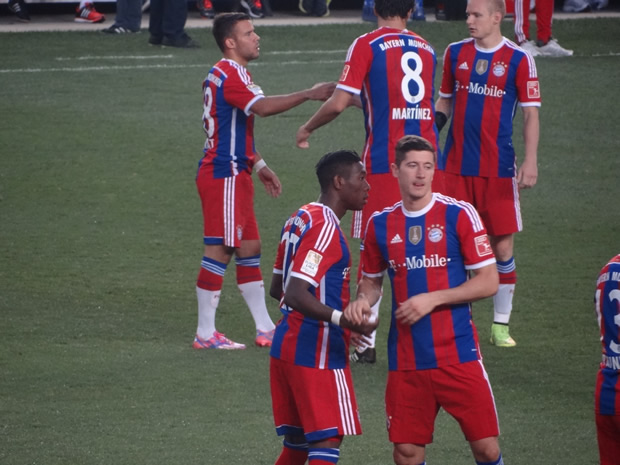 See a complete list of Bundesliga Champions. FC Bayern Munich are the 2022/23 German Football Champions. With this win, Bayern captured their 33rd title.
Fast Facts:
The Fußball-Bundesliga is Germany's premier football league.
28 different teams have won the title with the most being credited to FC Bayern Munich who holds 32 titles.
During the season each team plays every other club once at home and once away. There are no playoff games so at the end of the season the club having the best record claims the German championship.
Bundesliga Champions:
| | | | |
| --- | --- | --- | --- |
| Season | Champions | Runners-up | Third |
| 2022-23 | Bayern Munich | Borussia Dortmund | RB Leipzig |
| 2021-22 | Bayern Munich | Borussia Dortmund | Bayer Leverkusen |
| 2020-21 | Bayern Munich | RB Leipzig | Borussia Dortmund |
| 2019-20 | Bayern Munich | Borussia Dortmund | RB Leipzig |
| 2018-19 | Bayern Munich | Borussia Dortmund | RB Leipzig |
| 2017-18 | Bayern Munich | Schalke 04 | 1899 Hoffenheim |
| 2016-17 | Bayern Munich | RB Leipzig | Borussia Dortmund |
| 2015-16 | Bayern Munich | Borussia Dortmund | Bayer Leverkusen |
| 2014-15 | Bayern Munich | VfL Wolfsburg | Borussia Mönchengladbach |
| 2013-14 | Bayern Munich | Borussia Dortmund | Schalke 04 |
| 2012-13 | Bayern Munich | Borussia Dortmund | Bayer Leverkusen |
| 2011-12 | Borussia Dortmund | Bayern Munich | Schalke 04 |
| 2010-11 | Borussia Dortmund | Bayer Leverkusen | Bayern Munich |
| 2009-10 | Bayern Munich | Schalke 04 | Werder Bremen |
| 2008-09 | VfL Wolfsburg | Bayern Munich | VfB Stuttgart |
| 2007-08 | Bayern Munich | Werder Bremen | Schalke 04 |
| 2006-07 | VfB Stuttgart | Schalke 04 | Werder Bremen |
| 2005-06 | Bayern Munich | Werder Bremen | Hamburger SV |
| 2004-05 | Bayern Munich | Schalke 04 | Werder Bremen |
| 2003-04 | Werder Bremen | Bayern Munich | Bayer Leverkusen |
| 2002-03 | Bayern Munich | VfB Stuttgart | Borussia Dortmund |
| 2001-02 | Borussia Dortmund | Bayer Leverkusen | Bayern Munich |
| 2000-01 | Bayern Munich | Schalke 04 | Borussia Dortmund |
| 1999-2000 | Bayern Munich | Bayer Leverkusen | Hamburger SV |
| 1998-99 | Bayern Munich | Bayer Leverkusen | Hertha BSC |
| 1997-98 | Kaiserslautern | Bayern Munich | Bayer Leverkusen |
| 1996-97 | Bayern Munich | Bayer Leverkusen | Borussia Dortmund |
| 1995-96 | Borussia Dortmund | Bayern Munich | Schalke 04 |
| 1994-95 | Borussia Dortmund | Werder Bremen | Freiburg |
| 1993-94 | Bayern Munich | Kaiserslautern | Bayer Leverkusen |
| 1992-93 | Werder Bremen | Bayern Munich | Eintracht Frankfurt |
| 1991-92 | VfB Stuttgart | Borussia Dortmund | Eintracht Frankfurt |
| 1990-91 | Kaiserslautern | Bayern Munich | Werder Bremen |
| 1989-90 | Bayern Munich | FC Köln | Eintracht Frankfurt |
| 1988-89 | Bayern Munich | FC Köln | Werder Bremen |
| 1987-88 | Werder Bremen | Bayern Munich | FC Köln |
| 1986-87 | Bayern Munich | Hamburger SV | Borussia Mönchengladbach |
| 1985-86 | Bayern Munich | Werder Bremen | Bayer Uerdingen |
| 1984-85 | Bayern Munich | Werder Bremen | FC Köln |
| 1983-84 | VfB Stuttgart | Hamburger SV | Borussia Mönchengladbach |
| 1982-83 | Hamburger SV | Werder Bremen | VfB Stuttgart |
| 1981-82 | Hamburger SV | FC Köln | Bayern Munich |
| 1980-81 | Bayern Munich | Hamburger SV | VfB Stuttgart |
| 1979-80 | Bayern Munich | Hamburger SV | Stuttgart / Kaiserslautern |
| 1978-79 | Hamburger SV | VfB Stuttgart | Kaiserslautern |
| 1977-78 | FC Köln | Borussia Mönchengladbach | Hertha BSC |
| 1976-77 | Borussia Mönchengladbach | Schalke 04 | Eintracht Braunschweig |
| 1975-76 | Borussia Mönchengladbach | Hamburger SV | Bayern Munich |
| 1974-75 | Borussia Mönchengladbach | Hertha BSC | Hamburger SV |
| 1973-74 | Bayern Munich | Borussia Mönchengladbach | Fortuna Düsseldorf |
| 1972-73 | Bayern Munich | FC Köln | Fortuna Düsseldorf |
| 1971-72 | Bayern Munich | Schalke 04 | Borussia Mönchengladbach |
| 1970-71 | Borussia Mönchengladbach | Bayern Munich | Hertha BSC |
| 1969-70 | Borussia Mönchengladbach | Bayern Munich | Hertha BSC |
| 1968-69 | Bayern Munich | Alemannia Aachen | Borussia Mönchengladbach |
| 1967-68 | 1. FC Nuremberg | Werder Bremen | Borussia Mönchengladbach |
| 1966-67 | Eintracht Braunschweig | TSV 1860 München | Borussia Dortmund |
| 1965-66 | TSV 1860 München | Borussia Dortmund | Bayern Munich |
| 1964-65 | Werder Bremen | FC Köln | Borussia Dortmund |
| 1963-64 | FC Köln | Meidericher SV | Eintracht Frankfurt |
| | | | |