French Open
French Open Men's and Women's Singles Champions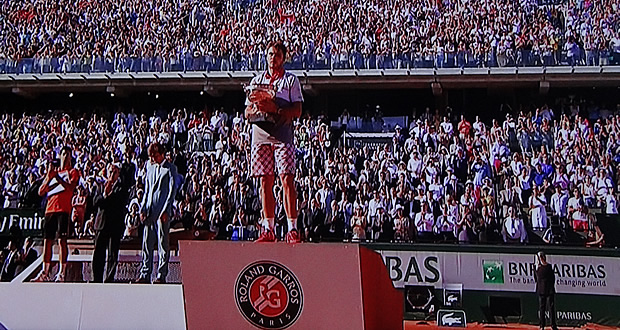 See a complete list of French Open Men's and Women's Singles Champions. The 2017 champions are Rafael Nadal of Spain and Ashleigh Barty of Australia This was Nadal's eleventh French Open title and Barty's first Singles Grand Slam title.

Fast Facts:
The French Open commonly referred to as the Roland Garros is a tennis tournament that is played at Stade Roland Garros in Paris, France.
Roland Garros is the only major tennis tournament played on Clay.
Rafael Nadal of Spain has won 10 French Open titles which is the most of any other man.
Before the Open Era, Max Decugis of France won 8 French Open's.
Chris Evert of the United States has won the French Open 7 times, which is the most of any other woman.
Steffi Graf of Germany and Suzanne Lenglen (Amateur Era) have each won 6 French Open titles.
French Open Men's and Women's Singles Champions:
| | | |
| --- | --- | --- |
| Year | Men's Winner | Women's Winner |
| 2019 | Rafael Nadal (ESP) | Ashleigh Barty (AUS) |
| 2018 | Rafael Nadal (ESP) | Simona Halep(ROU) |
| 2017 | Rafael Nadal (ESP) | Jeļena Ostapenk (LTV) |
| 2016 | Novak Djokovic (SRB) | Garbiñe Muguruza (ESP) |
| 2015 | Stan Wawrinka (SUI) | Serena Williams (USA) |
| 2014 | Rafael Nadal (ESP) | Maria Sharapova (RUS) |
| 2013 | Rafael Nadal (ESP) | Serena Williams (USA) |
| 2012 | Rafael Nadal (ESP) | Maria Sharapova (RUS) |
| 2011 | Rafael Nadal (ESP) | Na Li (CHN) |
| 2010 | Rafael Nadal (ESP) | Francesca Schiavone (ITA) |
| 2009 | Roger Federer (SUI) | Svetlana Kuznetsova (RUS) |
| 2008 | Rafael Nadal (ESP) | Ana Ivanovic (SER) |
| 2007 | Rafael Nadal (ESP) | Justine Henin (BEL) |
| 2006 | Rafael Nadal (ESP) | Justine Henin-Hardenne (BEL) |
| 2005 | Rafael Nadal (ESP) | Justine Henin-Hardenne (BEL) |
| 2004 | Gaston Gaudio (ARG) | Anastasia Myskina (RUS) |
| 2003 | Juan Carlos Ferrero (ESP) | Justine Hénin-Hardenne (BEL) |
| 2002 | Albert Costa (ESP) | Serena Williams (USA) |
| 2001 | Gustavo Kuerten (BRA) | Jennifer Capriati (USA) |
| 2000 | Gustavo Kuerten (BRA) | Mary Pierce (FRA) |
| 1999 | Andre Agassi (USA) | Steffi Graf (GER) |
| 1998 | Carlos Moya (ESP) | Arantxa Sanchez (ESP) |
| 1997 | Gustavo Kuerten (BRA) | Iva Majoli (CRO) |
| 1996 | Yevgeny Kafelnikov (RUS) | Steffi Graf (GER) |
| 1995 | Thomas Muster (AUT) | Steffi Graf (GER) |
| 1994 | Sergi Bruguera (ESP) | Arantxa Sanchez (ESP) |
| 1993 | Sergi Bruguera (ESP) | Steffi Graf (GER) |
| 1992 | Jim Courier (USA) | Monica Seles (YUG) |
| 1991 | Jim Courier (USA) | Monica Seles (YUG) |
| 1990 | Andres Gomez (ECU) | Monica Seles (YUG) |
| 1989 | Michael Chang (USA) | Arantxa Sanchez (ESP) |
| 1988 | Mats Wilander (SWE) | Steffi Graf (GER) |
| 1987 | Ivan Lendl (CZE) | Steffi Graf (GER) |
| 1986 | Ivan Lendl (CZE) | Chris Evert-Lloyd (USA) |
| 1985 | Mats Wilander (SWE) | Chris Evert-Lloyd (USA) |
| 1984 | Ivan Lendl (CZE) | Martina Navratilova (USA) |
| 1983 | Yannick Noah (FRA) | Chris Evert-Lloyd (USA) |
| 1982 | Mats Wilander (SWE) | Martina Navratilova (USA) |
| 1981 | Björn Borg (SWE) | Hana Mandlikova (CZE) |
| 1980 | Björn Borg (SWE) | Chris Evert-Lloyd (USA) |
| 1979 | Björn Borg (SWE) | Chris Evert-Lloyd (USA) |
| 1978 | Björn Borg (SWE) | Virginia Ruzici (ROM) |
| 1977 | Guillermo Vilas (ARG) | Mima Jausovec (YUG) |
| 1976 | Adriano Panatta (ITA) | Sue Barker (GBR) |
| 1975 | Björn Borg (SWE) | Chris Evert (USA) |
| 1974 | Björn Borg (SWE) | Chris Evert (USA) |
| 1973 | Ilie Nastase (ROM) | Margaret Smith-Court (AUS) |
| 1972 | Andres Gimeno (ESP) | Billie-Jean King (USA) |
| 1971 | Jan Kodes (CZE) | Evonne Goolagong (AUS) |
| 1970 | Jan Kodes (CZE) | Margaret Smith-Court (AUS) |
| 1969 | Rod Laver (AUS) | Margaret Smith-Court (AUS) |
| 1968 | Ken Rosewall (AUS) | Nancy Richey (USA) |
| 1967 | Roy Emerson (AUS) | Françoise Dürr (FRA) |
| 1966 | Tony Roche (AUS) | Ann Haydon-Jones (GBR) |
| 1965 | Fred Stolle (AUS) | Lesley Turner (AUS) |
| 1964 | Manuel Santana (ESP) | Margaret Smith (AUS) |
| 1963 | Roy Emerson (AUS) | Lesley Turner (AUS) |
| 1962 | Rod Laver (AUS) | Margaret Smith (AUS) |
| 1961 | Manuel Santana (ESP) | Ann Haydon (GBR) |
| 1960 | Nicola Pietrangeli (ITA) | Darlene Hard (USA) |
| 1959 | Nicola Pietrangeli (ITA) | Christine Truman (GBR) |
| 1958 | Mervyn Rose (AUS) | Zsuzsi Kormoczy (HUN) |
| 1957 | Sven Davidson (SWE) | Shirley Bloomer (GBR) |
| 1956 | Lewis Hoad (AUS) | Althea Gibson (USA) |
| 1955 | Tony Trabert (USA) | Angela Mortimer (GBR) |
| 1954 | Tony Trabert (USA) | Maureen Connolly (USA) |
| 1953 | Ken Rosewall (AUS) | Maureen Connolly (USA) |
| 1952 | Jaroslav Drobny (CZE) | Doris Hart (USA) |
| 1951 | Jaroslav Drobny (CZE) | Shirley Fry (USA) |
| 1950 | Budge Patty (USA) | Doris Hart (USA) |
| 1949 | Frank Parker (USA) | M. Osborne-Dupont (USA) |
| 1948 | Frank Parker (USA) | Nelly Landry (FRA) |
| 1947 | Jozsef Asboth (HUN) | Patricia Todd (USA) |
| 1946 | Marcel Bernard (FRA) | Margaret Osborne (USA) |
| 1939 | William McNeill (USA) | Simone Mathieu (FRA) |
| 1938 | Donald Budge (USA) | Simone Mathieu (FRA) |
| 1937 | Henner Henkel (GER) | Hilde Sperling (GER) |
| 1936 | Gottfried Von Cramm (GER) | Hilde Sperling (GER) |
| 1935 | Fred Perry (GBR) | Hilde Sperling (GER) |
| 1934 | Gottfried Von Cramm (GER) | Margaret Scriven (GBR) |
| 1933 | John Crawford (AUS) | Margaret Scriven (GBR) |
| 1932 | Henri Cochet (FRA) | Helen Wills-Moody (USA) |
| 1931 | Jean Borotra (FRA) | Cilly Aussem (GER) |
| 1930 | Henri Cochet (FRA) | Helen Wills-Moody (USA) |
| 1929 | René Lacoste (FRA) | Helen Wills (USA) |
| 1928 | Henri Cochet (FRA) | Helen Wills (USA) |
| 1927 | René Lacoste (FRA) | Kornelia Bouman (NED) |
| 1926 | Henri Cochet (FRA) | Suzanne Lenglen (FRA) |
| 1925 | René Lacoste (FRA) | Suzanne Lenglen (FRA) |
| 1924 | Jean Borotra (FRA) | Diddie Vlasto (FRA) |
| 1923 | François Blanchy (FRA) | Suzanne Lenglen (FRA) |
| 1922 | Henri Cochet (FRA) | Suzanne Lenglen (FRA) |
| 1921 | Jean Samazeuilh (FRA) | Suzanne Lenglen (FRA) |
| 1920 | André Gobert (FRA) | Suzanne Lenglen (FRA) |
| 1914 | Max Decugis (FRA) | Marguerite Broquedis (FRA) |
| 1913 | Max Decugis (FRA) | Marguerite Broquedis (FRA) |
| 1912 | Max Decugis (FRA) | Jeanne Matthey (FRA) |
| 1911 | André Gobert (FRA) | Jeanne Matthey (FRA) |
| 1910 | Maurice Germot (FRA) | Jeanne Matthey (FRA) |
| 1909 | Max Decugis (FRA) | Jeanne Matthey (FRA) |
| 1908 | Max Decugis (FRA) | Kate Gillou-Fenwick (FRA) |
| 1907 | Max Decugis (FRA) | Comtesse de Kermel (FRA) |
| 1906 | Maurice Germot (FRA) | Kate Gillou-Fenwick (FRA) |
| 1905 | Maurice Germot (FRA) | Kate Gillou (FRA) |
| 1904 | Max Decugis (FRA) | Kate Gillou (FRA) |
| 1903 | Max Decugis (FRA) | F. Masson (FRA) |
| 1902 | Marcel Vacherot (FRA) | F. Masson (FRA) |
| 1901 | André Vacherot (FRA) | P. Girod (FRA) |
| 1900 | Paul Aymé (FRA) | Y. Prévost (FRA) |
| 1899 | Paul Aymé (FRA) | F. Masson (FRA) |
| 1898 | Paul Aymé (FRA) | F. Masson (FRA) |
| 1897 | Paul Aymé (FRA) | F. Masson (FRA) |
| 1896 | André Vacherot (FRA) | |
| 1895 | André Vacherot (FRA) | |
| 1894 | André Vacherot (FRA) | |
| 1893 | L. Riboulet (FRA) | |
| 1892 | J. Schopfer (FRA) | |
| 1891 | H. Briggs (GBR) | |