La Liga
La Liga Champions – Spanish Football Champions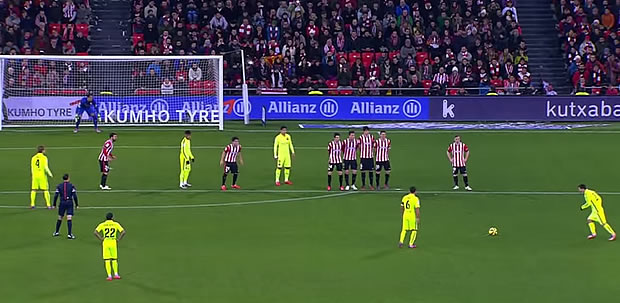 See a complete list of Liga Nacional de Fútbol Champions. The 2021-22 La Liga Champions is Real Madrid. This was their 35th La Liga title.
Fast Facts:
The Liga Nacional de Fútbol Championships is awarded to the team that is at the top of the league at the end of the season.
Real Madrid and Barcelona are the most successful clubs by having won 35 and 26 titles, respectively, as of 2022.
The Primera Division in the Spanish Football League, Liga Nacional de Fútbol Profesional also known as La Liga, is the highest level in their system.
Liga Nacional de Fútbol Champions – Spanish Football Champions:
| | | | |
| --- | --- | --- | --- |
| Season | Champions | Runner-up | Third place |
| 2021–22 | Real Madrid | Barcelona | Atlético Madrid |
| 2020–21 | Atlético Madrid | Real Madrid | Barcelona |
| 2019–20 | Real Madrid | Barcelona | Atlético Madrid |
| 2018–19 | Barcelona | Atlético Madrid | Real Madrid |
| 2017–18 | Barcelona | Atlético Madrid | Real Madrid |
| 2016–17 | Real Madrid | Barcelona | Atlético Madrid |
| 2015–16 | Barcelona | Real Madrid | Atlético Madrid |
| 2014–15 | Barcelona | Real Madrid | Atlético Madrid |
| 2013–14 | Atlético Madrid | Barcelona | Real Madrid |
| 2012–13 | Barcelona | Real Madrid | Atlético Madrid |
| 2011–12 | Real Madrid | Barcelona | Valencia |
| 2010–11 | Barcelona | Real Madrid | Valencia |
| 2009–10 | Barcelona | Real Madrid | Valencia |
| 2008–09 | Barcelona* | Real Madrid | Valencia |
| 2007–08 | Real Madrid | Villarreal | Barcelona |
| 2006–07 | Real Madrid | Barcelona | Sevilla |
| 2005–06 | Barcelona | Real Madrid | Valencia |
| 2004–05 | Barcelona | Real Madrid | Villarreal |
| 2003–04 | Valencia | Barcelona | Deportivo La Coruña |
| 2002–03 | Real Madrid | Real Sociedad | Deportivo La Coruña |
| 2001–02 | Valencia | Deportivo La Coruña | Real Madrid |
| 2000–01 | Real Madrid | Deportivo La Coruña | Real Mallorca |
| 1999–2000 | Deportivo La Coruña | Barcelona | Valencia |
| 1998–99 | Barcelona | Real Madrid | Real Mallorca |
| 1997–98 | Barcelona | Athletic Bilbao | Real Sociedad |
| 1996–97 | Real Madrid | Barcelona | Deportivo La Coruña |
| 1995–96 | Atlético Madrid | Valencia | Barcelona |
| 1994–95 | Real Madrid | Deportivo La Coruña | Real Betis |
| 1993–94 | Barcelona | Deportivo La Coruña | Real Zaragoza |
| 1992–93 | Barcelona | Real Madrid | Deportivo La Coruña |
| 1991–92 | Barcelona | Real Madrid | Atlético Madrid |
| 1990–91 | Barcelona | Atlético Madrid | Real Madrid |
| 1989–90 | Real Madrid | Valencia | Barcelona |
| 1988–89 | Real Madrid | Barcelona | Valencia |
| 1987–88 | Real Madrid | Real Sociedad | Atlético Madrid |
| 1986–87 | Real Madrid | Barcelona | Espanyol |
| 1985–86 | Real Madrid | Barcelona | Athletic Bilbao |
| 1984–85 | Barcelona | Atlético Madrid | Athletic Bilbao |
| 1983–84 | Athletic Bilbao | Real Madrid | Barcelona |
| 1982–83 | Athletic Bilbao | Real Madrid | Atlético Madrid |
| 1981–82 | Real Sociedad | Barcelona | Real Madrid |
| 1980–81 | Real Sociedad | Real Madrid | Atlético Madrid |
| 1979–80 | Real Madrid | Real Sociedad | Sporting de Gijón |
| 1978–79 | Real Madrid | Sporting de Gijón | Atlético Madrid |
| 1977–78 | Real Madrid | Barcelona | Athletic Bilbao |
| 1976–77 | Atlético Madrid | Barcelona | Athletic Bilbao |
| 1975–76 | Real Madrid | Barcelona | Atlético Madrid |
| 1974–75 | Real Madrid | Real Zaragoza | Barcelona |
| 1973–74 | Barcelona | Atlético Madrid | Real Zaragoza |
| 1972–73 | Atlético Madrid | Barcelona | Espanyol |
| 1971–72 | Real Madrid | Valencia | Barcelona |
| 1970–71 | Valencia | Barcelona | Atlético Madrid |
| 1969–70 | Atlético Madrid | Athletic Bilbao | Sevilla |
| 1968–69 | Real Madrid | Las Palmas | Barcelona |
| 1967–68 | Real Madrid | Barcelona | Las Palmas |
| 1966–67 | Real Madrid | Barcelona | Espanyol |
| 1965–66 | Atlético Madrid | Real Madrid | Barcelona |
| 1964–65 | Real Madrid | Atlético Madrid | Real Zaragoza |
| 1963–64 | Real Madrid | Barcelona | Real Betis |
| 1962–63 | Real Madrid | Atlético Madrid | Real Oviedo |
| 1961–62 | Real Madrid | Barcelona | Atlético Madrid |
| 1960–61 | Real Madrid | Atlético Madrid | Barcelona |
| 1959–60 | Barcelona | Real Madrid | Athletic Bilbao |
| 1958–59 | Barcelona | Real Madrid | Athletic Bilbao |
| 1957–58 | Real Madrid | Atlético Madrid | Barcelona |
| 1956–57 | Real Madrid | Sevilla | Barcelona |
| 1955–56 | Athletic Bilbao | Barcelona | Real Madrid |
| 1954–55 | Real Madrid | Barcelona | Athletic Bilbao |
| 1953–54 | Real Madrid | Barcelona | Valencia |
| 1952–53 | Barcelona | Valencia | Real Madrid |
| 1951–52 | Barcelona | Athletic Bilbao | Real Madrid |
| 1950–51 | Atlético Madrid | Sevilla | Valencia |
| 1949–50 | Atlético Madrid | Deportivo La Coruña | Valencia |
| 1948–49 | Barcelona | Valencia | Real Madrid |
| 1947–48 | Barcelona | Valencia | Atlético Madrid |
| 1946–47 | Valencia | Athletic Bilbao | Atlético Aviación |
| 1945–46 | Sevilla | Barcelona | Athletic Bilbao |
| 1944–45 | Barcelona | Real Madrid | Atlético Aviación |
| 1943–44 | Valencia | Atlético Aviación | Sevilla |
| 1942–43 | Athletic Bilbao | Sevilla | Barcelona |
| 1941–42 | Valencia | Real Madrid | Atlético Aviación |
| 1940–41 | Atlético Aviación | Athletic Bilbao | Valencia |
| 1939–40 | Atlético Aviación[A] | Sevilla | Athletic Bilbao |
| 1935–36 | Athletic Bilbao | Real Madrid | Real Oviedo |
| 1934–35 | Real Betis | Real Madrid | Real Oviedo |
| 1933–34 | Athletic Bilbao | Real Madrid | Racing de Santander |
| 1932–33 | Real Madrid | Athletic Bilbao | Espanyol |
| 1931–32 | Real Madrid | Athletic Bilbao | Barcelona |
| 1930–31 | Athletic Bilbao | Racing de Santander | Real Sociedad |
| 1929–30 | Athletic Bilbao | Barcelona | Arenas Club de Getxo |
| 1929 | Barcelona | Real Madrid | Athletic Bilbao |
| | | | |