NBA
NBA Champions and MVP's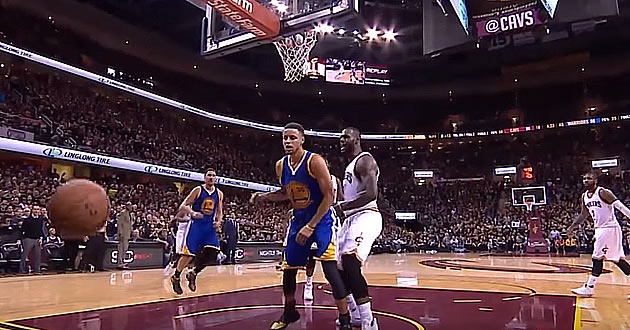 See a complete list of NBA Champions and Finals MVP's. The 2022/23 season NBA champions are the Denver Nuggets. The Final's MVP was Nikola Jokić of the Nuggets.
Fast Facts:
The NBA Finals is the championship series of the National Basketball Association  (NBA) and the conclusion of the sport's postseason  that is played each year in June.
The series is played between the winners of Eastern Conference Finals and Western Conference Finals.
At the conclusion of the championship round, the winner of the NBA Finals is presented the Larry O'Brien Championship Trophy.
Since 1985, the winner of the NBA Finals has been determined through a 2–3–2 best-of-seven playoff format. In 2014 the NBA team owners voted to change the format the finals will be played in to 2–2–1–1–1.
NBA Champions:
| | | | | |
| --- | --- | --- | --- | --- |
| YEAR | CHAMPION | OPPONENT | RESULT | MVP |
| 2022-23 | Denver Nuggets | Miami Heat | 4-1 | Nikola Jokić, Denver Nuggets |
| 2021-22 | Golden State Warriors | Boston Celtics | 4-2 | Stephen Curry, Golden State Warriors |
| 2020-21 | Milwaukee Bucks | Phoenix Suns | 4-2 | Giannis Antetokounmpo, Milwaukee Bucks |
| 2019-20 | Los Angeles Lakers | Miami Heat | 4-2 | LeBron James, Los Angeles Lakers |
| 2018-19 | Toronto Raptors | Golden State Warriors | 4-2 | Kawhi Leonard, Toronto Raptors |
| 2017-18 | Golden State Warriors | Cleveland Cavaliers | 4-0 | Kevin Durant, Golden State Warriors |
| 2016- 17 | Golden State Warriors | Cleveland Cavaliers | 4-1 | Kevin Durant, Golden State Warriors |
| 2015-16 | Cleveland Cavaliers | Golden State Warriors | 4-3 | LeBron James, Cleveland Cavaliers |
| 2014- 15 | Golden State Warriors | Cleveland Cavaliers | 4-2 | Andre Iguodala, Golden State Warriors |
| 2013-14 | San Antonio Spurs | Miami Heat | 4-1 | Kawhi Leonard, San Antonio Spurs |
| 2012- 13 | Miami Heat | San Antonio Spurs | 4-3 | LeBron James, Miami Heat |
| 2011-12 | Miami Heat | Oklahoma City | 4-1 | LeBron James, Miami Heat |
| 2010- 11 | Dallas Mavericks | Miami Heat | 4-2 | Dirk Nowitzki, Dallas |
| 2009-10 | Los Angeles Lakers | Boston Celtics | 4-3 | Kobe Bryant, Los Angeles |
| 2008-09 | Los Angeles Lakers | Orlando Magic | 4-1 | Kobe Bryant, Los Angeles |
| 2007-08 | Boston Celtics | Los Angeles Lakers | 4-2 | Paul Pierce, Boston |
| 2006-07 | San Antonio Spurs | Cleveland Cavaliers | 4-0 | Tony Parker, San Antonio |
| 2005-06 | Miami Heat | Dallas Mavericks | 4-2 | Dwyane Wade, Miami Heat |
| 2004-05 | San Antonio Spurs | Detroit Pistons | 4-3 | Tim Duncan, San Antonio |
| 2003-04 | Detroit Pistons | Los Angeles Lakers | 4-1 | Chauncey Billups, Detroit Pistons |
| 2002-03 | San Antonio Spurs | New Jersey Nets | 4-2 | Tim Duncan, San Antonio |
| 2001-02 | Los Angeles Lakers | New Jersey Nets | 4-0 | Shaquille O'Neal, Los Angeles |
| 2000-01 | Los Angeles Lakers | Philadelphia 76ers | 4-1 | Shaquille O'Neal, Los Angeles |
| 1999-00 | Los Angeles Lakers | Indiana Pacers | 4-2 | Shaquille O'Neal, Los Angeles |
| 1998-99 | San Antonio Spurs | New York Knicks | 4-1 | Tim Duncan, San Antonio |
| 1997-98 | Chicago Bulls | Utah Jazz | 4-2 | Michael Jordan, Chicago |
| 1996-97 | Chicago Bulls | Utah Jazz | 4-2 | Michael Jordan, Chicago |
| 1995-96 | Chicago Bulls | Seattle SuperSonics | 4-2 | Michael Jordan, Chicago |
| 1994-95 | Houston Rockets | Orlando Magic | 4-0 | Hakeem Olajuwon, Houston |
| 1993-94 | Houston Rockets | New York Knicks | 4-3 | Hakeem Olajuwon, Houston |
| 1992-93 | Chicago Bulls | Phoenix Suns | 4-2 | Michael Jordan, Chicago |
| 1991-92 | Chicago Bulls | Portland Trail Blazers | 4-2 | Michael Jordan, Chicago |
| 1990-91 | Chicago Bulls | Los Angeles Lakers | 4-1 | Michael Jordan, Chicago |
| 1989-90 | Detroit Pistons | Portland Trail Blazers | 4-1 | Isiah Thomas, Detroit |
| 1988-89 | Detroit Pistons | Los Angeles Lakers | 4-0 | Joe Dumars, Detroit |
| 1987-88 | Los Angeles Lakers | Detroit Pistons | 4-3 | James Worthy, Los Angeles |
| 1986-87 | Los Angeles Lakers | Boston Celtics | 4-2 | Magic Johnson, Los Angeles |
| 1985-86 | Boston Celtics | Houston Rockets | 4-2 | Larry Bird, Boston |
| 1984-85 | Los Angeles Lakers | Boston Celtics | 4-2 | Kareem Abdul-Jabbar, Los Angeles |
| 1983-84 | Boston Celtics | Los Angeles Lakers | 4-3 | Larry Bird, Boston |
| 1982-83 | Philadelphia 76ers | Los Angeles Lakers | 4-0 | Moses Malone, Philadelphia |
| 1981-82 | Los Angeles Lakers | Philadelphia 76ers | 4-2 | Magic Johnson, Los Angeles |
| 1980-81 | Boston Celtics | Houston Rockets | 4-2 | Cedric Maxwell, Boston |
| 1979-80 | Los Angeles Lakers | Philadelphia 76ers | 4-2 | Magic Johnson, Los Angeles |
| 1978-79 | Seattle SuperSonics | Washington Bullets | 4-1 | Dennis Johnson, Seattle |
| 1977-78 | Washington Bullets | Seattle SuperSonics | 4-3 | Wes Unseld, Washington |
| 1976-77 | Portland Trail Blazers | Philadelphia 76ers | 4-2 | Bill Walton, Portland |
| 1975-76 | Boston Celtics | Phoenix Suns | 4-2 | Jo Jo White, Boston |
| 1974-75 | Golden State Warriors | Washington Bullets | 4-0 | Rick Barry, Golden State |
| 1973-74 | Boston Celtics | Milwaukee Bucks | 4-3 | John Havlicek, Boston |
| 1972-73 | New York Knicks | Los Angeles Lakers | 4-1 | Willis Reed, New York |
| 1971-72 | Los Angeles Lakers | New York Knicks | 4-1 | Wilt Chamberlain, Los Angeles |
| 1970-71 | Milwaukee Bucks | Baltimore Bullets | 4-0 | Kareem Abdul-Jabbar, Milwaukee |
| 1969-70 | New York Knicks | Los Angeles Lakers | 4-3 | Willis Reed, New York |
| 1968-69 | Boston Celtics | Los Angeles Lakers | 4-3 | Jerry West, Los Angeles |
| 1967-68 | Boston Celtics | Los Angeles Lakers | 4-2 | |
| 1966-67 | Philadelphia 76ers | San Francisco Warriors | 4-2 | |
| 1965-66 | Boston Celtics | Los Angeles Lakers | 4-3 | |
| 1964-65 | Boston Celtics | Los Angeles Lakers | 4-1 | |
| 1963-64 | Boston Celtics | San Francisco Warriors | 4-1 | |
| 1962-63 | Boston Celtics | Los Angeles Lakers | 4-2 | |
| 1961-62 | Boston Celtics | Los Angeles Lakers | 4-3 | |
| 1960-61 | Boston Celtics | St. Louis Hawks | 4-1 | |
| 1959-60 | Boston Celtics | St. Louis Hawks | 4-3 | |
| 1958-59 | Boston Celtics | Minneapolis Lakers | 4-0 | |
| 1957-58 | St. Louis Hawks | Boston Celtics | 4-2 | |
| 1956-57 | Boston Celtics | St. Louis Hawks | 4-3 | |
| 1955-56 | Philadelphia Warriors | Fort Wayne Pistons | 4-1 | |
| 1954-55 | Syracuse Nationals | Fort Wayne Pistons | 4-3 | |
| 1953-54 | Minneapolis Lakers | Syracuse Nationals | 4-3 | |
| 1952-53 | Minneapolis Lakers | New York Knicks | 4-1 | |
| 1951-52 | Minneapolis Lakers | New York Knicks | 4-3 | |
| 1950-51 | Rochester Royals | New York Knicks | 4-3 | |
| 1949-50 | Minneapolis Lakers | Syracuse Nationals | 4-2 | |
| 1948-49 | Minneapolis Lakers | Washington Capitols | 4-2 | |
| 1947-48 | Baltimore Bullets | Philadelphia Warriors | 4-2 | |
| 1946-47 | Philadelphia Warriors | Chicago Stags | 4-1 | |