NBA
NBA All-Star Game Champions and MVP's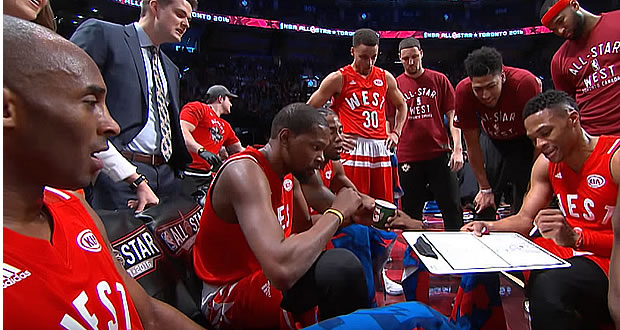 See a complete list of NBA All-Star Game Champions and MVP's. In the 2019 All-Star game, Team LeBron beat Team Giannis 178 – 164 to win the 68th edition of the game.

Fast Facts:
The 2020 NBA All-Star Game will be played on February 16 at the United Center in Chicago, Illinois.
The NBA All-Star Game is played between the Eastern Conference and Western Conference players.
The starting line-up is selected by the fans.
The All-Star head coach can not take the position for two consecutive seasons.
The All-Star game was canceled in 1999 due to the league's lockout.
Uniforms for the game are usually red for the Western Conference and blue for the Eastern Conference.
Bob Pettit and Kobe Bryant are the only two players to win the All-Star Game MVP four times.
In 2006, Lebron James was the youngest player to win the game MVP at 21 years old.
Kobe Bryant has won the game MVP award four times in his career and is the all-time leader in points scored in NBA All-Star Game history.
In 2018 the All-Star Game, team captains for each conference was decided by the leading vote-getter.
NBA All Star Game Champions
| | | |
| --- | --- | --- |
| Date | Score | Game MVP |
| 2019 | Team LeBron 178, Team Giannis 164 | Kevin Durant, Golden State Warriors |
| 2018 | Team LeBron 148, Team Stephen 145 | LeBron James, Cleveland Cavaliers |
| 2017 | West 192, East 182 | Anthony Davis, New Orleans Pelicans |
| 2016 | East 173, West 196 | Russell Westbrook , Oklahoma City Thunder |
| 2015 | West 163, East 158 | Russell Westbrook, Oklahoma City Thunder |
| 2014 | East 163, West 155 | Kyrie Irving, Cleveland Cavaliers |
| 2013 | West 143, East 138 | Chris Paul, Los Angeles Clippers |
| 2012 | West 152, East 149 | Kevin Durant, Oklahoma City Thunder |
| 2011 | West 148, East 143 | Kobe Bryant,Los Angeles Lakers |
| 2010 | East 141, West 139 | Dwyane Wade, Miami Heat |
| 2009 | West 146, East 119 | Kobe Bryant,Los Angeles Lakers / Shaquille O'Neal,Phoenix Suns |
| 2008 | East 134, West 128 | LeBron James,Cleveland Cavaliers |
| 2007 | West 153, East 132 | Kobe Bryant,Los Angeles Lakers |
| 2006 | East 122, West 120 | LeBron James, Cleveland Cavaliers |
| 2005 | East 125, West 115 | Allen Iverson,Philadelphia 76ers |
| 2004 | West 136, East 132 | Shaquille O'Neal,Los Angeles Lakers |
| 2003 | West 155, East 145(2Ot ) | Kevin Garnett, Minnesota Timberwolves |
| 2002 | West 135, East 120 | Kobe Bryant, Los Angeles Lakers |
| 2001 | East 111, West 110 | Allen Iverson, Philadelphia 76ers |
| 2000 | West 137, East 126 | Tim Duncan, San Antonio Spurs / Shaquille O'Neal, Los Angeles Lakers |
| 1998 | East 135, West 114 | Michael Jordan,Chicago Bulls |
| 1997 | East 132, West 120 | Glen Rice, Charlotte Hornets |
| 1996 | East 129, West 118 | Michael Jordan,Chicago Bulls |
| 1995 | West 139, East 112 | Mitch Richmond, Sacramento Kings |
| 1994 | East 127, West 118 | Scottie Pippen, Chicago Bulls |
| 1993 | West 135, East 132(Ot ) | Karl Malone,Utah Jazz / John Stockton, Utah Jazz |
| 1992 | West 153, East 113 | Magic Johnson,Los Angeles Lakers |
| 1991 | East 116, West 114 | Charles Barkley, Philadelphia 76ers |
| 1990 | East 130, West 113 | Magic Johnson, Los Angeles Lakers |
| 1989 | West 143, East 134 | Karl Malone, Utah Jazz |
| 1988 | East 138, West 133 | Michael Jordan, Chicago Bulls |
| 1987 | West 154, East 149(Ot ) | Tom Chambers, Seattle SuperSonics |
| 1986 | East 139, West 132 | Isiah Thomas,Detroit Pistons |
| 1985 | West 140, East 129 | Ralph Sampson, Houston Rockets |
| 1984 | East 154, West 145(Ot ) | Isiah Thomas, Detroit Pistons |
| 1983 | East 132, West 123 | Julius Erving,Philadelphia 76ers |
| 1982 | East 120, West 118 | Larry Bird, Boston Celtics |
| 1981 | East 123, West 120 | Nate Archibald, Boston Celtics |
| 1980 | East 144, West 136(Ot ) | George Gervin, San Antonio Spurs |
| 1979 | West 134, East 129 | David Thompson, Denver Nuggets |
| 1978 | East 133, West 125 | Randy Smith, Buffalo Braves |
| 1977 | West 125, East 124 | Julius Erving, Philadelphia 76ers |
| 1976 | East 123, West 109 | Dave Bing, Washington Bullets |
| 1975 | East 108, West 102 | Walt Frazier, New York Knicks |
| 1974 | West 134, East 123 | Bob Lanier, Detroit Pistons |
| 1973 | East 104, West 84 | Dave Cowens, Boston Celtics |
| 1972 | West 112, East 110 | Jerry West, Los Angeles Lakers |
| 1971 | West 108, East 107 | Lenny Wilkens, Seattle SuperSonics |
| 1970 | East 142, West 135 | Willis Reed, New York Knicks |
| 1969 | East 123, West 112 | Oscar Robertson,Cincinnati Royals |
| 1968 | East 144, West 124 | Hal Greer, Philadelphia 76ers |
| 1967 | West 135, East 120 | Rick Barry, San Francisco Warriors |
| 1966 | East 137, West 94 | Adrian Smith, Cincinnati Royals |
| 1965 | East 124, West 123 | Jerry Lucas, Cincinnati Royals |
| 1964 | East 111, West 107 | Oscar Robertson,Cincinnati Royals |
| 1963 | East 115, West 108 | Bill Russell, Boston Celtics |
| 1962 | West 150, East 130 | Bob Pettit,St. Louis Hawks |
| 1961 | West 153, East 131 | Oscar Robertson, Cincinnati Royals |
| 1960 | East 125, West 115 | Wilt Chamberlain, Philadelphia Warriors |
| 1959 | West 124, East 108 | Elgin Baylor, Minneapolis Lakers / Bob Pettit,St. Louis Hawks |
| 1958 | East 130, West 118 | Bob Pettit,St. Louis Hawks |
| 1957 | East 109, West 97 | Bob Cousy,Boston Celtics |
| 1956 | West 108, East 94 | Bob Pettit, St. Louis Hawks |
| 1955 | East 100, West 91 | Bill Sharman, Boston Celtics |
| 1954 | East 98, West 93(Ot ) | Bob Cousy, Boston Celtics |
| 1953 | West 79, East 75 | George Mikan, Minneapolis Lakers |
| 1952 | East 108, West 91 | Paul Arizin, Philadelphia Warriors |
| 1951 | East 111, West 94 | Ed Macauley, Boston Celtics |