FIBA
World Championship Basketball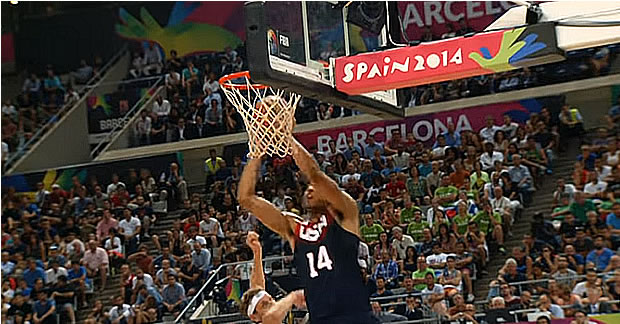 See a complete list of World Championship Basketball Champions. The 2018 World Basketball Champions is Spain.

Fast Facts:
The championship has been held every four years since the inaugural tournament in 1950, except for two occasions.
The current format of the tournament involves 24 teams competing for the title at venues within the host nation.
The winning team receives the Naismith Trophy, first awarded in 1967.

World Championship Basketball title holders:


| | | | | |
| --- | --- | --- | --- | --- |
| Year | Host (final location) | Gold | Score | Silver |
| 2018 | China | Spain | 95–75 | Argentina |
| 2014 | Spain (Madrid) | USA | 129–92 | Serbia |
| 2010 | Turkey (Istanbul) | USA | 81–64 | Turkey |
| 2006 | Japan (Saitama) | Spain | 70–47 | Greece |
| 2002 | USA (Indianapolis) | Yugoslavia | 84–77 | Soviet Union |
| 1998 | Greece (Athens) | USA | 64–62 | USA |
| 1994 | Canada (Toronto and Hamilton) | USA | 137–91 | Russia |
| 1990 | Argentina (Buenos Aires) | Yugoslavia | 92–75 | Soviet Union |
| 1986 | Spain (Madrid) | USA | 87–85 | Soviet Union |
| 1982 | Colombia (Cali) | Soviet Union | 95–94 | USA |
| 1978 | Philippines (Manila) | Soviet Union | 82–81 | Yugoslavia |
| 1974 | Puerto Rico (San Juan) | Soviet Union | 82-79 | Yugoslavia |
| 1970 | Yugoslavia (Ljubljana) | Yugoslavia | 80-55 | Brazil |
| 1967 | Uruguay (Montevideo) | Soviet Union | 71-59 | Yugoslavia |
| 1963 | Brazil (Rio de Janeiro) | Brazil | 90-71 | Yugoslavia |
| 1959 | Chile (Santiago) | Brazil | 81-67 | USA |
| 1954 | Brazil (Rio de Janeiro) | USA | 62-41 | Brazil |
| 1950 | Argentina (Buenos Aires) | Argentina | 64-50 | USA |