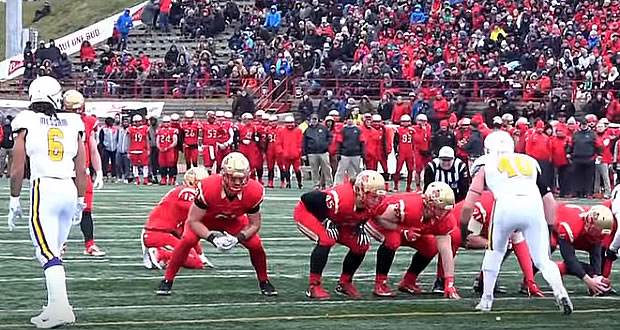 See a complete list of CIS Football – Vanier Cup champions. The 2019 Vanier Cup Championship game was played between the Calgary Dinos and the Montreal Carabins at Telus Stadium in Quebec City, Quebec. The Dinos won the game 27-13, making this their fifth Vanier Cup title.
Fast Facts:
The winning team of the Canadian University Football Championships is awarded the Vanier Cup trophy.
The trophy is named after General Georges P. Vanier, who was the Governor General of Canada.
The first Vanier Cup trophy winner in 1965 was the University of Toronto Varsity Blues.
Vanier Cup Champions
| | | | | | |
| --- | --- | --- | --- | --- | --- |
| Year | Game | Champion | Score | Runner Up | Stadium |
| 2019 | 55th | Calgary Dinos (5) | 27-13 | Montreal Carabins | Telus Stadium |
| 2018 | 54th | Laval (10) | 34-20 | Quebec City | Stade Telus |
| 2017 | 53rd | Western Mustangs (7) | 39-17 | Laval Rouge et Or | Tim Hortons Field |
| 2016 | 52nd | Laval (9) | 21-26 | Calgary | Tim Hortons Field |
| 2015 | 51st | UBC (4) | 26-23 | Montréal | Telus Stadium |
| 2014 | 50th | Montréal | 20-19 | McMaster | Molson Stadium |
| 2013 | 49th | Laval (8) | 25-14 | Calgary | Telus Stadium |
| 2012 | 48th | Laval (7) | 37-14 | McMaster | Rogers Centre |
| 2011 | 47th | McMaster | 41-38(2OT) | Laval | BC Place |
| 2010 | 46th | Laval (6) | 29–2 | Calgary | PEPS Stadium |
| 2009 | 45th | Queen's (4) | 33–31 | Calgary | PEPS Stadium |
| 2008 | 44th | Laval (5) | 44–21 | Western | Ivor Wynne Stadium |
| 2007 | 43rd | Manitoba (3) | 28–14 | Saint Mary's | Rogers Centre |
| 2006 | 42nd | Laval (4) | 13–8 | Saskatchewan | Griffiths Stadium |
| 2005 | 41st | Wilfrid Laurier(2) | 24–23 | Saskatchewan | Ivor Wynne Stadium |
| 2004 | 40th | Laval (3) | 7-1 | Saskatchewan | Ivor Wynne Stadium |
| 2003 | 39th | Laval (2) | 14–7 | Saint Mary's | SkyDome |
| 2002 | 38th | Saint Mary's(3) | 33–21 | Saskatchewan | SkyDome |
| 2001 | 37th | Saint Mary's(2) | 42–16 | Manitoba | SkyDome |
| 2000 | 36th | Ottawa (2) | 42–39 | Regina | SkyDome |
| 1999 | 35th | Laval | 14–10 | Saint Mary's | SkyDome |
| 1998 | 34th | Saskatchewan(3) | 24–17 | Concordia | SkyDome |
| 1997 | 33rd | UBC (3) | 39–23 | Ottawa | SkyDome |
| 1996 | 32nd | Saskatchewan(2) | 31–12 | St. F.X. | SkyDome |
| 1995 | 31st | Calgary (4) | 54–24 | Western | SkyDome |
| 1994 | 30th | Western (6) | 50–40(OT) | Saskatchewan | SkyDome |
| 1993 | 29th | Toronto (2) | 37–34 | Calgary | SkyDome |
| 1992 | 28th | Queen's (3) | 31–0 | Saint Mary's | SkyDome |
| 1991 | 27th | Wilfrid Laurier | 25–18 | Mount Allison | SkyDome |
| 1990 | 26th | Saskatchewan | 24–21 | Saint Mary's | SkyDome |
| 1989 | 25th | Western (5) | 35–10 | Saskatchewan | SkyDome |
| 1988 | 24th | Calgary (3) | 52–23 | Saint Mary's | Varsity Stadium |
| 1987 | 23rd | McGill | 47–11 | UBC | Varsity Stadium |
| 1986 | 22nd | UBC (2) | 25–23 | Western | Varsity Stadium |
| 1985 | 21st | Calgary (2) | 25–6 | Western | Varsity Stadium |
| 1984 | 20th | Guelph | 22–13 | Mount Allison | Varsity Stadium |
| 1983 | 19th | Calgary | 31–21 | Queen's | Varsity Stadium |
| 1982 | 18th | UBC | 39–14 | Western | Varsity Stadium |
| 1981 | 17th | Acadia (2) | 18–12 | Alberta | Varsity Stadium |
| 1980 | 16th | Alberta (3) | 40–21 | Ottawa | Varsity Stadium |
| 1979 | 15th | Acadia | 34–12 | Western | Varsity Stadium |
| 1978 | 14th | Queen's (2) | 16–3 | UBC | Varsity Stadium |
| 1977 | 13th | Western (4) | 48–15 | Acadia | Varsity Stadium |
| 1976 | 12th | Western (3) | 29–13 | Acadia | Varsity Stadium |
| 1975 | 11th | Ottawa | 14–9 | Calgary | Exhibition Stadium |
| 1974 | 10th | Western (2) | 19–15 | Toronto | Exhibition Stadium |
| 1973 | 9th | Saint Mary's | 14–6 | McGill | Exhibition Stadium |
| 1972 | 8th | Alberta (2) | 20–7 | Waterloo Lutheran | Varsity Stadium |
| 1971 | 7th | Western | 15–14 | Alberta | Varsity Stadium |
| 1970 | 6th | Manitoba (2) | 38–11 | Ottawa | Varsity Stadium |
| 1969 | 5th | Manitoba | 24–15 | McGill | Varsity Stadium |
| 1968 | 4th | Queen's | 42–14 | Waterloo Lutheran | Varsity Stadium |
| 1967 | 3rd | Alberta | 10–9 | McMaster | Varsity Stadium |
| 1966 | 2nd | St. F.X. | 40–14 | Waterloo Lutheran | Varsity Stadium |
| 1965 | 1st | Toronto | 14–7 | Alberta | Varsity Stadium |