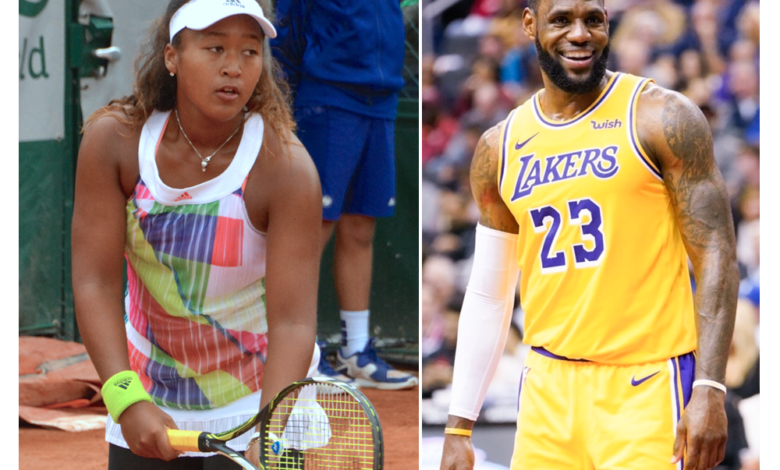 See a list of athletes that have been awarded the Associated Press Athlete of the Year Award. In 2020, the winners of the award are Tennis player Naomi Osaka and Basketball player LeBron James.
Fast Facts:
The first Athlete of the Year award in the U.S. was selected in 1931 by the Associated Press (AP).
Tennis player Serena Williams has been awarded AP Athlete of the Year seven times, which is the most of any other athlete.
Associated Press Athlete of the Year Award Recipients
| Year | Male | Sport | Female | Sport |
| --- | --- | --- | --- | --- |
| 2020 | LeBron James | National Basketball Association | Naomi Osaka | Tennis |
| 2019 | Kawhi Leonard | National Basketball Association | Simone Biles | Gymnastics |
| 2018 | LeBron James | National Basketball Association | Serena Williams | Tennis |
| 2017 | José Altuve | Major League Baseball | Katie Ledecky | Swimming |
| 2016 | LeBron James | National Basketball Association | Simone Biles | Gymnastics |
| 2015 | Stephen Curry | National Basketball Association | Serena Williams | Tennis |
| 2014 | Madison Bumgarner | Major League Baseball | Mo'ne Davis | Little League baseball |
| 2013 | LeBron James | National Basketball Association | Serena Williams | Tennis |
| 2012 | Michael Phelps | Swimming | Gabby Douglas | Gymnastics |
| 2011 | Aaron Rodgers | National Football League | Abby Wambach | Soccer |
| 2010 | Drew Brees | National Football League | Lindsey Vonn | Skiing |
| 2009 | Jimmie Johnson | Auto racing | Serena Williams | Tennis |
| 2008 | Michael Phelps | Swimming | Candace Parker | Women's National Basketball Association |
| 2007 | Tom Brady | National Football League | Lorena Ochoa | Golf |
| 2006 | Tiger Woods | Golf | Lorena Ochoa | Golf |
| 2005 | Lance Armstrong | Cycling | Annika Sörenstam | Golf |
| 2004 | Lance Armstrong | Cycling | Annika Sörenstam | Golf |
| 2003 | Lance Armstrong | Cycling | Annika Sörenstam | Golf |
| 2002 | Lance Armstrong | Cycling | Serena Williams | Tennis |
| 2001 | Barry Bonds | Major League Baseball | Jennifer Capriati | Tennis |
| 2000 | Tiger Woods | Golf | Marion Jones | Track and field |
| 1999 | Tiger Woods | Golf | U.S. women's soccer team | Soccer |
| 1998 | Mark McGwire | Major League Baseball | Se Ri Pak | Golf |
| 1997 | Tiger Woods | Golf | Martina Hingis | Tennis |
| 1996 | Michael Johnson | Track and field | Amy Van Dyken | Swimming |
| 1995 | Cal Ripken Jr. | Major League Baseball | Rebecca Lobo | College basketball |
| 1994 | George Foreman | Boxing | Bonnie Blair | Speed skating |
| 1993 | Michael Jordan | National Basketball Association | Sheryl Swoopes | College basketball |
| 1992 | Michael Jordan | National Basketball Association | Monica Seles | Tennis |
| 1991 | Michael Jordan | National Basketball Association | Monica Seles | Tennis |
| 1990 | Joe Montana | National Football League | Beth Daniel | Golf |
| 1989 | Joe Montana | National Football League | Steffi Graf | Tennis |
| 1988 | Orel Hershiser | Major League Baseball | Florence Griffith Joyner | Track and field |
| 1987 | Ben Johnson | Track and field | Jackie Joyner-Kersee | Track and field |
| 1986 | Larry Bird | National Basketball Association | Martina Navratilova | Tennis |
| 1985 | Dwight Gooden | Major League Baseball | Nancy Lopez | Golf |
| 1984 | Carl Lewis | Track and field | Mary Lou Retton | Gymnastics |
| 1983 | Carl Lewis | Track and field | Martina Navratilova | Tennis |
| 1982 | Wayne Gretzky | National Hockey League | Mary Tabb | Track and field |
| 1981 | John McEnroe | Tennis | Tracy Austin | Tennis |
| 1980 | U.S. Olympic hockey team | Ice hockey | Chris Evert Lloyd | Tennis |
| 1979 | Willie Stargell | Major League Baseball | Tracy Austin | Tennis |
| 1978 | Ron Guidry | Major League Baseball | Nancy Lopez | Golf |
| 1977 | Steve Cauthen | Horse racing | Chris Evert | Tennis |
| 1976 | Bruce Jenner | Track and field | Nadia Comăneci | Gymnastics |
| 1975 | Fred Lynn | Major League Baseball | Chris Evert | Tennis |
| 1974 | Muhammad Ali | Boxing | Chris Evert | Tennis |
| 1973 | O.J. Simpson | National Football League | Billie Jean King | Tennis |
| 1972 | Mark Spitz | Swimming | Olga Korbut | Gymnastics |
| 1971 | Lee Trevino | Golf | Evonne Goolagong | Tennis |
| 1970 | George Blanda | National Football League | Chi Cheng | Track and field |
| 1969 | Tom Seaver | Major League Baseball | Debbie Meyer | Swimming |
| 1968 | Denny McLain | Major League Baseball | Peggy Fleming | Figure skating |
| 1967 | Carl Yastrzemski | Major League Baseball | Billie Jean King | Tennis |
| 1966 | Frank Robinson | Major League Baseball | Kathy Whitworth | Golf |
| 1965 | Sandy Koufax | Major League Baseball | Kathy Whitworth | Golf |
| 1964 | Don Schollander | Swimming | Mickey Wright | Golf |
| 1963 | Sandy Koufax | Major League Baseball | Mickey Wright | Golf |
| 1962 | Maury Wills | Major League Baseball | Dawn Fraser | Swimming |
| 1961 | Roger Maris | Major League Baseball | Wilma Rudolph | Track and field |
| 1960 | Rafer Johnson | Track and field | Wilma Rudolph | Track and field |
| 1959 | Ingemar Johansson | Boxing | Maria Bueno | Tennis |
| 1958 | Herb Elliott | Track and field | Althea Gibson | Tennis |
| 1957 | Ted Williams | Major League Baseball | Althea Gibson | Tennis |
| 1956 | Mickey Mantle | Major League Baseball | Pat McCormick | Diving |
| 1955 | Howard "Hopalong" Cassady | College football | Patty Berg | Golf |
| 1954 | Willie Mays | Major League Baseball | Babe Didrikson Zaharias | Golf |
| 1953 | Ben Hogan | Golf | Maureen Connolly | Tennis |
| 1952 | Bob Mathias | Track and field | Maureen Connolly | Tennis |
| 1951 | Dick Kazmaier | College football | Maureen Connolly | Tennis |
| 1950 | Jim Konstanty | Major League Baseball | Babe Didrikson Zaharias | Golf |
| 1949 | Leon Hart | College football | Marlene Bauer | Golf |
| 1948 | Lou Boudreau | Major League Baseball | Fanny Blankers-Koen | Track and field |
| 1947 | Johnny Lujack | College football | Babe Didrikson Zaharias | Golf |
| 1946 | Glenn Davis | College football | Babe Didrikson Zaharias | Golf |
| 1945 | Byron Nelson | Golf | Babe Didrikson Zaharias | Golf |
| 1944 | Byron Nelson | Golf | Ann Curtis | Swimming |
| 1943 | Gunder Hägg | Track and field | Patty Berg | Golf |
| 1942 | Frank Sinkwich | College football | Gloria Callen | Swimming |
| 1941 | Joe DiMaggio | Major League Baseball | Betty Hicks Newell | Golf |
| 1940 | Tom Harmon | College football | Alice Marble | Tennis |
| 1939 | Nile Kinnick | College football | Alice Marble | Tennis |
| 1938 | Don Budge | Tennis | Patty Berg | Golf |
| 1937 | Don Budge | Tennis | Katherine Rawls | Swimming |
| 1936 | Jesse Owens | Track and field | Helen Stephens | Track and field |
| 1935 | Joe Louis | Boxing | Helen Wills Moody | Tennis |
| 1934 | Dizzy Dean | Major League Baseball | Virginia Van Wie | Golf |
| 1933 | Carl Hubbell | Major League Baseball | Helen Jacobs | Tennis |
| 1932 | Gene Sarazen | Golf | Babe Didrikson | Track and field |
| 1931 | Pepper Martin | Major League Baseball | Helene Madison | Swimming |