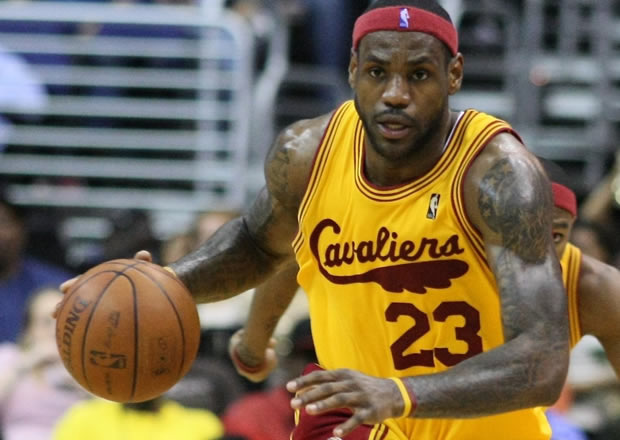 LeBron James is widely regarded as one of the best basketball players in the game today. Drafted out of high school in 2003 by the Cleveland Cavaliers, James left to play with the Miami Heat only to make his return back to the Cavaliers in the 2014-2015 season. Lebron is a 4 time NBA Champion. Since 2018, James has been a part of the Los Angeles Lakers.
Check out LeBron James on Social Buzz and get current updates from him.
LeBron James Fast Facts:
Born: December 30, 1984 in Akron, Ohio.
Nicknames: King James, Bron Bron, LBJ, The Chosen One, L-Train, The Akron Hammer, The King
Titles: Three NBA championships, Two Olympic gold medals, Four NBA MVP awards, Rookie of the year, Cleveland Cavaliers' all-time leading scorer.
Lebron is left-handed but shoots mainly on his right side.
Plays small forward and power forward.
Was recruited by St. Vincent-St. Mary High School to join their basketball team in 1999.
James played wide receiver for St. Vincent-St. Mary's football team in high school.
Was drafted out of high school in 2003 to the Cleveland Cavaliers.
Took the number "23" in honor of his childhood idol, Michael Jordan.
The youngest player to receive the NBA Rookie of the Year Award at age 20.
In 2005 he became the youngest NBA player to score more than 50 points in one game.
Played on the 2004, 2008 and 2012 U.S. Olympic basketball teams.
In January 2013, James became the youngest player to score 20,000 points at age 28.
Won two NBA titles with the Miami Heat in 2012 and 2013, one with the Cleveland Cavaliers in the 2015/16 season, and one with the LA Lakers in 2020.
On February 7, 2023, "King" LeBron James became the all-time leading scorer in NBA history
Sources:
http://www.imdb.com/name/nm1860184/bio
http://www.nba.com/playerfile/lebron_james/bio/?ls=iref:playerCompleteBioLink
http://mrnussbaum.com/athletes/lebron_james/
http://www.ducksters.com/sports/lebron_james.php