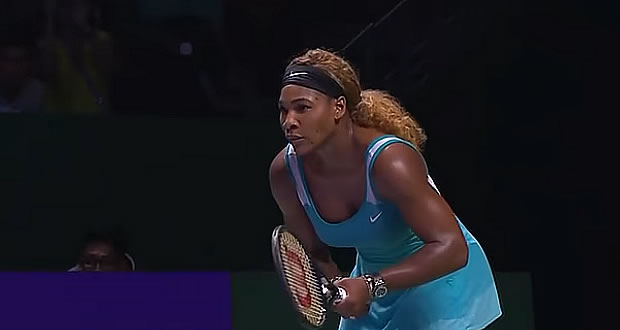 Serena Williams started playing tennis when she was 3 years old and became a professional tennis player at 14 years of age. Williams has honed her skills over the years and is known as a powerful baseline tennis player with a solid serve that has allowed her to be a force to be reckoned with in the womens tennis game. Williams currently holds the record for the most Grand Slam singles titles at 23. This is the most of any women in the open era.
Check out Serena Williams on Social Buzz and get current updates from her on Facebook and Twitter.
Serena Williams Fast Facts:
Born: September 26, 1981 in Saginaw, Michigan.
Grand Slam Singles titles: 7 Australian Open, 3 French Open, 7 Wimbledon, 6 US open.
Grand Slam Doubles titles: 4 Australian Open, 2 French Open, 6 Wimbledon, 2 US open.
Grand Slam Mixed Doubles titles: 1 Australian Open, 1 French Open, 1 Wimbledon, 1 US open.
Olympic Games titles: 4 Gold Medals (3 doubles and 1 singles).
Started playing as a youngster coached by her parents Richard Williams and mother Oracene Price.
Grew up playing on the tennis courts in Compton California with her sister Venus Williams.
Has won a series of doubles titles with her sister Venus.
In 2002, Serena was named as one of it's top 25 Most Intriguing People. Essence magazine put her on their list as one of the country's 50 Most Inspiring African-Americans
Opened two Secondary Schools in Kenya in 2008 and 2010.
Has earned over $100 million in tournament prize money.
Has a custom-designed Nike apparel line along with her own line of clothing "Aneres". Her successful HSN collection of handbags and jewelry round our her vast experience in the fashion world.
At the 2017 Australian open, Serena Williams beat her sister Venus to earn her 23rd Grand Slam title, surpassing former tennis great Steffi Graf.
Sources:
http://www.espn.com/tennis/player/_/id/394/serena-williams
http://www.biography.com/people/serena-williams-9532901