IIHF
Ice Hockey World Champions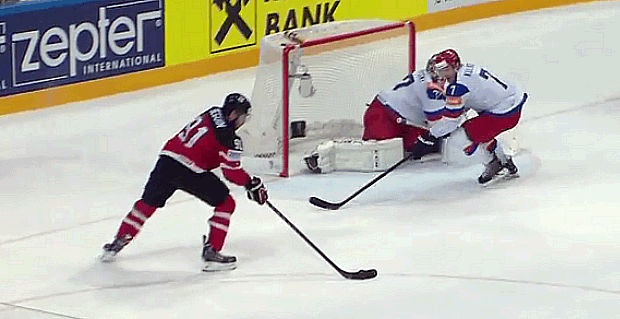 See a complete list of Ice Hockey World Champions. Finland beat Canada in the gold medal game of the 2022 tournament and became the IIHF World Champions for the fourth time.
Fast Facts:
International Ice Hockey Federation (IIHF).
The Ice Hockey World Championships is the sport's highest-profile annual international tournament.
Professional and amateur players have been able to participate in the Hockey Championships since 1977.
IIHF Champions:
| | | | | |
| --- | --- | --- | --- | --- |
| Year | Gold | Silver | Bronze | Venue |
| 2022 | Finland | Canada | Czech Republic | Finland ( |
| 2021 | Canada | Finland | United States | Latvia |
| 2020 | CANCELED | | | |
| 2019 | Finland | Canada |  Russia | Slovakia |
| 2018 |  Sweden |  Switzerland |  United States | Denmark |
| 2017 |  Sweden |  Canada |  Russia | Germany/France |
| 2016 |  Canada |  Finland |  Russia | Russia |
| 2015 |  Canada |  Russia |  United States | Prague/Ostrava |
| 2014 |  Russia |  Finland |  Sweden | Minsk |
| 2013 |  Sweden |   Switzerland |  United States | Stockholm/Helsinki |
| 2012 |  Russia |  Slovakia |  Czech Republic | Helsinki/Stockholm |
| 2011 |  Finland |  Sweden |  Czech Republic | Bratislava/Košice |
| 2010 |  Czech Republic |  Russia |  Sweden | Cologne/ Mannheim/Gelsenkirchen |
| 2009 |  Russia |  Canada |  Sweden | Kloten/Bern |
| 2008 |  Russia |  Canada |  Finland | Halifax/Quebec City |
| 2007 |  Canada |  Finland |  Russia | Moscow/Mytishchi |
| 2006 |  Sweden |  Czech Republic |  Finland | Riga |
| 2005 |  Czech Republic |  Canada |  Russia | Innsbruck/Vienna |
| 2004 |  Canada |  Sweden |  United States | Prague/Ostrava |
| 2003 |  Canada |  Sweden |  Slovakia | Helsinki/ Tampere /Turku |
| 2002 |  Slovakia |  Russia |  Sweden | Gothenburg/ Karlstad /Jönköping |
| 2001 |  Czech Republic |  Finland |  Sweden | Cologne/ Hanover /Nuremberg |
| 2000 |  Czech Republic |  Slovakia |  Finland | St. Petersburg |
| 1999 |  Czech Republic |  Finland |  Sweden | Oslo/ Lillehammer /Hamar |
| 1998 |  Sweden |  Finland |  Czech Republic | Zurich/Basel |
| 1997 |  Canada |  Sweden |  Czech Republic | Helsinki/ Turku /Tampere |
| 1996 |  Czech Republic |  Canada |  United States | Vienna |
| 1995 |  Finland |  Sweden |  Canada | Stockholm/Gävle |
| 1994 |  Canada |  Finland |  Sweden | Bolzano/ Canazei /Milan |
| 1993 |  Russia |  Sweden |  Czech Republic | Dortmund/Munich |
| 1992 |  Sweden |  Finland |  Czechoslovakia | Prague/Bratislava |
| 1991 |  Sweden |  Canada |  Soviet Union | Turku/ Helsinki /Tampere |
| 1990 |  Soviet Union |  Sweden |  Czechoslovakia | Bern/Fribourg |
| 1989 |  Soviet Union |  Canada |  Czechoslovakia | Stockholm/Södertälje |
| 1987 |  Sweden |  Soviet Union |  Czechoslovakia | Vienna |
| 1986 |  Soviet Union |  Sweden |  Canada | Moscow |
| 1985 |  Czechoslovakia |  Canada |  Soviet Union | Prague |
| 1983 |  Soviet Union |  Czechoslovakia |  Canada | Düsseldorf/ Dortmund / Munich |
| 1982 |  Soviet Union |  Czechoslovakia |  Canada | Helsinki/Tampere |
| 1981 |  Soviet Union |  Sweden |  Czechoslovakia | Gothenburg / Stockholm |
| 1979 |  Soviet Union |  Czechoslovakia |  Sweden | Moscow |
| 1978 |  Soviet Union |  Czechoslovakia |  Canada | Prague |
| 1977 |  Czechoslovakia |  Sweden |  Soviet Union | Vienna |
| 1976 |  Czechoslovakia |  Soviet Union |  Sweden | Katowice |
| 1975 |  Soviet Union |  Czechoslovakia |  Sweden | Munich/Düsseldorf |
| 1974 |  Soviet Union |  Czechoslovakia |  Sweden | Helsinki |
| 1973 |  Soviet Union |  Sweden |  Czechoslovakia | Moscow |
| 1972 |  Czechoslovakia |  Soviet Union |  Sweden | Prague |
| 1971 |  Soviet Union |  Czechoslovakia |  Sweden | Bern/Geneva |
| 1970 |  Soviet Union |  Sweden |  Czechoslovakia | Stockholm |
| 1969 |  Soviet Union |  Sweden |  Czechoslovakia | Stockholm |
| 1968* |  Soviet Union |  Czechoslovakia |  Canada | Grenoble |
| 1967 |  Soviet Union |  Sweden |  Canada | Vienna |
| 1966 |  Soviet Union |  Czechoslovakia |  Canada | Ljubljana |
| 1965 |  Soviet Union |  Czechoslovakia |  Sweden | Tampere |
| 1964* |  Soviet Union |  Sweden |  Czechoslovakia | Innsbruck |
| 1963 |  Soviet Union |  Sweden |  Czechoslovakia | Stockholm |
| 1962 |  Sweden |  Canada |  United States | Colorado Springs /Denver |
| 1961 |  Canada |  Czechoslovakia |  Soviet Union | Geneva/Lausanne |
| 1960* |  United States |  Canada |  Soviet Union | Squaw Valley |
| 1959 |  Canada |  Soviet Union |  Czechoslovakia | Prague/ Bratislava /Ostrava |
| 1958 |  Canada |  Soviet Union |  Sweden | Oslo |
| 1957 |  Sweden |  Soviet Union |  Czechoslovakia | Moscow |
| 1956* |  Soviet Union |  United States |  Canada | Cortina |
| 1955 |  Canada |  Soviet Union |  Czechoslovakia | Krefeld/ Dortmund /Cologne |
| 1954 |  Soviet Union |  Canada |  Sweden | Stockholm |
| 1953 |  Sweden |  West Germany |   Switzerland | Zurich/Basel |
| 1952* |  Canada |  United States |  Sweden | Oslo/Drammen |
| 1951 |  Canada |  Sweden |   Switzerland | Paris |
| 1950 |  Canada |  United States |   Switzerland | London |
| 1949 |  Czechoslovakia |  Canada |  United States | Stockholm |
| 1948* |  Canada |  Czechoslovakia |   Switzerland | St. Moritz |
| 1947 |  Czechoslovakia |  Sweden |  Austria | Prague |
| 1939 |  Canada |  United States |   Switzerland | Zurich/Basel |
| 1938 |  Canada |  Great Britain |  Czechoslovakia | Prague |
| 1937 |  Canada |  Great Britain |   Switzerland | London |
| 1936* |  Great Britain |  Canada |  United States | Garmisch-Partenkirchen |
| 1935 |  Canada |   Switzerland |  Great Britain | Davos |
| 1934 |  Canada |  United States |  Germany | Milan |
| 1933 |  United States |  Canada |  Czechoslovakia | Prague |
| 1932* |  Canada |  United States |  Germany | Lake Placid |
| 1931 |  Canada |  United States |  Austria | Krynica |
| 1930 |  Canada |  Germany |   Switzerland | Chamonix/Berlin/Vienna |
| 1928* |  Canada |  Sweden |   Switzerland | St. Moritz |
| 1924* |  Canada |  United States |  Great Britain | Chamonix |
| 1920* |  Canada |  United States |  Czechoslovakia | Antwerp |
* The Winter Olympic Games Ice Hockey Tournament held that year counted as the World Championships
**The Summer Olympic Games Ice Hockey Tournament held that year counted as the World Championships