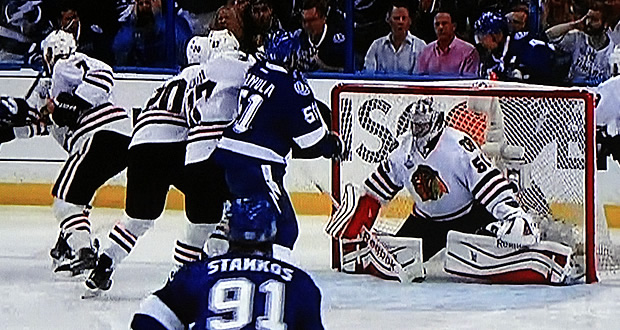 See a complete list NHL Stanley Cup Champions. The winner of the 2019 Stanley Cup are the St. Louis Blues. This was the first Stanley Cup championship title for the franchise. Until the 2018/2019 season, the St. Louis Blues was the only franchise to have never won the Stanley Cup.

 
Fast Facts:
The Stanley Cup is an ice hockey club trophy, awarded annually to the National Hockey League (NHL) playoffs champion.
The Montreal Canadiens have won the Stanley Cup 24 times and made the finals an additional nine times.
The Stanley Cup was donated by former Governor General of Canada Lord Stanley of Preston in 1892, and is the oldest professional sports trophy in North America.
Stanley Cup Champions:
Year
Winning team
Losing team
2019
St. Louis Blues (WC)
Boston Bruins (EC)
2018
Washington Capitals (EC)
Vegas Golden Knights (WC)
2017
Pittsburgh Penguins (EC)
Nashville Predators (WC)
2016
Pittsburgh Penguins (EC)
San Jose Sharks (WC)
2015
Chicago Blackhawks (WC)
Tampa Bay Lightning (EC)
2014
Los Angeles Kings (WC)
New Jersey Devils (EC)
2013
Chicago Blackhawks (WC)
New York Rangers (EC)
2012
Los Angeles Kings (WC)
New Jersey Devils (EC)
2011
Boston Bruins (EC)
Vancouver Canucks (WC)
2010
Chicago Blackhawks (WC)
Philadelphia Flyers (EC)
2009
Pittsburgh Penguins (EC)
Detroit Red Wings (WC)
2008
Detroit Red Wings (WC)
Pittsburgh Penguins (EC)
2007
Anaheim Ducks (WC)
Ottawa Senators (EC)
2006
Carolina Hurricanes (EC)
Edmonton Oilers (WC)
2005
Season cancelled due to labour dispute
2004
Tampa Bay Lightning (EC)
Calgary Flames (WC)
2003
New Jersey Devils (EC)
Mighty Ducks of Anaheim (WC)
2002
Detroit Red Wings (WC)
Carolina Hurricanes (EC)
2001
Colorado Avalanche (WC)
New Jersey Devils (EC)
2000
New Jersey Devils (EC)
Dallas Stars (WC)
1999
Dallas Stars (WC)
Buffalo Sabres (EC)
1998
Detroit Red Wings (WC)
Washington Capitals (EC)
1997
Detroit Red Wings (WC)
Philadelphia Flyers (EC)
1996
Colorado Avalanche (WC)
Florida Panthers (EC)
1995
New Jersey Devils (EC)
Detroit Red Wings (WC)
1994
New York Rangers (EC)
Vancouver Canucks (WC)
1993
Montreal Canadiens (PW)
Los Angeles Kings (CC)
1992
Pittsburgh Penguins (PW)
Chicago Blackhawks (CC)
1991
Pittsburgh Penguins (PW)
Minnesota North Stars (CC)
1990
Edmonton Oilers (CC)
Boston Bruins (PW)
1989
Calgary Flames (CC)
Montreal Canadiens (PW)
1988
Edmonton Oilers (CC)
Boston Bruins (PW)
1987
Edmonton Oilers (CC)
Philadelphia Flyers (PW)
1986
Montreal Canadiens (PW)
Calgary Flames (CC)
1985
Edmonton Oilers (CC)
Philadelphia Flyers (PW)
1984
Edmonton Oilers (CC)
New York Islanders (PW)
1983
New York Islanders (PW)
Edmonton Oilers (CC)
1982
New York Islanders (PW)
Vancouver Canucks (CC)
1981
New York Islanders (CC)
Minnesota North Stars (PW)
1980
New York Islanders (CC)
Philadelphia Flyers (CC)
1979
Montreal Canadiens (PW)
New York Rangers (CC)
1978
Montreal Canadiens (PW)
Boston Bruins (PW)
1977
Montreal Canadiens (PW)
Boston Bruins (PW)
1976
Montreal Canadiens (PW)
Philadelphia Flyers (CC)
1975
Philadelphia Flyers (CC)
Buffalo Sabres (PW)
1974
Philadelphia Flyers (W)
Boston Bruins (E)
1973
Montreal Canadiens (E)
Chicago Black Hawks (W)
1972
Boston Bruins (E)
New York Rangers (E)
1971
Montreal Canadiens (E)
Chicago Black Hawks (W)
1970
Boston Bruins (E)
St. Louis Blues (W)
1969
Montreal Canadiens (E)
St. Louis Blues (W)
1968
Montreal Canadiens (E)
St. Louis Blues (W)
1967
Toronto Maple Leafs
Montreal Canadiens
1966
Montreal Canadiens
Detroit Red Wings
1965
Montreal Canadiens
Chicago Black Hawks
1964
Toronto Maple Leafs
Detroit Red Wings
1963
Toronto Maple Leafs
Detroit Red Wings
1962
Toronto Maple Leafs
Chicago Black Hawks
1961
Chicago Black Hawks
Detroit Red Wings
1960
Montreal Canadiens
Toronto Maple Leafs
1959
Montreal Canadiens
Toronto Maple Leafs
1958
Montreal Canadiens
Boston Bruins
1957
Montreal Canadiens
Boston Bruins
1956
Montreal Canadiens
Detroit Red Wings
1955
Detroit Red Wings
Montreal Canadiens
1954
Detroit Red Wings
Montreal Canadiens
1953
Montreal Canadiens
Boston Bruins
1952
Detroit Red Wings
Montreal Canadiens
1951
Toronto Maple Leafs
Montreal Canadiens
1950
Detroit Red Wings
New York Rangers
1949
Toronto Maple Leafs
Detroit Red Wings
1948
Toronto Maple Leafs
Detroit Red Wings
1947
Toronto Maple Leafs
Montreal Canadiens
1946
Montreal Canadiens
Boston Bruins
1945
Toronto Maple Leafs
Detroit Red Wings
1944
Montreal Canadiens
Chicago Black Hawks
1943
Detroit Red Wings
Boston Bruins
1942
Toronto Maple Leafs
Detroit Red Wings
1941
Boston Bruins
Detroit Red Wings
1940
New York Rangers
Toronto Maple Leafs
1939
Boston Bruins
Toronto Maple Leafs
1938
Chicago Black Hawks (A)
Toronto Maple Leafs (C)
1937
Detroit Red Wings (A)
New York Rangers (A)
1936
Detroit Red Wings (A)
Toronto Maple Leafs (C)
1935
Montreal Maroons (C)
Toronto Maple Leafs (C)
1934
Chicago Black Hawks (A)
Detroit Red Wings (A)
1933
New York Rangers (A)
Toronto Maple Leafs (C)
1932
Toronto Maple Leafs (C)
New York Rangers (A)
1931
Montreal Canadiens (C)
Chicago Black Hawks (A)
1930
Montreal Canadiens (C)
Boston Bruins (A)
1929
Boston Bruins (A)
New York Rangers (A)
1928
New York Rangers (A)
Montreal Maroons (C)
1927
Ottawa Senators (C)
Boston Bruins (A)
1926
Montreal Maroons (NHL)
Victoria Cougars (WHL)
1925
Victoria Cougars (WCHL)
Montreal Canadiens (NHL)
1924
Montreal Canadiens (NHL)
Calgary Tigers (WCHL)
1923
Ottawa Senators (NHL)
Edmonton Eskimos (WCHL)
1922
Toronto St. Pats (NHL)
Vancouver Millionaires (PCHA)
1921
Ottawa Senators (NHL)
Vancouver Millionaires (PCHA)
1920
Ottawa Senators (NHL)
Seattle Metropolitans (PCHA)
1919
Montreal Canadiens (NHL) vs. Seattle Metropolitans (PCHA)
1918
Toronto[16] (NHL)
Vancouver Millionaires (PCHA)
1917
Seattle Metropolitans (PCHA)
Montreal Canadiens (NHA)
1916
Montreal Canadiens (NHA)
Portland Rosebuds (PCHA)
1915
Vancouver Millionaires (PCHA)
Ottawa Senators (NHA)