WTA Tour
WTA Auckland Open Women's Singles Champions
ASB Classic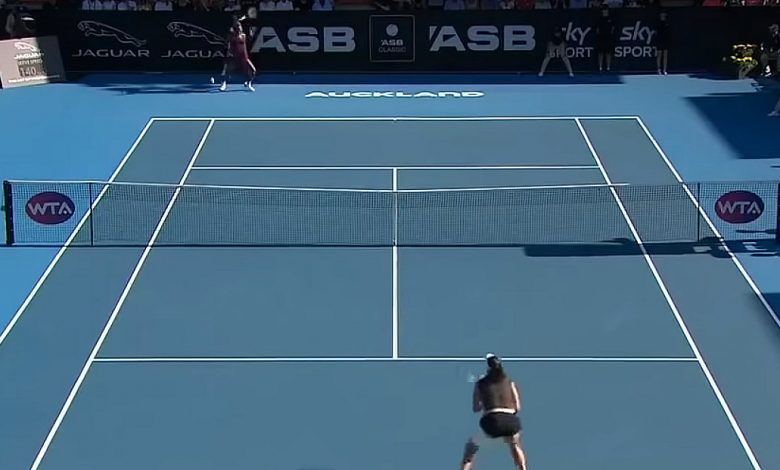 See a list of WTA Auckland Open Women's Singles Champions. Serena Williams is the 2020 tournament Champion. Williams beat fellow American Jessica Pegula 6-3, 6-4., to earn her first tennis title since giving birth to her daughter Olympia in 2017.
The event was canceled in 2021 due to the COVID-19 pandemic.
Fast Facts:
The ATP Auckland Open, is played yearly in January before the first Grand Slam tournament of the season, the Australian Open.
The WTA Auckland Open is also known at the ASB Classic named after thw sponsor, ASB Bank.
WTA Auckland Open Women's Singles Champions
Year
Winner
Runner-up
Score
2021
Event canceled
due to the
COVID-19 pandemic
2020
Serena Williams (USA)
Jessica Pegula (USA)
6–3, 6–4
2019
Julia Görges (2) (GER)
Bianca Andreescu (CAN)
2–6, 7–5, 6–1
2018
Julia Görges (GER)
Caroline Wozniacki (DNK)
6–4, 7–6(7–4)
2017
Lauren Davis (USA)
Ana Konjuh (HRV)
6–3, 6–1
2016
Sloane Stephens (USA)
Julia Görges (DEU)
7–5, 6–2
2015
Venus Williams (USA)
Caroline Wozniacki (DNK)
2–6, 6–3, 6–3
2014
Ana Ivanovic (SRB)
Venus Williams (USA)
6–2, 5–7, 6–4
2013
Agnieszka Radwańska (POL)
Yanina Wickmayer (BEL)
6–4, 6–4
2012
Zheng Jie (CHN)
Flavia Pennetta (ITA)
2–6, 6–3, 2–0 ret.
2011
Gréta Arn (HUN)
Yanina Wickmayer (BEL)
6–3, 6–3
2010
Yanina Wickmayer (BEL)
Flavia Pennetta (ITA)
6–3, 6–2
2009
Elena Dementieva (RUS)
Elena Vesnina (RUS)
6–4, 6–1
2008
Lindsay Davenport (USA)
Aravane Rezaï (FRA)
6–2, 6–2
2007
Jelena Janković (SRB)
Vera Zvonareva (RUS)
7–6(11–9), 5–7, 6–3
2006
Marion Bartoli (FRA)
Vera Zvonareva (RUS)
6–2, 6–2
2005
Katarina Srebotnik (SLO)
Shinobu Asagoe (JPN)
5–7, 7–5, 6–4
2004
Eleni Daniilidou (2) (GRC)
Ashley Harkleroad (USA)
6–3, 6–2
2003
Eleni Daniilidou (GRC)
Cho Yoon-jeong (KOR)
6–4, 4–6, 7–62
2002
Anna Smashnova (ISR)
Tatiana Panova (RUS)
6–2, 6–2
2001
Meilen Tu (USA)
Paola Suárez (ARG)
7–6(10–8), 6–2
2000
Anne Kremer (LUX)
Cara Black (ZWE)
6–4, 6–4
1999
Julie Halard-Decugis (FRA)
Dominique van Roose (BEL)
6–4, 6–1
1998
Dominique van Roost (BEL)
Silvia Farina Elia (ITA)
4–6, 7–6, 7–5
1997
Marion Maruska (AUT)
Judith Wiesner (AUT)
6–3, 6–1
1996
Sandra Cacic (USA)
Barbara Paulus (AUT)
6–3, 1–6, 6–4
1995
Nicole Bradtke (AUS)
States Ginger Helgeson-Nielsen (USA)
3–6, 6–2, 6–1
1994
Ginger Helgeson-Nielsen (USA)
Inés Gorrochategui (ARG)
7–6(7–4), 6–3
1993
Elna Reinach (RSA)
Caroline Kuhlman (USA)
6–0, 6–0
1992
Robin White (USA)
Andrea Strnadová (CSK)
2–6, 6–4, 6–3
1991
Eva Švíglerová (CZK)
Andrea Strnadová (CSK)
6–2, 0–6, 6–1
1990
Leila Meskhi (SVU)
Sabine Appelmans (BEL)
6–1, 6–0
1989
Patty Fendick (2) (USA)
Belinda Cordwell (NZL)
6–2, 6–0
1988
Patty Fendick (USA)
Sara Gomer (USA)
6–3, 7–6
1987
Gretchen Magers (USA)
Terry Phelps (USA)
6–2, 6–3
1985
Anne Hobbs (GBR)
Louise Field (AUS)
6–3, 6–1