Ski Jumping
Ski Jumping Four Hills Tournament Champions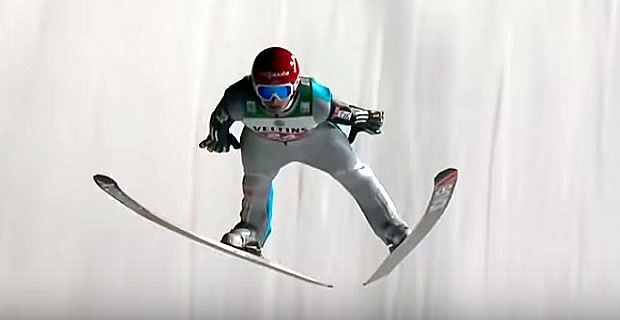 See a complete list of The Ski Jumping Four Hills Tournament (Vierschanzentournee) Champions. The 2020-21 Four Hills Ski Jumping Tournament Champion is 33 year old, Kamil Wiktor Stoch of Poland. This was his third Vierschanzentournee title.

Fast Facts:
The Four Hills Ski Jumping Tournament is also known as Vierschanzentournee (German).
The four ski hills are Oberstdorf (Germany), Garmisch-Partenkirchen (Germany), Innsbruck (Austria) and Bischofshofen (Austria).
The Four Hills Tournament champion is the one who gets the most points over the four events.
The most successful jumper in the tournament is Finland's Janne Ahonen's with five wins in total.
Ski Jumping Four Hills Tournament Champions
| | | | |
| --- | --- | --- | --- |
| Year | Gold | Silver | Bronze |
| 2020/21 | Kamil Stoch (Poland) | Karl Geiger (Germany) | Dawid Kubacki (Poland) |
| 2019/20 | Dawid Kubacki (Poland) | Marius Lindvik (Norway) | Karl Geiger (Germany) |
| 2018/19 | Ryoyu Kobayashi (Japan) | Markus Eisenbichler (Germany) | Stephan Leyhe (Germany) |
| 2017/18 | Kamil Stoch (Poland) | Andreas Wellinger (Germany) | Anders Fannemel (Norway) |
| 2016/17 | Kamil Stoch (Poland) | Piotr Żyła (Poland) | Daniel-André Tande (Norway) |
| 2015/16 | Peter Prevc (Slovenia) | Severin Freund (Germany) | Michael Hayböck (Austria) |
| 2014/15 | Stefan Kraft (Austria) | Michael Hayböck (Austria) | Peter Prevc (Slovenia) |
| 2013/14 | Thomas Diethart (Austria) | Thomas Morgenstern (Austria) | Simon Ammann (Switzerland) |
| 2012/13 | Gregor Schlierenzauer (Austria) | Anders Jacobsen (Norway) | Tom Hilde (Norway) |
| 2011/12 | Gregor Schlierenzauer (Austria) | Thomas Morgenstern (Austria) | Andreas Kofler (Austria) |
| 2010/11 | Thomas Morgenstern (Austria) | Simon Ammann (Switzerland) | Tom Hilde (Norway) |
| 2009/10 | Andreas Kofler (Austria) | Janne Ahonen (Finland) | Wolfgang Loitzl (Austria) |
| 2008/09 | Wolfgang Loitzl (Austria) | Simon Ammann (Switzerland) | Gregor Schlierenzauer (Austria) |
| 2007/08 | Janne Ahonen (Finland) | Thomas Morgenstern (Austria) | Michael Neumayer (Germany) |
| 2006/07 | Anders Jacobsen (Norway) | Gregor Schlierenzauer (Austria) | Simon Ammann (Switzerland) |
| 2005/06 | Jakub Janda (Czech Republic) | Janne Ahonen (Finland) | Roar Ljøkelsøy (Norway) |
| 2004/05 | Janne Ahonen (Finland) | Martin Höllwarth (Austria) | Thomas Morgenstern (Austria) |
| 2003/04 | Sigurd Pettersen (Norway) | Martin Höllwarth (Austria) | Peter Žonta (Slovenia) |
| 2002/03 | Janne Ahonen (Finland) | Sven Hannawald (Germany) | Adam Małysz ( (Poland) |
| 2001/02 | Sven Hannawald (Germany) | Matti Hautamäki (Finland) | Martin Höllwarth (Austria) |
| 2000/01 | Adam Małysz ( (Poland) | Janne Ahonen (Finland) | Martin Schmitt (Germany) |
| 1999/00 | Andreas Widhölzl (Austria) | Janne Ahonen (Finland) | Martin Schmitt (Germany) |
| 1998/99 | Janne Ahonen (Finland) | Noriaki Kasai (Japan) | Hideharu Miyahira (Japan) |
| 1997/98 | Kazuyoshi Funaki (Japan) | Sven Hannawald (Germany) | Janne Ahonen (Finland) |
| 1996/97 | Primož Peterka (Slovenia) | Andreas Goldberger (Austria) | Dieter Thoma (Germany) |
| 1995/96 | Jens Weißflog (Germany) | Ari-Pekka Nikkola (Finland) | Reinhard Schwarzenberger (Austria) |
| 1994/95 | Andreas Goldberger (Austria) | Kazuyoshi Funaki (Japan) | Janne Ahonen (Finland) |
| 1993/94 | Espen Bredesen (Norway) | Jens Weißflog (Germany) | Andreas Goldberger (Austria) |
| 1992/93 | Andreas Goldberger (Austria) | Noriaki Kasai (Japan) | Jaroslav Sakala (Czech Republic) |
| 1991/92 | Toni Nieminen (Finland) | Martin Höllwarth (Austria) | Werner Rathmayr (Austria) |
| 1990/91 | Jens Weißflog (Germany) | Andreas Felder (Austria) | Dieter Thoma (Germany) |
| 1989/90 | Dieter Thoma (Germany) | Jens Weißflog (GDR) | Risto Laakkonen (Finland) |
| 1988/89 | Risto Laakkonen (Finland) | Matti Nykänen (Finland) | Jens Weißflog (GDR) |
| 1987/88 | Matti Nykänen (Finland) | Jens Weißflog (GDR) | Jiří Parma (Czechoslovakia) |
| 1986/87 | Ernst Vettori (Austria) | Vegard Opaas (Norway) | Ulf Findeisen (GDR) |
| 1985/86 | Ernst Vettori (Austria) | Franz Neuländtner (Austria) | Jari Puikkonen (Finland) |
| 1984/85 | Jens Weißflog (GDR) | Matti Nykänen (Finland) | Klaus Ostwald (GDR) |
| 1983/84 | Jens Weißflog (GDR) | Klaus Ostwald (GDR) | Matti Nykänen (Finland) |
| 1982/83 | Matti Nykänen (Finland) | Jens Weißflog (GDR) | Horst Bulau (Canada) |
| 1981/82 | Manfred Deckert (GDR) | Roger Ruud (Norway) | Per Bergerud (Norway) |
| 1980/81 | Hubert Neuper (Austria) | Armin Kogler (Austria) | Jari Puikkonen (Finland) |
| 1979/80 | Hubert Neuper (Austria) | Henry Glaß (GDR) | Martin Weber (GDR) |
| 1978/79 | Pentti Kokkonen (Finland) | Hansjörg Sumi (Switzerland) | Jochen Danneberg (GDR) |
| 1977/78 | Kari Ylianttila (Finland) | Matthias Buse (GDR) | Martin Weber (GDR) |
| 1976/77 | Jochen Danneberg (GDR) | Walter Steiner (Switzerland) | Henry Glaß (GDR) |
| 1975/76 | Jochen Danneberg (GDR) | Karl Schnabl (Austria) | Reinhold Bachler (Austria) |
| 1974/75 | Willi Pürstl (Austria) | Edi Federer (Austria) | Karl Schnabl (Austria) |
| 1973/74 | Hans-Georg Aschenbach (GDR) | Walter Steiner (Switzerland) | Bernd Eckstein (GDR) |
| 1972/73 | Rainer Schmidt (GDR) | Hans-Georg Aschenbach (GDR) | Sergei Boschkow (Soviet Union) |
| 1971/72 | Ingolf Mork (Norway) | Henry Glaß (GDR) | Tauno Käyhkö (Finland) |
| 1970/71 | Jiří Raška (Czechoslovakia) | Ingolf Mork (Norway) | Zbyněk Hubač (Czechoslovakia) |
| 1969/70 | Horst Queck (GDR) | Bjørn Wirkola (Norway) | Gari Napalkow (Soviet Union) |
| 1968/69 | Bjørn Wirkola (Norway) | Jiří Raška (Czechoslovakia) | Zbyněk Hubač (Czechoslovakia) |
| 1967/68 | Bjørn Wirkola (Norway) | Jiří Raška (Czechoslovakia) | Dieter Neuendorf (GDR) |
| 1966/67 | Bjørn Wirkola (Norway) | Sepp Lichtenegger (Austria) | Dieter Neuendorf (GDR) |
| 1965/66 | Veikko Kankkonen (Finland) | Dieter Neuendorf (GDR) | Bjørn Wirkola (Norway) |
| 1964/65 | Torgeir Brandtzæg (Norway) | Bjørn Wirkola (Norway) | Dalibor Motejlek (Czechoslovakia) |
| 1963/64 | Veikko Kankkonen (Finland) | Torbjørn Yggeseth (Norway) | Baldur Preiml (Austria) |
| 1962/63 | Toralf Engan (Norway) | Torbjørn Yggeseth (Norway) | Max Bolkart (Germany) |
| 1961/62 | Eino Kirjonen (Finland) | Willi Egger (Austria) | Hemmo Silvennoinen (Finland) |
| 1960/61 | Helmut Recknagel (GDR) | Otto Leodolter (Austria) | Kalevi Kärkinen (Finland) |
| 1959/60 | Max Bolkart (Germany) | Albin Plank (Austria) | Otto Leodolter (Austria) |
| 1958/59 | Helmut Recknagel (GDR) | Walter Habersatter (Austria) | Arne Hoel (Norway) |
| 1957/58 | Helmut Recknagel (GDR) | Nikolai Schamow (Soviet Union) | Nikolai Kamenski (Soviet Union) |
| 1956/57 | Pentti Uotinen (Finland) | Eino Kirjonen (Finland) | Max Bolkart (Germany) |
| 1955/56 | Nikolai Kamenski (Soviet Union) | Josef Bradl (Austria) | Nikolai Schamow (Soviet Union) |
| 1954/55 | Hemmo Silvennoinen (Finland) | Eino Kirjonen (Finland) | Aulis Kallakorpi (Finland) |
| 1953/54 | Josef Bradl (Austria) | Halvor Næs (Norway) | Asgeir Dølplads (Norway) |
| 1953 | Olaf B. Bjørnstad (Norway) | Eino Kirjonen (Finland) | Josef Bradl (Austria) |