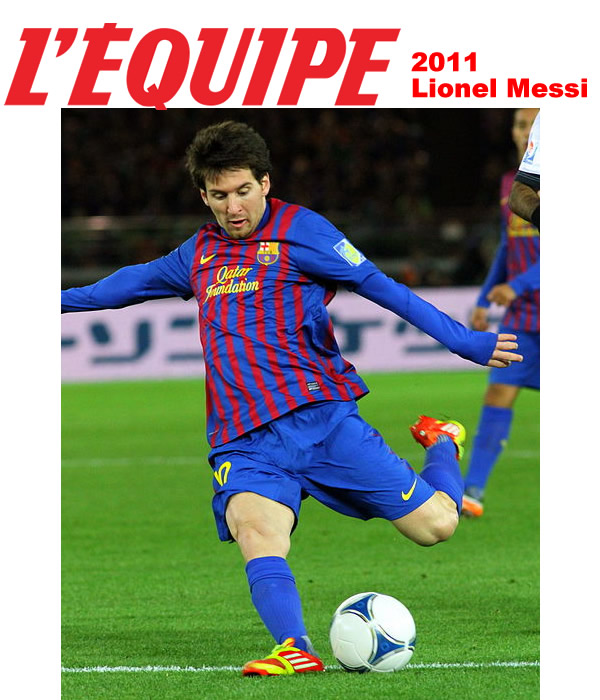 See a list of Men's and Women's L'Équipe World Champions. Formula One race car driver Lewis Hamilton of the United Kingdom and Biathlon's Marte Olsbu Roeiseland of Norway hold the title of L'Équipe World Champion in 2020.
Fast Facts:
L'Équipe, is a French nationwide daily newspaper devoted to sports. The paper is noted for coverage of football (soccer), rugby, motorsports and cycling. Its ancestor was L'Auto, a general sports paper, whose name reflected not any narrow interest but the excitement of the time in car racing.
L'Auto originated the Tour de France cycling stage race in 1903 as a circulation booster. The race leader's yellow jersey (maillot jaune) was instituted in 1919, probably to reflect the distinctive yellow newsprint on which L'Auto was published. The competition that would eventually become the UEFA Champions League was also the brainchild of a l'Equipe journalist, Gabriel Hanot.
L'Équipe Men's Champion of Champions:

| | | |
| --- | --- | --- |
| Year | Winner | Sport |
| 2020 | Lewis Hamilton (United Kingdom) | Formula One |
| 2019 | Rafael Nadal (Spain) | Tennis |
| 2018 | Marcel Hirscher (Austria) | Alpine Skiing |
| 2017 | Rafael Nadal & Roger Federer (Spain/Switzerland) | Tennis |
| 2016 | Usain Bolt (Jamaica) | Athletics |
| 2015 | Usain Bolt (Jamaica) | Athletics |
| 2014 | Renaud Lavillenie (France) | Athletics |
| 2013 | Lionel Rafael Nadal (Spain) | Tennis |
| 2012 | Usain Bolt (Jamaica) | Athletics |
| 2011 | Lionel Messi (Argentina) | Football |
| 2010 | Rafael Nadal (Spain) | Tennis |
| 2009 | Usain Bolt (Jamaica) | Athletics |
| 2008 | Usain Bolt (Jamaica) | Athletics |
| 2007 | Roger Federer (Switzerland) | Tennis |
| 2006 | Roger Federer (Switzerland) | Tennis |
| 2005 | Roger Federer (Switzerland) | Tennis |
| 2004 | Hicham El Guerrouj (Morocco) | Athletics |
| 2003 | Michael Schumacher (Germany) | Formula One |
| 2002 | Michael Schumacher (Germany) | Formula One |
| 2001 | Michael Schumacher (Germany) | Formula One |
| 2000 | Tiger Woods (USA) | Golf |
| 1999 | Andre Agassi (USA) | Tennis |
| 1998 | Zinedine Zidane (France) | Football |
| 1997 | Sergey Bubka (Ukraine) | Athletics |
| 1996 | Michael Johnson (USA) | Athletics |
| 1995 | Jonathan Edwards (United Kingdom) | Athletics |
| 1994 | Romario (Brazil) | Football |
| 1993 | Noureddine Morceli (Algeria) | Athletics |
| 1992 | Michael Jordan (USA) | Basketball |
| 1991 | Carl Lewis (USA) | Athletics |
| 1990 | Ayrton Senna (Brazil) | Formula One |
| 1989 | Greg LeMond (USA) | Cycling |
| 1988 | Florence Griffith-Joyner (USA) | Athletics |
| 1987 | Ben Johnson * (Canada) | Athletics |
| 1986 | Diego Maradona (Argentina) | Football |
| 1985 | Sergey Bubka (Ukraine) | Athletics |
| 1984 | Carl Lewis (USA) | Athletics |
| 1983 | Carl Lewis (USA) | Athletics |
| 1982 | Paolo Rossi (Italy) | Football |
| 1981 | Sebastian Coe (United Kingdom) | Athletics |
| 1980 | Eric Heiden (USA) | Speed Skating |
| | * Stripped of the title for doping scandal | |
L'Équipe Women's Champion of Champions:
Year
Winner
Sport
2020
Marte Olsbu Roeiseland (Norway)
Biathlons
2019
Simone Biles (USA)
Gymnastics
2018
Simone Biles (USA)
Gymnastics
2017
Katie Ledecky (USA)
Swimming
2016
Simone Biles (USA)
Gymnastics
2015
Serena Williams (Tennis)
Tennis
2014
Katie Ledecky (USA)
Swimming
2013
Serena Williams (Tennis)
Tennis
2012
Serena Williams (Tennis)
Tennis