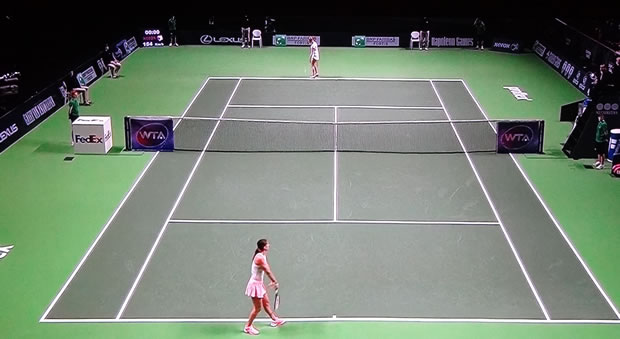 See a complete list of WTA Tour Singles Champions. The 2019 WTA Tour Singles Champions is Ashleigh Barty of Australia. This was her first WTA Tour Singles title.

Fast Facts:
Women's Tennis Association (WTA).
Martina Navratilova is the most decorated WTA Tour Champion. She has won 8 singles titles and 12 doubles titles overall.
The WTA Tour Championships is generally considered to be the fifth most prestigious event on the women's tour after the four Grand Slam tournaments.
WTA Tour Singles Champions:
| | | | |
| --- | --- | --- | --- |
| Year | Champion | Runner-up | Match Score |
| 2019 | Ashleigh Barty (AUS) | Elina Svitolina (UKR) | 6–4, 6–3 |
| 2018 | Elina Svitolina (UKR) | Sloane Stephens (USA) | 3–6, 6–2, 6–2 |
| 2017 | Caroline Wozniacki (DNK) | Venus Williams (USA) | 6–4, 6–4 |
| 2016 | Dominika Cibulková (SVK) | Angelique Kerber (GER) | 6–3, 6–4 |
| 2015 | Agnieszka Radwanska (POL) | Petra Kvitová (CZE) | 6–4, 6–4 |
| 2014 | Serena Williams (5) (USA) | Simona Halep (ROU) | 6–3, 6–0 |
| 2013 | Serena Williams (4) (USA) | Li Na (CHN) | 2–6, 6–3, 6–0 |
| 2012 | Serena Williams (3) (USA) | Maria Sharapova (RUS) | 6–4, 6–3 |
| 2011 | Petra Kvitová (CZE) | Victoria Azarenka (BLR) | 7–5, 4–6, 6–3 |
| 2010 | Kim Clijsters (3) (BEL) | Caroline Wozniacki (DNK) | 6–3, 5–7, 6–3 |
| 2009 | Serena Williams (2) (USA) | Venus Williams (USA) | 6–2, 7–6(7–4) |
| 2008 | Venus Williams (USA) | Vera Zvonareva (RUS) | 6–7(5–7), 6–0, 6–2 |
| 2007 | Justine Henin (2) (BEL) | Maria Sharapova (RUS) | 5–7, 7–5, 6–3 |
| 2006 | Justine Henin (BEL) | Amélie Mauresmo (FRA) | 6–4, 6–3 |
| 2005 | Amélie Mauresmo (FRA) | Mary Pierce (FRA) | 5–7, 7–6(7–3), 6–4 |
| 2004 | Maria Sharapova (RUS) | Serena Williams (USA) | 4–6, 6–2, 6–4 |
| 2003 | Kim Clijsters (2) (BEL) | Amélie Mauresmo (FRA) | 6–2, 6–0 |
| 2002 | Kim Clijsters (BEL) | Serena Williams (USA) | 7–5, 6–3 |
| 2001 | Serena Williams (USA) | Lindsay Davenport (USA) | walkover |
| 2000 | Martina Hingis (2) (SUI) | Monica Seles (USA) | 6–7(5–7), 6–4, 6–4 |
| 1999 | Lindsay Davenport (USA) | Martina Hingis (SUI) | 6–4, 6–2 |
| 1998 | Martina Hingis (SUI) | Lindsay Davenport (USA) | 7–5, 6–4, 4–6, 6–2 |
| 1997 | Jana Novotná (CZE) | Mary Pierce (FRA) | 7–6(7–4), 6–2, 6–3 |
| 1996 | Steffi Graf (5) (GER) | Martina Hingis (SUI) | 6–3, 4–6, 6–0, 4–6, 6–0 |
| 1995 | Steffi Graf (4) (GER) | Anke Huber (GER) | 6–1, 2–6, 6–1, 4–6, 6–3 |
| 1994 | Gabriela Sabatini (2) (ARG) | Lindsay Davenport (USA) | 6–3, 6–2, 6–4 |
| 1993 | Steffi Graf (3) (GER) | Arantxa Sánchez Vicario (SPN) | 6–1, 6–4, 3–6, 6–1 |
| 1992 | Monica Seles (3) (USA) | Martina Navratilova (USA) | 7–5, 6–3, 6–1 |
| 1991 | Monica Seles (2) (USA) | Martina Navratilova (USA) | 6–4, 3–6, 7–5, 6–0 |
| 1990 | Monica Seles (USA) | Gabriela Sabatini (ARG) | 6–4, 5–7, 3–6, 6–4, 6–2 |
| 1989 | Steffi Graf (2) (GER) | Martina Navratilova (USA) | 6–4, 7–5, 2–6, 6–2 |
| 1988 | Gabriela Sabatini (ARG) | Pam Shriver (USA) | 7–5, 6–2, 6–2 |
| 1987 | Steffi Graf (GER) | Gabriela Sabatini (ARG) | 4–6, 6–4, 6–0, 6–4 |
| 1986(Mar.) | Martina Navratilova (7) (USA) | Hana Mandlíková (CZE) | 6–2, 6–0, 3–6, 6–1 |
| 1986(Nov.) | Martina Navratilova (8) (USA) | Steffi Graf (GER) | 7–6(8–6), 6–3, 6–2 |
| 1985 | Martina Navratilova (6) (USA) | Helena Suková (CZE) | 6–3, 7–5, 6–4 |
| 1984 | Martina Navratilova (5) (USA) | Chris Evert (USA) | 6–3, 7–5, 6–1 |
| 1983 | Martina Navratilova (4) (USA) | Chris Evert (USA) | 6–2, 6–0 |
| 1982 | Sylvia Hanika (GER) | Martina Navratilova (USA) | 1–6, 6–3, 6–4 |
| 1981 | Martina Navratilova (3) (CZE) | Andrea Jaeger (USA) | 6–3, 7–6(7–3) |
| 1980 | Tracy Austin (USA) | Martina Navratilova (CZE) | 6–2, 2–6, 6–2 |
| 1979 | Martina Navratilova (2) (CZE) | Tracy Austin (USA) | 6–3, 3–6, 6–2 |
| 1978 | Martina Navratilova (CZE) | Evonne Goolagong Cawley (AUS) | 7–6(7–0), 6–4 |
| 1977 | Chris Evert (4) (USA) | Sue Barker (GBR) | 2–6, 6–1, 6–1 |
| 1976 | Evonne Goolagong Cawley (2) (GBR) | Chris Evert (USA) | 6–3, 5–7, 6–3 |
| 1975 | Chris Evert (3) (USA) | Martina Navratilova (CZE) | 6–4, 6–2 |
| 1974 | Evonne Goolagong Cawley (GBR) | Chris Evert (USA) | 6–3, 6–4 |
| 1973 | Chris Evert (2) (USA) | Nancy Richey Gunter (USA) | 6–3, 6–3 |
| 1972 | Chris Evert (USA) | Kerry Melville Reid (AUS) | 7–5, 6–4 |