US Open
US Open Men's Double's Champions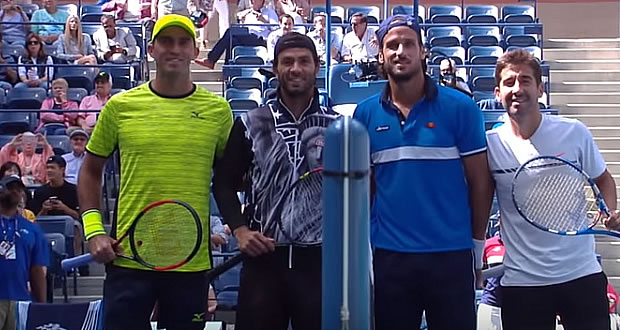 See a complete list of US Open Men's Double's Champions. Juan Sebastián Cabal and Robert Farah from Colombia are the 2019 Men's Double's US Open Tennis Champions.

Fast Facts:
Men's Double's tennis has been a part of the US Open since 1881.
The US Open Tennis Championships is the fourth and final Grand Slam of the tennis season.
US Open Men's Doubles Champions:
(Open Era)
| | | |
| --- | --- | --- |
| Year | Players | Country |
| 2019 | Juan Sebastián Cabal | Colombia |
| | Robert Farah | Colombia |
| 2018 | Mike Bryan | USA |
| | Jack Sock | USA |
| 2017 | Jean-Julien Rojer | France |
| | Horia Tecău | Romania |
| 2016 | Bruno Soares | Brazil |
| | Jamie Murray | UK |
| 2015 | Pierre-Hugues Herbert | France |
| | Nicolas Mahut | France |
| 2014 | Bob Bryan | USA |
| | Mike Bryan | USA |
| 2013 | Leander Paes | India |
| | Radek Štěpánek | Czech Republic |
| 2012 | Bob Bryan | USA |
| | Mike Bryan | USA |
| 2011 | Jürgen Melzer | Austria |
| | Philipp Petzschner | Germany |
| 2010 | Bob Bryan | USA |
| | Mike Bryan | USA |
| 2009 | Lukáš Dlouhý | Czech Republic |
| | Leander Paes | India |
| 2008 | Bob Bryan | USA |
| | Mike Bryan | USA |
| 2007 | Simon Aspelin | Sweden |
| | Julian Knowle | Austria |
| 2006 | Martin Damm | Czech Republic |
| | Leander Paes | India |
| 2005 | Bob Bryan | USA |
| | Mike Bryan | USA |
| 2004 | Mark Knowles | The Bahamas |
| | Daniel Nestor | Canada |
| 2003 | Jonas Björkman | Sweden |
| | Todd Woodbridge | Australia |
| 2002 | Mahesh Bhupathi | India |
| | Max Mirnyi | Belarus |
| 2001 | Wayne Black | Zimbabwe |
| | Kevin Ullyett | Zimbabwe |
| 2000 | Lleyton Hewitt | Australia |
| | Max Mirnyi | Belarus |
| 1999 | Sébastien Lareau | Canada |
| | Alex O\\'Brien | USA |
| 1998 | Sandon Stolle | Australia |
| | Cyril Suk | Czech Republic |
| 1997 | Yevgeny Kafelnikov | Russia |
| | Daniel Vacek | Czech Republic |
| 1996 | Todd Woodbridge | Australia |
| | Mark Woodforde | Australia |
| 1995 | Todd Woodbridge | Australia |
| | Mark Woodforde | Australia |
| 1994 | Jacco Eltingh | Netherlands |
| | Paul Haarhuis | Netherlands |
| 1993 | Ken Flach | USA |
| | Rick Leach | USA |
| 1992 | Jim Grabb | Sweden |
| | Richey Reneberg | USA |
| 1991 | John Fitzgerald | Australia |
| | Anders Järryd | Sweden |
| 1990 | Pieter Aldrich | South Africa |
| | Danie Visser | South Africa |
| 1989 | John McEnroe | USA |
| | Mark Woodforde | Australia |
| 1988 | Sergio Casal | Spain |
| | Emilio Sánchez | Spain |
| 1987 | Stefan Edberg | Sweden |
| | Anders Järryd | Sweden |
| 1986 | Andrés Gómez | Ecuador |
| | Slobodan Živojinović | Yugoslavia |
| 1985 | Ken Flach | USA |
| | Robert Seguso | USA |
| 1984 | John Fitzgerald | Australia |
| | Tomáš Šmíd | Czechoslovkia |
| 1983 | Peter Fleming | USA |
| | John McEnroe | USA |
| 1982 | Kevin Curren | South Africa |
| | Steve Denton | USA |
| 1981 | Peter Fleming | USA |
| | John McEnroe | USA |
| 1980 | Robert Lutz | USA |
| | Stan Smith | USA |
| 1979 | Peter Fleming | USA |
| | John McEnroe | USA |
| 1978 | Robert Lutz | USA |
| | Stan Smith | USA |
| 1977 | Bob Hewitt | South Africa |
| | Frew McMillan | South Africa |
| 1976 | Tom Okker | Netherlands |
| | Marty Riessen | USA |
| 1975 | Jimmy Connors | USA |
| | Ilie Năstase | Romania |
| 1974 | Robert Lutz | USA |
| | Stan Smith | USA |
| 1973 | Owen Davidson | Australia |
| | John Newcombe | Australia |
| 1972 | Cliff Drysdale | South Africa |
| | Roger Taylor | United Kingdom |
| 1971 | John Newcombe | Australia |
| | Roger Taylor | United Kingdom |
| 1970 | Pierre Barthes | France |
| | Nikola Pilić | Yugoslavia |
| 1969 | Ken Rosewall | Australia |
| | Fred Stolle | Australia |
| 1968 | Robert Lutz | USA |
| | Stan Smith | USA |