US Open
US Open Women's Double's Champions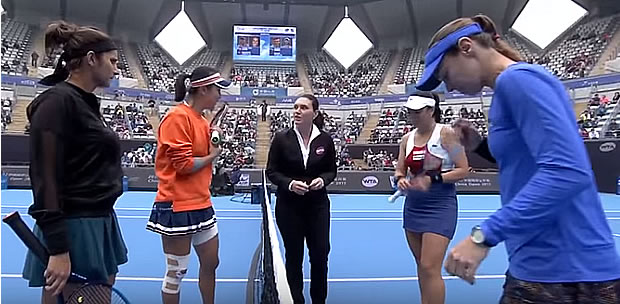 See a complete list of US Open Women's Double's Champions. Elise Mertens of Belgiumgium and Aryna Sabalenka of BelarUnited Statesrus are the 2019 Women's Double's US Open Tennis Champions.

Fast Facts:
Women's Double's tennis has been a part of the US Open since 1889.
The tournament is held annually in late August to early September and is played at the USTA Billie Jean King National Tennis Center in Flushing Meadows, New York.
US Open Women's Doubles Champions:
| | | |
| --- | --- | --- |
| Year | Players | Country |
| 2019 | Elise Mertens | Belgium |
| | Aryna Sabalenka | Belarus |
| 2018 | Ashleigh Barty | Australia |
| | CoCo Vandeweghe | United States |
| 2017 | Martina Hingis | Switzerland |
| | Chan Yung-jan | Taipei |
| 2016 | Bethanie Mattek-Sands | United States |
| | Lucie Šafářová | Czech Republic |
| 2015 | Martina Hingis | Switzerland |
| | Sania Mirza | India |
| 2014 | Ekaterina Makarova | Russia |
| | Elena Vesnina | Russia |
| 2013 | Andrea Hlaváčková | Czech Republic |
| | Lucie Hradecká | Czech Republic |
| 2012 | Sara Errani | Italy |
| | Roberta Vinci | Italy |
| 2011 | Liezel Huber | United States |
| | Lisa Raymond | United States |
| 2010 | Vania King | United States |
| | Yaroslava Shvedova | Kazakhstan |
| 2009 | Serena Williams | United States |
| | Venus Williams | United States |
| 2008 | Cara Black | Zimbabwe |
| | Liezel Huber | United States |
| 2007 | Nathalie Dechy | France |
| | Dinara Safina | Russia |
| 2006 | Nathalie Dechy | France |
| | Vera Zvonareva | Russia |
| 2005 | Lisa Raymond | United States |
| | Samantha Stosur | Australia |
| 2004 | Virginia Ruano Pascual | Spain |
| | Paola Suárez | Argentina |
| 2003 | Virginia Ruano Pascual | Spain |
| | Paola Suárez | Argentina |
| 2002 | Virginia Ruano Pascual | Spain |
| | Paola Suárez | Argentina |
| 2001 | Lisa Raymond | United States |
| | Rennae Stubbs | Australia |
| 2000 | Julie Halard | France |
| | Ai Sugiyama | Japan |
| 1999 | Serena Williams | United States |
| | Venus Williams | United States |
| 1998 | Martina Hingis | Switzerland |
| | Jana Novotná | Czech Republic |
| 1997 | Lindsay Davenport | United States |
| | Jana Novotná | Czech Republic |
| 1996 | Gigi Fernández | United States |
| | Natalia Zvereva | BelarUnited Statesrus |
| 1995 | Gigi Fernández | United States |
| | Natalia Zvereva | BelarUnited Statesrus |
| 1994 | Jana Novotná | Czech Republic |
| | Arantxa Sánchez Vicario | Spain |
| 1993 | Arantxa Sánchez Vicario | Spain |
| | Helena Suková | Czech Republic |
| 1992 | Gigi Fernández | United States |
| | Natalia Zvereva | BelarUnited Statesrus |
| 1991 | Pam Shriver | United States |
| | Natalia Zvereva | Soviet union |
| 1990 | Gigi Fernández | United States |
| | Martina Navrátilová | United States |
| 1989 | Hana Mandlíková | Australia |
| | Martina Navrátilová | United States |
| 1988 | Gigi Fernández | United States |
| | Robin White | United States |
| 1987 | Martina Navrátilová | United States |
| | Pam Shriver | United States |
| 1986 | Martina Navrátilová | United States |
| | Pam Shriver | United States |
| 1985 | Claudia Kohde-Kilsch | Germany |
| | Helena Suková | Czechoslovakia |
| 1984 | Martina Navrátilová | United States |
| | Pam Shriver | United States |
| 1983 | Martina Navrátilová | United States |
| | Pam Shriver | United States |
| 1982 | Rosemary Casals | United States |
| | Wendy Turnbull | Australia |
| 1981 | Anne Smith | United States |
| | Kathy Jordan | United States |
| 1980 | Billie Jean King | United States |
| | Martina Navratilova | United States |
| 1979 | Betty Stöve | Netherlands |
| | Wendy Turnbull | Australia |
| 1978 | Billie Jean King | United States |
| | Martina Navratilova | United States |
| 1977 | Martina Navratilova | United States |
| | Betty Stöve | Netherlands |
| 1976 | Delina Boshoff | South Africa |
| | Ilana Kloss | South Africa |
| 1975 | Margaret Court | Australia |
| | Virginia Wade | United Kingdom |
| 1974 | Rosemary Casals | United States |
| | Billie Jean King | United States |
| 1973 | Margaret Court | Australia |
| | Virginia Wade | United Kingdom |
| 1972 | Françoise Durr | France |
| | Betty Stöve | Netherlands |
| 1971 | Rosemary Casals | United States |
| | Judy Tegart Dalton | Australia |
| 1970 | Margaret Court | Australia |
| | Judy Tegart Dalton | Australia |
| 1969 | Françoise Durr | France |
| | Darlene Hard | United States |
| 1968 | Maria Bueno | Brazil |
| | Margaret Court | Australia |