US Open
Men's and Women's US Open Tennis Champions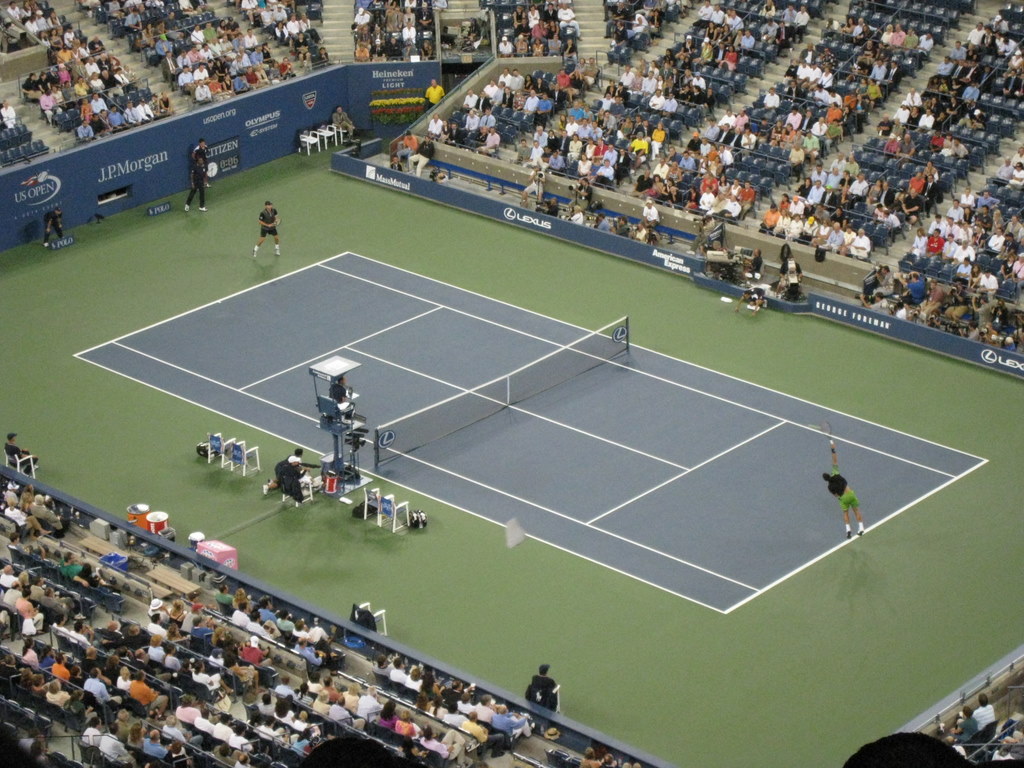 See a complete list of Men's and Women's US Open Tennis Champions. Novak Djokovic of Serbia and Coco Gauff of The United States respectively won the men's and women's singles 2023 US Open Tennis Championships.

Fast Facts:
The US Open Tennis Championships is the fourth and final Grand Slam of the tennis season.
Jimmy Connors, Pete Sampras and Roger Federer have all won the men's single's Championship five times.
Chris Evert and Serena Williams of the USA have won the most singles women's titles at six each, followed by Steffi Graf of Germany with 5 titles.
The tournament is held annually in late August to early September and is played at the USTA Billie Jean King National Tennis Center in Flushing Meadows, New York.
US Open Men's and Women's Tennis Champions:
(Open Era)
| | | | | |
| --- | --- | --- | --- | --- |
| Year | Men's Champion | Country | Women's Champion | Country |
| 2023 | Novak Djokovic | Serbia | Coco Gauff | USA |
| 2022 | Carlos Alcaraz | Spain | Iga Świątek | Poland |
| 2021 | Daniil Medvedev | Russia | Emma Raducanu | Great Britain |
| 2020 | Dominic Thiem | Austria | Naomi Osaka | Japan |
| 2019 | Rafael Nadal | Spain | Bianca Andreescu | Canada |
| 2018 | Novak Djokovic | Serbia | Naomi Osaka | Japan |
| 2017 | Rafael Nadal | Spain | Sloane Stephens | USA |
| 2016 | Stan Wawrinka | Switzerland | Angelique Kerber | Germany |
| 2015 | Novak Djokovic | Serbia | Flavia Pennetta | Italy |
| 2014 | Marin Čilić | Croatia | Serena Williams | USA |
| 2013 | Rafael Nadal | Spain | Serena Williams | USA |
| 2012 | Andy Murray | United Kingdom | Serena Williams | USA |
| 2011 | Novak Djokovic | Serbia | Samantha Stosur | Australia |
| 2010 | Rafael Nadal | Spain | Kim Clijsters | Belgium |
| 2009 | Juan Martín del Potro | Argentina | Kim Clijsters | Belgium |
| 2008 | Roger Federer | Switzerland | Serena Williams | USA |
| 2007 | Roger Federer | Switzerland | Justine Henin | Belgium |
| 2006 | Roger Federer | Switzerland | Maria Sharapova | Russia |
| 2005 | Roger Federer | Switzerland | Kim Clijsters | Belgium |
| 2004 | Roger Federer | Switzerland | Svetlana Kuznetsova | Russia |
| 2003 | Andy Roddick | USA | Justine Henin | Belgium |
| 2002 | Pete Sampras | USA | Serena Williams | USA |
| 2001 | Lleyton Hewitt | Australia | Venus Williams | USA |
| 2000 | Marat Safin | Russia | Venus Williams | USA |
| 1999 | Andre Agassi | USA | Serena Williams | USA |
| 1998 | Patrick Rafter | Australia | Lindsay Davenport | USA |
| 1997 | Patrick Rafter | Australia | Martina Hingis | Switzerland |
| 1996 | Pete Sampras | USA | Steffi Graf | Germany |
| 1995 | Pete Sampras | USA | Steffi Graf | Germany |
| 1994 | Andre Agassi | USA | Arantxa Sánchez Vicario | Spain |
| 1993 | Pete Sampras | USA | Steffi Graf | Germany |
| 1992 | Stefan Edberg | Sweden | Monica Seleš | Yugoslavia |
| 1991 | Stefan Edberg | Sweden | Monica Seleš | Yugoslavia |
| 1990 | Pete Sampras | USA | Gabriela Sabatini | Argentina |
| 1989 | Boris Becker | Germany | Steffi Graf | Germany |
| 1988 | Mats Wilander | Sweden | Steffi Graf | Germany |
| 1987 | Ivan Lendl | Czechoslovakia | Martina Navrátilová | USA |
| 1986 | Ivan Lendl | Czechoslovakia | Martina Navrátilová | USA |
| 1985 | Ivan Lendl | Czechoslovakia | Hana Mandlíková | Czechoslovakia |
| 1984 | John McEnroe | USA | Martina Navrátilová | USA |
| 1983 | Jimmy Connors | USA | Martina Navrátilová | USA |
| 1982 | Jimmy Connors | USA | Chris Evert | USA |
| 1981 | John McEnroe | USA | Tracy Austin | USA |
| 1980 | John McEnroe | USA | Chris Evert | USA |
| 1979 | John McEnroe | USA | Tracy Austin | USA |
| 1978 | Jimmy Connors | USA | Chris Evert | USA |
| 1977 | Guillermo Vilas | Argentina | Chris Evert | USA |
| 1976 | Jimmy Connors | USA | Chris Evert | USA |
| 1975 | Manuel Orantes | Spain | Chris Evert | USA |
| 1974 | Jimmy Connors | USA | Billie Jean King | USA |
| 1973 | John Newcombe | Australia | Margaret Court | Australia |
| 1972 | Ilie Năstase | Romania | Billie Jean King | USA |
| 1971 | Stan Smith | USA | Billie Jean King | USA |
| 1970 | Ken Rosewall | Australia | Margaret Court | Australia |
| 1969 | Rod Laver | Australia | Margaret Court | Australia |
| 1968 | Arthur Ashe | USA | Virginia Wade | United Kingdom |