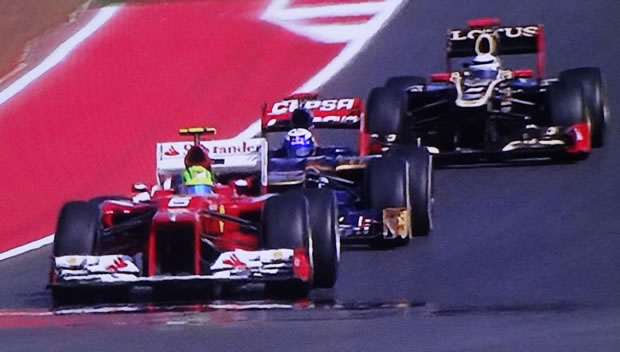 See a complete list of Canadian Grand Prix Champions. The 2019 Canadian Grand Prix Championship was won by Lewis Hamilton driving in Mercedes.
Fast Facts:
The Canadian Grand Prix (known in French as the Grand Prix du Canada), is an annual auto race held in Canada since 1961.
The Canadian Grand Prix has been a part of the Formula One World Championship since 1967.
Michael Schumacher of Germany has won seven Grand Prix titles making him the driver with the most wins.
In 2005, the Canadian Grand Prix was the most watched Formula One GP in the world. The race was also the third most watched sporting event worldwide.
Canadian Grand Prix Champions:
| | | | |
| --- | --- | --- | --- |
| Year | Driver's Country | Driver | Constructor |
| 2019 | United Kingdom | Lewis Hamilton | Mercedes |
| 2018 | Germany | Sebastian Vettel | Ferrari |
| 2017 | United Kingdom | Lewis Hamilton | Mercedes |
| 2016 | United Kingdom | Lewis Hamilton | Mercedes |
| 2015 | United Kingdom | Lewis Hamilton | Mercedes |
| 2014 | Australia | Daniel Ricciardo | Red Bull-Renault |
| 2013 | Germany | Sebastian Vettel | Red Bull-Renault |
| 2012 | United Kingdom | Lewis Hamilton | McLaren-Mercedes |
| 2011 | United Kingdom | Jenson Button | McLaren-Mercedes |
| 2010 | United Kingdom | Lewis Hamilton | McLaren-Mercedes |
| 2009 | Not Held | | |
| 2008 | Poland | Robert Kubica | BMW Sauber |
| 2007 | United Kingdom | Lewis Hamilton | McLaren-Mercedes |
| 2006 | Spain | Fernando Alonso | Renault |
| 2005 | Finland | Kimi Räikkönen | McLaren-Mercedes |
| 2004 | Germany | Michael Schumacher | Ferrari |
| 2003 | Germany | Michael Schumacher | Ferrari |
| 2002 | Germany | Michael Schumacher | Ferrari |
| 2001 | Germany | Ralf Schumacher | Williams-BMW |
| 2000 | Germany | Michael Schumacher | Ferrari |
| 1999 | Finland | Mika Häkkinen | McLaren-Mercedes |
| 1998 | Germany | Michael Schumacher | Ferrari |
| 1997 | Germany | Michael Schumacher | Ferrari |
| 1996 | United Kingdom | Damon Hill | Williams-Renault |
| 1995 | France | Jean Alesi | Ferrari |
| 1994 | Germany | Michael Schumacher | Benetton-Ford |
| 1993 | France | Alain Prost | Williams-Renault |
| 1992 | Austria | Gerhard Berger | McLaren-Honda |
| 1991 | Brazil | Nelson Piquet | Benetton-Ford |
| 1990 | Brazil | Ayrton Senna | McLaren-Honda |
| 1989 | Belgium | Thierry Boutsen | Williams-Renault |
| 1988 | Brazil | Ayrton Senna | McLaren-Honda |
| 1987 | Not Held | | |
| 1986 | United Kingdom | Nigel Mansell | Williams-Honda |
| 1985 | Italy | Michele Alboreto | Ferrari |
| 1984 | Brazil | Nelson Piquet | Brabham-BMW |
| 1983 | France | René Arnoux | Ferrari |
| 1982 | Brazil | Nelson Piquet | Brabham-BMW |
| 1981 | France | Jacques Laffite | Ligier-Matra |
| 1980 | Australia | Alan Jones | Williams-Ford |
| 1979 | Australia | Alan Jones | Williams-Ford |
| 1978 | Canada | Gilles Villeneuve | Ferrari |
| 1977 | South | Jody Scheckter | Wolf-Ford |
| 1976 | United Kingdom | James Hunt | McLaren-Ford |
| 1975 | Not Held | | |
| 1974 | Brazil | Emerson Fittipaldi | McLaren-Ford |
| 1973 | United | Peter Revson | McLaren-Ford |
| 1972 | United Kingdom | Jackie Stewart | Tyrrell-Ford |
| 1971 | United Kingdom | Jackie Stewart | Tyrrell-Ford |
| 1970 | Belgium | Jacky Ickx | Ferrari |
| 1969 | Belgium | Jacky Ickx | Brabham-Ford |
| 1968 | New Zealand | Denny Hulme | McLaren-Ford |
| 1967 | Australia | Jack Brabham | Brabham-Repco |
| 1966 | United States | Mark Donohue | Lola-Chevrolet |
| 1965 | United States | Jim Hall | Chaparral-Chevrolet |
| 1964 | Mexico | Pedro Rodríguez | Ferrari |
| 1963 | Mexico | Pedro Rodríguez | Ferrari |
| 1962 | United States | Masten Gregory | Lotus-Climax |
| 1961 | Canada | Peter Ryan | Lotus-Climax |