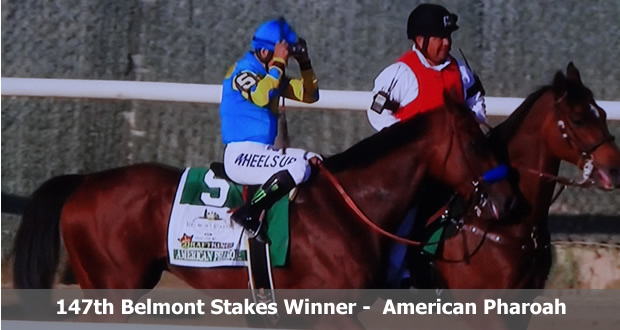 See a complete list of Belmont Stakes winners. Sir Winston ridden by jockey Joel Rosario and trained by Mark E. Casse, won the 151st Belmont Stakes in 2019.

Fast Facts:
The Belmont Stakes is the third leg of the Triple Crown.
The Belmont Stakes takes place every year in June at the Belmont Park in Elmont, New York.
The race which is commonly known as 'The Test of the Champion' is run on a 1.5 miles track.
Triple Crown winner Secretariat won the Belmont Stakes in 1973 setting a track record time for the 1.5 mile race in 2:24.
Belmont Stakes Winners
| | | | | | |
| --- | --- | --- | --- | --- | --- |
| Year | Winner | Jockey | Trainer | Owner | Time |
| 2019 | Sir Winston | Joel Rosario | Mark E. Casse | Tracy Farmer | 2:28.30 |
| 2018 | Justify † | Mike Smith | Bob Baffert | China Horse Club, Head of Plains Partners, Starlight Racing, Winstar | 2:28.18 |
| 2017 | Tapwrit | Jose Ortiz | Steve Asmussen | Todd Pletcher | 2:30.02 |
| 2016 | Creator | Irad Ortiz, Jr | Steve Asmussen | WinStar Farm LLC | 02:28.51 |
| 2015 | American Pharoah ^ | Victor Espinoza | Bob Baffert | Ahmed Zayat & Zayat Stables | 02:26.65 |
| 2014 | Tonalist | Joel Rosario | Christophe Clement | Robert S. Evans | 02:28.52 |
| 2013 | Palace Malice | Mike Smith | Todd Pletcher | Dogwood Stable | 02:30.70 |
| 2012 | Union Rags | John Velazquez | Michael Matz | Phyllis M. Wyeth | 02:30.42 |
| 2011 | Ruler on Ice | Jose Valdivia, Jr. | Kelly Breen | George and Lori Hall | 02:30.88 |
| 2010 | Drosselmeyer | Mike Smith | William Mott | WinStar Farm LLC | 02:31.57 |
| 2009 | Summer Bird | Kent Desormeaux | Tim Ice | Kalarikkal & Vilasini Jayaraman | 02:27.54 |
| 2008 | Da'Tara | Alan Garcia | Nick Zito | Robert V. LaPenta | 02:29.65 |
| 2007 | Rags to Riches * | John Velazquez | Todd Pletcher | M. Tabor & D. Smith | 02:28.74 |
| 2006 | Jazil | Fernando Jara | Kiaran McLaughlin | Shadwell Farm | 02:27.86 |
| 2005 | Afleet Alex | Jeremy Rose | Timothy Ritchey | Cash is King LLC | 02:28.75 |
| 2004 | Birdstone | Edgar Prado | Nick Zito | Marylou Whitney Stables | 02:27.50 |
| 2003 | Empire Maker | Jerry Bailey | Robert Frankel | Juddmonte Farms | 02:28.26 |
| 2002 | Sarava | Edgar Prado | Kenneth McPeek | New Phoenix Stable | 02:29.71 |
| 2001 | Point Given | Gary Stevens | Bob Baffert | The Thoroughbred Corp. | 02:26.56 |
| 2000 | Commendable | Pat Day | D. Wayne Lukas | Bob & Beverly Lewis | 02:31.19 |
| 1999 | Lemon Drop Kid | Jose Santos | Scotty Schulhofer | Jeanne G. Vance | 02:27.88 |
| 1998 | Victory Gallop | Gary Stevens | W. Elliott Walden | Prestonwood Farm | 02:29.16 |
| 1997 | Touch Gold | Chris McCarron | David Hofmans | Frank Stronach | 02:28.82 |
| 1996 | Editor's Note | Rene R. Douglas | D. Wayne Lukas | Overbrook Farm | 02:28.96 |
| 1995 | Thunder Gulch | Gary Stevens | D. Wayne Lukas | Michael Tabor | 02:32.02 |
| 1994 | Tabasco Cat | Pat Day | D. Wayne Lukas | Reynolds/Overbrook | 02:26.82 |
| 1993 | Colonial Affair | Julie Krone | Scotty Schulhofer | Centennial Farms | 02:29.97 |
| 1992 | A.P. Indy | Ed Delahoussaye | Neil Drysdale | Tomonori Tsurumaki | 02:26.13 |
| 1991 | Hansel | Jerry Bailey | Frank L. Brothers | Lazy Lane Farm | 02:28.10 |
| 1990 | Go And Go | Michael Kinane | Dermot K. Weld | Moyglare Stud Farm | 02:27.20 |
| 1989 | Easy Goer | Pat Day | C. R. McGaughey III | Ogden Phipps | 02:26.00 |
| 1988 | Risen Star | Ed Delahoussaye | Louie J. Roussel III | Louie J. Roussel III | 02:26.40 |
| 1987 | Bet Twice | Craig Perret | Jimmy Croll | Blanche P. Levy | 02:28.20 |
| 1986 | Danzig Connection | Chris McCarron | Woody Stephens | Henryk de Kwiatkowski | 02:29.80 |
| 1985 | Creme Fraiche | Eddie Maple | Woody Stephens | Brushwood Stables | 02:27.00 |
| 1984 | Swale | Laffit Pincay, Jr. | Woody Stephens | Claiborne Farm | 02:27.20 |
| 1983 | Caveat | Laffit Pincay, Jr. | Woody Stephens | August Belmont IV | 02:27.80 |
| 1982 | Conquistador Cielo | Laffit Pincay, Jr. | Woody Stephens | Henryk de Kwiatkowski | 02:28.20 |
| 1981 | Summing | George Martens | Luis Barrera | Charles T. Wilson, Jr. | 02:29.00 |
| 1980 | Temperence Hill | Eddie Maple | Joseph B. Cantey | Loblolly Stable | 02:29.80 |
| 1979 | Coastal | Ruben Hernandez | David A. Whiteley | William Haggin Perry | 02:28.60 |
| 1978 | Affirmed ^ | Steve Cauthen | Laz Barrera | Harbor View Farm | 02:26.80 |
| 1977 | Seattle Slew ^ | Jean Cruguet | William H. Turner, Jr. | Karen L. Taylor | 02:29.60 |
| 1976 | Bold Forbes | Angel Cordero, Jr. | Laz Barrera | E. Rodriguez Tizol | 02:29.00 |
| 1975 | Avatar | Bill Shoemaker | Tommy Doyle | Arthur A. Seeligson, Jr. | 02:28.20 |
| 1974 | Little Current | Miguel A. Rivera | Lou Rondinello | Darby Dan Farm | 02:29.20 |
| 1973 | Secretariat ^ | Ron Turcotte | Lucien Laurin | Meadow Stable | 02:24.00 |
| 1972 | Riva Ridge | Ron Turcotte | Lucien Laurin | Meadow Stud | 02:28.00 |
| 1971 | Pass Catcher | Walter Blum | Eddie Yowell | October House Farm | 02:30.40 |
| 1970 | High Echelon | John L. Rotz | John W. Jacobs | Ethel D. Jacobs | 02:34.00 |
| 1969 | Arts and Letters | Braulio Baeza | J. Elliott Burch | Rokeby Stables | 02:28.80 |
| 1968 | Stage Door Johnny | Heliodoro Gustines | John M. Gaver, Sr. | Greentree Stable | 02:27.20 |
| 1967 | Damascus | Bill Shoemaker | Frank Y. Whiteley, Jr. | Edith W. Bancroft | 02:28.80 |
| 1966 | Amberoid | William Boland | Lucien Laurin | Reginald N. Webster | 02:29.60 |
| 1965 | Hail To All | Johnny Sellers | Eddie Yowell | Zelda Cohen | 02:28.40 |
| 1964 | Quadrangle | Manuel Ycaza | J. Elliott Burch | Rokeby Stables | 02:28.40 |
| 1963 | Chateaugay | Braulio Baeza | James P. Conway | Darby Dan Farm | 02:30.20 |
| 1962 | Jaipur | Bill Shoemaker | Bert Mulholland | George D. Widener, Jr. | 02:28.80 |
| 1961 | Sherluck | Braulio Baeza | Harold Young | Jacob Sher | 02:29.20 |
| 1960 | Celtic Ash | Bill Hartack | Thomas J. Barry | Joseph E. O'Connell | 02:29.20 |
| 1959 | Sword Dancer | Bill Shoemaker | J. Elliott Burch | Brookmeade Stable | 02:28.40 |
| 1958 | Cavan | Pete Anderson | Thomas J. Barry | Joseph E. O'Connell | 02:30.20 |
| 1957 | Gallant Man | Bill Shoemaker | John A. Nerud | Ralph Lowe | 02:26.60 |
| 1956 | Needles | David Erb | Hugh L. Fontaine | D & H Stable | 02:29.80 |
| 1955 | Nashua | Eddie Arcaro | Jim Fitzsimmons | Belair Stud | 02:29.00 |
| 1954 | High Gun | Eric Guerin | Max Hirsch | King Ranch | 02:30.80 |
| 1953 | Native Dancer | Eric Guerin | Bill Winfrey | Alfred G. Vanderbilt II | 02:28.60 |
| 1952 | One Count | Eddie Arcaro | Oscar White | Sarah F. Jeffords | 02:30.20 |
| 1951 | Counterpoint | David Gorman | Sylvester Veitch | C. V. Whitney | 02:29.00 |
| 1950 | Middleground | William Boland | Max Hirsch | King Ranch | 02:28.60 |
| 1949 | Capot | Ted Atkinson | John M. Gaver, Sr. | Greentree Stable | 02:30.20 |
| 1948 | Citation ^ | Eddie Arcaro | Horace A. Jones | Calumet Farm | 02:28.20 |
| 1947 | Phalanx | Ruperto Donoso | Sylvester Veitch | C. V. Whitney | 02:29.40 |
| 1946 | Assault ^ | Warren Mehrtens | Max Hirsch | King Ranch | 02:30.80 |
| 1945 | Pavot | Eddie Arcaro | Oscar White | Walter M. Jeffords, Sr. | 02:30.20 |
| 1944 | Bounding Home | Gayle Smith | Matt Brady | William Ziegler, Jr. | 02:32.20 |
| 1943 | Count Fleet ^ | Johnny Longden | Don Cameron | Fannie Hertz | 02:28.20 |
| 1942 | Shut Out | Eddie Arcaro | John M. Gaver, Sr. | Greentree Stable | 02:29.20 |
| 1941 | Whirlaway ^ | Eddie Arcaro | Ben A. Jones | Calumet Farm | 02:31.00 |
| 1940 | Bimelech | Fred A. Smith | William A. Hurley | Edward R. Bradley | 02:29.60 |
| 1939 | Johnstown | James Stout | Jim Fitzsimmons | Belair Stud | 02:29.60 |
| 1938 | Pasteurized | James Stout | George M. Odom | Carol Harriman Plunkett | 02:29.40 |
| 1937 | War Admiral ^ | Charley Kurtsinger | George Conway | Glen Riddle Farm | 02:28.60 |
| 1936 | Granville | James Stout | Jim Fitzsimmons | Belair Stud | 02:30.00 |
| 1935 | Omaha ^ | Willie Saunders | Jim Fitzsimmons | Belair Stud | 02:30.60 |
| 1934 | Peace Chance | Wayne D. Wright | Pete Coyne | Joseph E. Widener | 02:29.20 |
| 1933 | Hurryoff | Mack Garner | Henry McDaniel | Joseph E. Widener | 02:32.60 |
| 1932 | Faireno | Tommy Malley | Jim Fitzsimmons | Belair Stud | 02:32.80 |
| 1931 | Twenty Grand | Charley Kurtsinger | James G. Rowe, Jr. | Greentree Stable | 02:29.60 |
| 1930 | Gallant Fox ^ | Earl Sande | Jim Fitzsimmons | Belair Stud | 02:31.60 |
| 1929 | Blue Larkspur | Mack Garner | Herbert J. Thompson | Edward R. Bradley | 02:32.80 |
| 1928 | Vito | Clarence Kummer | Max Hirsch | Alfred H. Cosden | 02:33.20 |
| 1927 | Chance Shot | Earl Sande | Pete Coyne | Joseph E. Widener | 02:32.40 |
| 1926 | Crusader | Albert Johnson | George Conway | Glen Riddle Farm | 02:32.20 |
| 1925 | American Flag | Albert Johnson | Gwyn R. Tompkins | Glen Riddle Farm | 02:16.80 |
| 1924 | Mad Play | Earl Sande | Sam Hildreth | Rancocas Stable | 02:18.80 |
| 1923 | Zev | Earl Sande | Sam Hildreth | Rancocas Stable | 02:19.00 |
| 1922 | Pillory | C. H. Miller | Thomas J. Healey | Richard T. Wilson, Jr. | 02:18.80 |
| 1921 | Grey Lag | Earl Sande | Sam Hildreth | Rancocas Stable | 02:16.80 |
| 1920 | Man o' War | Clarence Kummer | Louis Feustel | Glen Riddle Farm | 02:14.20 |
| 1919 | Sir Barton ^ | Johnny Loftus | H. Guy Bedwell | J. K. L. Ross | 02:17.40 |
| 1918 | Johren | Frank Robinson | Albert Simons | Harry P. Whitney | 02:20.40 |
| 1917 | Hourless | James H. Butwell | Sam Hildreth | August Belmont, Jr. | 02:17.80 |
| 1916 | Friar Rock | Everett Haynes | Sam Hildreth | August Belmont, Jr. | 02:22.00 |
| 1915 | The Finn | George Byrne | Edward W. Heffner | Henry C. Hallenbeck | 02:18.40 |
| 1914 | Luke McLuke | Merritt Buxton | John F. Schorr | John W. Schorr | 02:20.00 |
| 1913 | Prince Eugene | Roscoe Troxler | James G. Rowe, Sr. | Harry P. Whitney | 02:18.00 |
| 1912 | No raceheld | | | | |
| 1911 | No race held | | | | |
| 1910 | Sweep | James H. Butwell | James G. Rowe, Sr. | James R. Keene | 02:22.00 |
| 1909 | Joe Madden | Eddie Dugan | Sam Hildreth | Sam Hildreth | 02:21.60 |
| 1908 | Colin | Joe Notter | James G. Rowe, Sr. | James R. Keene | N/A |
| 1907 | Peter Pan | George Mountain | James G. Rowe, Sr. | James R. Keene | N/A |
| 1906 | Burgomaster | Lucien Lyne | John W. Rogers | Harry P. Whitney | 02:20.00 |
| 1905 | Tanya * | Gene Hildebrand | John W. Rogers | Harry P. Whitney | 02:08.00 |
| 1904 | Delhi | George M. Odom | James G. Rowe, Sr. | James R. Keene | 02:06.60 |
| 1903 | Africander | John Bullman | Richard O. Miller | Hampton Stable | 02:21.75 |
| 1902 | Masterman | John Bullman | John J. Hyland | August Belmont, Jr. | 02:22.60 |
| 1901 | Commando | Henry Spencer | James G. Rowe, Sr. | James R. Keene | 02:21.00 |
| 1900 | Ildrim | Nash Turner | H. Eugene Leigh | H. Eugene Leigh | 02:21.25 |
| 1899 | Jean Bereaud | Richard Clawson | Sam Hildreth | Sydney Paget | 02:23.00 |
| 1898 | Bowling Brook | Fred Littlefield | R. Wyndham Walden | A. H. & D. H. Morris | 02:32.00 |
| 1897 | Scottish Chieftain | Joe Scherrer | Matt Byrnes | Marcus Daly | 02:23.25 |
| 1896 | Hastings | Henry Griffin | John J. Hyland | Blemton Stable | 02:24.50 |
| 1895 | Belmar | Fred Taral | Edward Feakes | Preakness Stables | 02:11.50 |
| 1894 | Henry of Navarre | Willie Simms | Byron McClelland | Byron McClelland | 01:56.50 |
| 1893 | Comanche | Willie Simms | Gus Hannon | Empire Stable | 01:53.25 |
| 1892 | Patron | William Hayward | Lewis Stuart | Lewis Stuart | 02:17.00 |
| 1891 | Foxford | Edward R. Garrison | M. Donavan | C. E. Rand | 02:08.75 |
| 1890 | Burlington | Pike Barnes | Albert Cooper | Hough Bros. | 02:07.75 |
| 1889 | Eric | William Hayward | John Huggins | A. J. Cassatt | 02:47.25 |
| 1888 | Sir Dixon | Jim McLaughlin | Frank McCabe | Dwyer Bros. Stable | 02:40.25 |
| 1887 | Hanover | Jim McLaughlin | Frank McCabe | Dwyer Bros. Stable | 02:43.50 |
| 1886 | Inspector B | Jim McLaughlin | Frank McCabe | Dwyer Bros. Stable | 02:41.00 |
| 1885 | Tyrant | Paul Duffy | C. Claypool | James B. A. Haggin | 02:43.00 |
| 1884 | Panique | Jim McLaughlin | James G. Rowe, Sr. | Dwyer Bros. Stable | 02:42.00 |
| 1883 | George Kinney | Jim McLaughlin | James G. Rowe, Sr. | Dwyer Bros. Stable | 02:42.50 |
| 1882 | Forester | Jim McLaughlin | Lewis Stuart | Appleby & Johnson | 02:43.00 |
| 1881 | Saunterer | Tom Costello | R. Wyndham Walden | George L. Lorillard | 02:47.00 |
| 1880 | Grenada | W. Hughes | R. Wyndham Walden | George L. Lorillard | 02:47.00 |
| 1879 | Spendthrift | George Evans | Thomas Puryear | James R. Keene | 02:42.75 |
| 1878 | Duke of Magenta | W. Hughes | R. Wyndham Walden | George L. Lorillard | 02:43.50 |
| 1877 | Cloverbrook | C. Holloway | Jeter Walden | E. A. Clabaugh | 02:46.00 |
| 1876 | Algerine | Billy Donohue | Thomas W. Doswell | Doswell & Co. | 02:40.50 |
| 1875 | Calvin | Bobby Swim | Ansel Williamson | Hal P. McGrath | 02:42.25 |
| 1874 | Saxon | George Barbee | W. Prior | Pierre Lorillard IV | 02:39.50 |
| 1873 | Springbok | James G. Rowe, Sr. | David McDaniel | David McDaniel | 03:01.75 |
| 1872 | Joe Daniels | James G. Rowe, Sr. | David McDaniel | David McDaniel | 02:58.25 |
| 1871 | Harry Bassett | Walter Miller | David McDaniel | David McDaniel | 02:56.00 |
| 1870 | Kingfisher | Edward D. Brown | Rollie Colston | Daniel Swigert | 02:59.50 |
| 1869 | Fenian | C. Miller | Jacob Pincus | August Belmont | 03:04.25 |
| 1868 | General Duke | Bobby Swim | A. Thompson | McConnell & Co. | 03:02.00 |
| 1867 | Ruthless * | Gilbert Patrick | A. Jack Minor | Francis Morris | 03:05.00 |
* A Filly win
^ Winner of the Triple Crown