Soccer
Winners of the European Golden Boot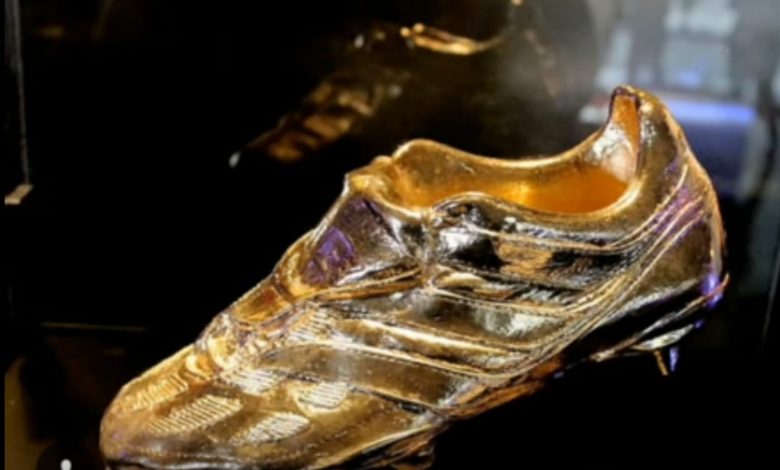 Each year the European Golden Boot is awarded to the top goalscorer across all European leagues in a season. In 2019 Barcelona's Lionel Messi claimed his sixth European Golden Boot title which is the most of any other player.
Fast Facts:
The European Golden Boot is also known as The European Golden Shoe.
Since 1996, winners of the Golden Boot were awarded by European Sports Media.
The European Golden Boot is presented every year to the leading goalscorer in league matches from the top division of all European national league teams.
There are nine players that have won the European Golden Boot twice.
Between 1991-92 and 1995-96 there was no Golden Shoe ceremony.
Winners of the European Golden Boot
| | | | |
| --- | --- | --- | --- |
| Season | Player | Club | League |
| 2018–19 | Lionel Messi (6) | Barcelona | Spain La Liga |
| 2017–18 | Lionel Messi (5) | Barcelona | Spain La Liga |
| 2016–17 | Lionel Messi (4) | Barcelona | Spain La Liga |
| 2015–16 | Luis Suárez (2) | Barcelona | Spain La Liga |
| 2014–15 | Cristiano Ronaldo (4) | Real Madrid | Spain La Liga |
| 2013–14 | Luis Suárez | Liverpool | England Premier League |
| 2013–14 | Cristiano Ronaldo (3) | Real Madrid | Spain La Liga |
| 2012–13 | Lionel Messi (3) | Barcelona | Spain La Liga |
| 2011–12 | Lionel Messi (2) | Barcelona | Spain La Liga |
| 2010–11 | Cristiano Ronaldo (2) | Real Madrid | Spain La Liga |
| 2009–10 | Lionel Messi | Barcelona | Spain La Liga |
| 2008–09 | Diego Forlán (2) | Atlético Madrid | Spain La Liga |
| 2007–08 | Cristiano Ronaldo | Manchester United | England Premier League |
| 2006–07 | Francesco Totti | Roma | Serie A |
| 2005–06 | Luca Toni | Fiorentina | Serie A |
| | Diego Forlán | Villarreal | Spain La Liga |
| 2004–05 | Thierry Henry (2) | Arsenal | England Premier League |
| 2003–04 | Thierry Henry | Arsenal | England Premier League |
| 2002–03 | Roy Makaay | Deportivo La Coruña | Spain La Liga |
| 2001–02 | Mário Jardel (2) | Sporting CP | Primeira Liga |
| 2000–01 | Henrik Larsson | Celtic | Scotland Premier League |
| 1999–2000 | Kevin Phillips | Sunderland | England Premier League |
| 1998–99 | Mário Jardel | Porto | Primeira Liga |
| 1997–98 | Nikos Machlas | Vitesse Arnhem | Eredivisie |
| 1996–97 | Ronaldo | Barcelona | Spain La Liga |
| 1995–96 | Zviad Endeladze | Margveti | Georgia Umaglesi Liga |
| 1994–95 | Arsen Avetisyan | Homenetmen | Armenia Premier League |
| 1993–94 | David Taylor | Porthmadog | Wales League of Wales |
| 1992–93 | Ally McCoist (2) | Rangers | Scotland Premier Division |
| 1991–92 | Ally McCoist | Rangers | Scotland Premier Division |
| 1990–91 | Darko Pančev | Red Star Belgrade | Socialist Federal Republic of Yugoslavia First League |
| | Hristo Stoichkov | CSKA Sofia | A PFG |
| 1989–90 | Hugo Sánchez | Real Madrid | Spain La Liga |
| 1988–89 | Dorin Mateuț | Dinamo București | Liga I |
| 1987–88 | Tanju Çolak | Galatasaray | Turkey Süper Lig |
| 1986–87 | Toni Polster[a] | FK Austria Wien | Austria Bundesliga |
| 1985–86 | Marco van Basten | Ajax | Eredivisie |
| 1984–85 | Fernando Gomes (2) | Porto | Primeira Liga |
| 1983–84 | Ian Rush | Liverpool | England First Division |
| 1982–83 | Fernando Gomes | Porto | Primeira Liga |
| 1981–82 | Wim Kieft | Ajax | Eredivisie |
| 1980–81 | Georgi Slavkov | Botev Plovdiv | Parva Liga |
| 1979–80 | Erwin Vandenbergh | Lierse | Belgium First Division |
| 1978–79 | Kees Kist | AZ | Eredivisie |
| 1977–78 | Hans Krankl | Rapid Wien | Austria Bundesliga |
| 1976–77 | Dudu Georgescu (2) | Dinamo București | Liga I |
| 1975–76 | Sotiris Kaiafas | Omonia Nicosia | Cyprus First Division |
| 1974–75 | Dudu Georgescu | Dinamo București | Liga I |
| 1973–74 | Héctor Yazalde | Sporting CP | Primeira Liga |
| 1972–73 | Eusébio (2) | Benfica | Primeira Liga |
| 1971–72 | Gerd Müller (2) | Bayern Munich | Germany Bundesliga |
| 1970–71 | Josip Skoblar | Marseille | France Ligue 1 |
| 1969–70 | Gerd Müller | Bayern Munich | Germany Bundesliga |
| 1968–69 | Petar Zhekov | CSKA Sofia | Bulgaria Parva Liga |
| 1967–68 | Eusébio | Benfica | Primeira Liga |
Back to top button