WSOF
WSOF 21 Fight Results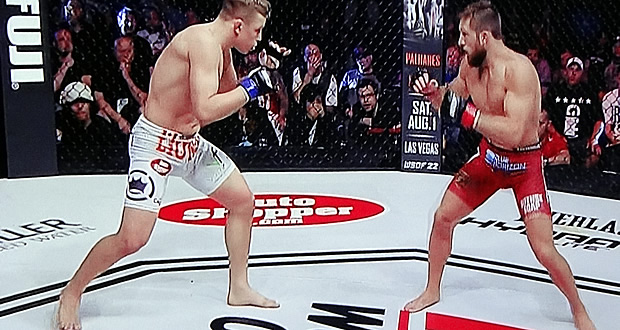 The World Series of Fighting held their 21st event on June 5, 2015 in Edmonton, Alberta, Canada. Two WSOF Titles were on the line in the Heavyweight and Featherweight divisions. The fight card featured 11 bouts.
The first title fight was in the Heavyweight division between Bulgaria's Blagoy Ivanov and the Champion from Canada, Smealinho Rama. Ivanov submitted Rama with a Guillotine Choke in the third round to become the new WSOF Heavyweight Champion.
In the second title fight, Lance Palmer successfully defended his Featherweight title for the first time against Chris Horodecki. Palmer submitted Horodecki by Neck Krank in the first round.
See a complete list of WSOF Champions in each weight division.
WSOF21 POSTLIMS
| | | | | |
| --- | --- | --- | --- | --- |
| Win | Loss | Method | Round | Time |
| Stephen Beaumont | Jose Rodriguez | Unanimous Decision | 3 | 5:00 |
| Spencer Rohovie | Tim Smith | Submission (Rear-Naked Choke) | 1 | 3:09 |
| Garret Nybakken | Nick Hrabec | KO (Punches) | 1 | 3:36 |
| Roger Alves | Danny Doig | Submission (Arm-Triangle Choke) | 1 | 2:49 |
WSOF21 MAIN CARD
| | | | | |
| --- | --- | --- | --- | --- |
| Win | Loss | Method | Round | Time |
| Michael Hill | Mark Drummond | Decision (Split) | 3 | 5:00 |
| Lance Palmer | Chris Horodecki | Submission (Neck Crank) | 1 | 4:28 |
| Blagoy Ivanov | Smealinho Rama | Submission (Guillotine Choke) | 3 | 1:17 |
| Hakeem Dawodu | Chuka Willis | TKO (Knees and Elbows) | 2 | 2:55 |
WSOF21 PRELIMS
| | | | | |
| --- | --- | --- | --- | --- |
| Win | Loss | Method | Round | Time |
| Thiago Jambo Goncalves | Matt Baker | TKO (Retirement) | 2 | 5:00 |
| Justin Sander | Dan Lariviere | Submission (Arm-Triangle Choke) | 2 | 2:52 |
| Michael Hay | Louie Grover | Submission (Armbar) | 1 | 2:17 |