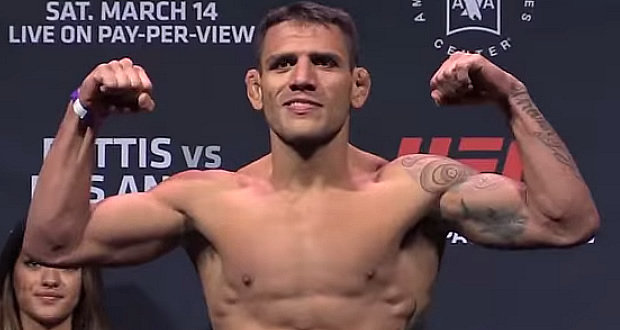 The sport of mixed martial arts is a breeding ground for adversity where the entire body is pushed entirely past its limits in both practice and competition. One's livelihood can be entirely compromised by a single injury which can occur in a number of different ways and at any time.
In the MMA fight game, addtional disappointment can result in one being cut from the largest fighting organizations in the world and relegated to a regional promotion. To compete under such stress is an achievement in and of itself and to obtain success under these conditions is even a greater feat. To deal with losses and poor circumstances by adapting into a better athlete and fighter is perhaps the most impressive accomplishment of all.
To entirely recreate and improve a mixed martial arts fighters skills, motivation and entire life outlook in order to find success and become the best in the world, is a very rare sighting in any professional landscape, let alone one as demanding as MMA.
An excellent example of an athlete that has overcome adversity, adapted, reinvented himself and ultimately thrived, is Brazilian MMA fighter Rafael Dos Anjos.
Rafael Dos Anjos began his career with a loss; a close and controversial split decision in a regional show. Through four fights he was 2-2 overall. After this rough patch Dos Anjos would win his next nine fights, ultimately resulting in a call from the largest MMA organization in the world, the UFC.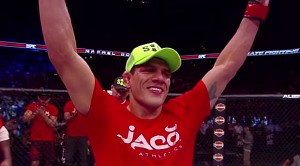 After his first two UFC fights, Dos Anjos would have yet to achieve a win under the promotion; he was finished brutally in his first fight by the always-dangerous Jeremy Stephens. His next fight although declared "Fight of the Night", was a contest that ended in a clear-cut unanimous decision victory for his opponent, Tyson Griffin. It would have been easy for Dos Anjos to quit after his slow career start, awful UFC debut and 0-2 standing in the UFC, but he didn't. After overcoming this adversity, Dos Anjos would win his next three in the UFC against sound competition. In his sixth fight in the UFC he would lose again, suffering a debilitating broken jaw against Clay Guida. His UFC fight record stood at an unimpressive 3-3; his jaw was broken, but his spirit was not.
Dos Anjos would alternate a win and a loss respectively in his return from the jaw injury (the loss was a close split decision to seasoned veteran Gleison Tibau). After these alternating results he would go on a tear winning five in a row, including wins over Evan Dunham and Donald Cerrone.
Dos Anjos went on to lose, dropping a clear-cut unanimous decision to Khabib Nurmagomedov ending his win streak. Although he was clearly improving (this win streak had been his longest since his time on the regional shows), Dos Anjos was still unable to rally enough wins to earn a shot at the title; many viewed this as a confirmation of his limits as a fighter, believing that he was permanently relegated to the rank of high-level gatekeeper.
To Dos Anjos and likely those closest to him, this latest series of wins and sole loss was likely a confirmation of the progress that he'd made as a fighter and as an athlete. With a few minor tweaks it was almost certain that Dos Anjos would be at the top of his game and weight class. His next fight win streak would also be the one that catapulted him to the top of his division.
Dos Anjos' first victim in the UFC lightweight division was Jason High, whom he defeated by TKO. His next fight was one where the critics were aplenty; the same group that assumed that his career path was decided after the Nurmagomedov loss voiced their opinions loudly ahead of his fight with Benson Henderson. Perhaps this was at least partly warranted; not because of their classification of Dos Anjos, but because of their praise for Henderson. Vegas agreed with the vocal majority, and with many additional bets on Henderson, his betting line swelled to as high as a six-to-one favorite ahead of the fight. Dos Anjos would win this fight despite all of the talk otherwise, by first round TKO. Although there was some controversy involved in the stoppage Dos Anjos had clearly improved in his striking and overall game; to land a combination as he did against Henderson isn't an easy accomplishment. Still, doubts were plentiful about Dos Anjos' place in the division. He would win against Nathan Diaz in dominant fashion in his next fight securing a unanimous decision and a shot at the UFC lightweight title in the process.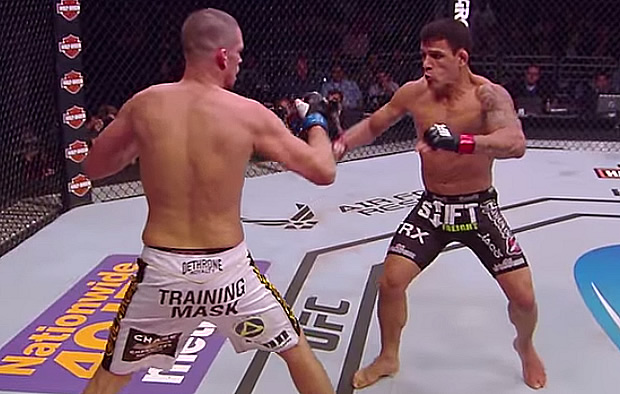 Even though he succeeded in earning a title shot, the doubters existed and continued to talk. It was formally announced that Dos Anjos would challenge then-champion Anthony Pettis for the belt. Vegas once again agreed with the general population, listing Pettis as a five-to-one (or higher) favorite by the time the fight rolled around.
The experience Dos Anjos gained while overcoming adversity time and time again would be revealed. The MMA skills he'd honed over the years would emerge as the best the fight community had ever seen. At UFC 185, he would defeat Anthony Pettis by one-sided unanimous decision to claim the UFC Lightweight belt. He didn't just win the fight, but also dominated Pettis convincingly.
Rafael Dos Anjos made his mark in the UFC which will forever be cemented by his championship status. On at least one night, he was considered to be the best in the world. Aside from all of his hard work and mixed martial arts training, one must examine his resilience and ability to overcome the challenges placed in front of him to truly appreciate the feat.
It would have been easier to quit than to continue fighting and improving on several occasions for Dos Anjos. Instead he buckled down, silenced the critics and propelled himself to the top of one of the most competitive divisions in combat sports history.
Will he defend his belt against every challenger that he encounters? The history of the division says no, but time will tell; in the sport of MMA anything is possible. One can be sure that if Rafael Dos Anjos gets knocked down, he will get right back up and rise again—stronger and more experienced than he was before.