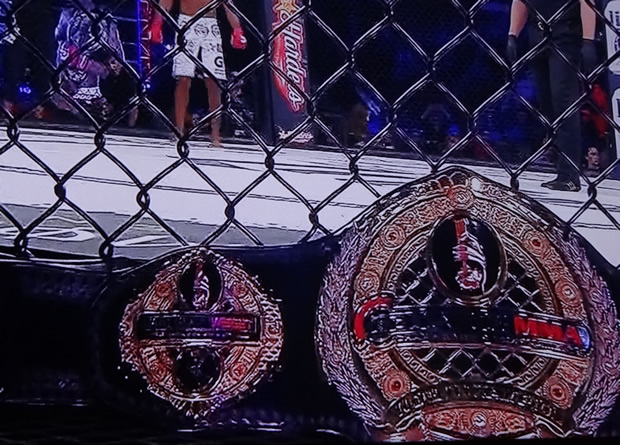 See a complete list of Bellator Fighting Champions in each weight division. Bellator includes weight classes from bantamweight (135 pounds) to heavyweight (265 pounds).
Check out the MMA fight schedule which lists upcoming fights.

Fast Facts:
Bellator was founded in 2008 by Chairman and CEO Bjorn Rebney.
The Bellator motto is "Where Title Shots Are Earned, Not Given."
The word "Bellator" means "warrior" in Latin.
Middleweight champion Brandon Halsey had his title stripped for not making weight at Bellator 137.
Bellator Fighting Champions:
Men
| | | | | |
| --- | --- | --- | --- | --- |
| Fighter | Weight Class | Weight | Champ since | Title defenses |
| Ryan Bader (USA) | Heavyweight | 265 lb (120 kg) | January 26, 2019 | 0 |
| Valentin Moldavsky (RUS) (Interim Champion | Heavyweight | 265 lb (120 kg) | June 25, 2021 | 0 |
| Vadim Nemkov (RUS) | Light Heavyweight | 205 lb (93 kg) | August 21, 2020 | 2 |
| Gegard Mousasi (NDL) | Middleweight | 185 lb (84 kg) | October 29, 2020 | 1 |
| Yaroslav Amosov (UKR) | Welterweight | 170 lb (77 kg) | June 11, 2021 | 0 |
| Patrício Freire (BRA) | Lightweight | 155 lb (70 kg) | November 5, 2021 | 0 |
| A.J. McKee (USA) | Featherweight | 145 lb (66 kg) | July 31, 2021 | 0 |
| Sergio Pettis (USA) | Bantamweight | 135 lb (61 kg) | May 8, 2021 | 0 |
Women
| | | | | |
| --- | --- | --- | --- | --- |
| Fighter | Weight Class | Weight | Champ since | Title defenses |
| Cris Cyborg (BRA) | Featherweight | 145 lb (66 kg) | January 25, 2020 | 2 |
| Juliana Velasquez (BRA) | Flyweight | 125 lb (57 kg) | December 10, 2020 | 1 |