Wimbledon
Women's Single's Wimbledon Tennis Champions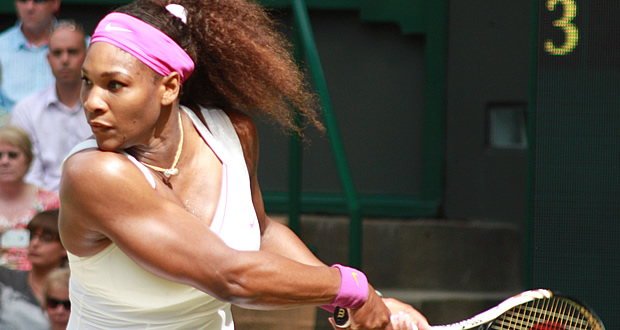 See a complete list of Women's Single's Wimbledon Tennis Champions. Simona Halep from Romania won the 2019 Women's Wimbledon Tennis Championship. This was her first single's Wimbledon title.

Fast Facts:
Wimbledon is considered as one of the world's premier tennis tournaments.
The grass court tournament is the third of four Grand Slam tournaments that are in the tennis season.
In 1884, Wimbledon introduced Women's Single's players to the tournament.
The winner of the Women's Singles championship receives the "Venus Rosewater Dish".
In the Open Era, Martina Navratilova of the United States has won the most women's championship's with nine titles.
Women's Wimbledon Singles Champions:
| | | | |
| --- | --- | --- | --- |
| Year | Champion | Runner-up | Match Results |
| 2019 | Simona Halep (ROU) | Serena Williams (USA) | 6–2, 6–2 |
| 2018 | Angelique Kerber (GER) | Serena Williams (USA) | 6–3, 6–3 |
| 2017 | Garbiñe Muguruza (ESP) | Venus Williams (USA) | 7–5, 6–0 |
| 2016 | Serena Williams (USA) | Angelique Kerber (GER) | 7-5, 6–3 |
| 2015 | Serena Williams (USA) | Garbine Muguruza (SPN) | 6–4, 6–4 |
| 2014 | Petra Kvitová (CZE) | Eugenie Bouchard (CAN) | 6–3, 6–0 |
| 2013 | Marion Bartoli (FRA) | Sabine Lisicki (GER) | 6–1, 6–4 |
| 2012 | Serena Williams (USA) | Agnieszka Radwańska (POL) | 6–1, 5–7, 6–2 |
| 2011 | Petra Kvitová (CZE) | Maria Sharapova (RUS) | 6–3, 6–4 |
| 2010 | Serena Williams (USA) | Vera Zvonareva (RUS) | 6–3, 6–2 |
| 2009 | Serena Williams (USA) | Venus Williams (USA) | 7–6(7–3), 6–2 |
| 2008 | Venus Williams (USA) | Serena Williams (USA) | 7–5, 6–4 |
| 2007 | Venus Williams (USA) | Marion Bartoli (FRA) | 6–4, 6–1 |
| 2006 | Amélie Mauresmo (FRA) | Justine Henin (BEL) | 2–6, 6–3, 6–4 |
| 2005 | Venus Williams (USA) | Lindsay Davenport (USA) | 4–6, 7–6(7–4), 9–7 |
| 2004 | Maria Sharapova (RUS) | Serena Williams (USA) | 6–1, 6–4 |
| 2003 | Serena Williams (USA) | Venus Williams (USA) | 4–6, 6–4, 6–2 |
| 2002 | Serena Williams (USA) | Venus Williams (USA) | 7–6(7–4), 6–3 |
| 2001 | Venus Williams (USA) | Justine Henin (BEL) | 6–1, 3–6, 6–0 |
| 2000 | Venus Williams (USA) | Lindsay Davenport (USA) | 6–3, 7–6(7–3) |
| 1999 | Lindsay Davenport (USA) | Steffi Graf (GER) | 6–4, 7–5 |
| 1998 | Jana Novotná (CZE) | Nathalie Tauziat (FRA) | 6–4, 7–6(7–2) |
| 1997 | Martina Hingis (SUI) | Jana Novotná (CZE) | 2–6, 6–3, 6–3 |
| 1996 | Steffi Graf (GER) | Arantxa Sánchez Vicario (ESP) | 6–3, 7–5 |
| 1995 | Steffi Graf (GER) | Arantxa Sánchez Vicario (ESP) | 4–6, 6–1, 7–5 |
| 1994 | Conchita Martínez (ESP) | Martina Navratilova (USA) | 6–4, 3–6, 6–3 |
| 1993 | Steffi Graf (GER) | Jana Novotná (CZE) | 7–6(8–6), 1–6, 6–4 |
| 1992 | Steffi Graf (GER) | Monica Seles (YUG) | 6–2, 6–1 |
| 1991 | Steffi Graf (GER) | Gabriela Sabatini (ARG) | 6–4, 3–6, 8–6 |
| 1990 | Martina Navratilova (USA) | Zina Garrison (USA) | 6–4, 6–1 |
| 1989 | Steffi Graf (FRG) | Martina Navratilova (USA) | 6–2, 6–7(1–7), 6–1 |
| 1988 | Steffi Graf (FRG) | Martina Navratilova (USA) | 5–7, 6–2, 6–1 |
| 1987 | Martina Navratilova (USA) | Steffi Graf (FRG[j]) | 7–5, 6–3 |
| 1986 | Martina Navratilova (USA) | Hana Mandlíková (TCH) | 7–6(7–1), 6–3 |
| 1985 | Martina Navratilova (USA) | Chris Evert-Lloyd (USA) | 4–6, 6–3, 6–2 |
| 1984 | Martina Navratilova (USA) | Chris Evert-Lloyd (USA) | 7–6(7–5), 6–2 |
| 1983 | Martina Navratilova (USA) | Andrea Jaeger (USA) | 6–0, 6–3 |
| 1982 | Martina Navratilova (USA) | Chris Evert-Lloyd (USA) | 6–1, 3–6, 6–2 |
| 1981 | Chris Evert-Lloyd (USA) | Hana Mandlíková (TCH[h]) | 6–2, 6–2 |
| 1980 | Evonne Goolagong Cawley (AUS) | Chris Evert-Lloyd (USA) | 6–1, 7–6(7–4) |
| 1979 | Martina Navratilova (USA) | Chris Evert-Lloyd (USA) | 6–4, 6–4 |
| 1978 | Martina Navratilova (USA) | Chris Evert (USA) | 2–6, 6–4, 7–5 |
| 1977 | Virginia Wade (GBR) | Betty Stöve (NED) | 4–6, 6–3, 6–1 |
| 1976 | Chris Evert (USA) | Evonne Goolagong Cawley (AUS) | 6–3, 4–6, 8–6 |
| 1975 | Billie Jean King (USA) | Evonne Goolagong Cawley (AUS) | 6–0, 6–1 |
| 1974 | Chris Evert (USA) | Olga Morozova (URS) | 6–0, 6–4 |
| 1973 | Billie Jean King (USA) | Chris Evert (USA) | 6–0, 7–5 |
| 1972 | Billie Jean King (USA) | Evonne Goolagong Cawley (AUS) | 6–3, 6–3 |
| 1971 | Evonne Goolagong Cawley (AUS) | Margaret Court (AUS) | 6–4, 6–1 |
| 1970 | Margaret Court (AUS) | Billie Jean King (USA) | 14–12, 11–9 |
| 1969 | Ann Haydon Jones (GBR) | Billie Jean King (USA) | 3–6, 6–3, 6–2 |
| 1968 | Billie Jean King (USA) | Judy Tegart Dalton (AUS) | 9–7, 7–5 |
| 1967 | Billie Jean King (USA) | Ann Haydon Jones (GBR) | 6–3, 6–4 |
| 1966 | Billie Jean King (USA) | Maria Bueno (BRA) | 6–3, 3–6, 6–1 |
| 1965 | Margaret Court (AUS) | Maria Bueno (BRA) | 6–4, 7–5 |
| 1964 | Maria Bueno (BRA) | Margaret Court (AUS) | 6–4, 7–9, 6–3 |
| 1963 | Margaret Court (AUS) | Billie Jean King (USA) | 6–3, 6–4 |
| 1962 | Karen Hantze Susman (USA) | Věra Pužejová Suková (CZE) | 6–4, 6–4 |
| 1961 | Angela Mortimer Barrett (GBR) | Christine Truman Janes (GBR) | 4–6, 6–4, 7–5 |
| 1960 | Maria Bueno (BRA) | Sandra Reynolds Price (ZAF) | 8–6, 6–0 |
| 1959 | Maria Bueno (BRA) | Darlene Hard (USA) | 6–4, 6–3 |
| 1958 | Althea Gibson (USA) | Angela Mortimer (GBR) | 8–6, 6–2 |
| 1957 | Althea Gibson (USA) | Darlene Hard (USA) | 6–3, 6–2 |
| 1956 | Shirley Fry Irvin (USA) | Angela Buxton (GBR) | 6–3, 6–1 |
| 1955 | Louise Brough Clapp (USA) | Beverly Baker Fleitz (USA) | 7–5, 8–6 |
| 1954 | Maureen Connolly Brinker (USA) | Louise Brough Clapp (USA) | 6–2, 7–5 |
| 1953 | Maureen Connolly Brinker (USA) | Doris Hart (USA) | 8–6, 7–5 |
| 1952 | Maureen Connolly Brinker (USA) | Louise Brough Clapp (USA) | 6–4, 6–3 |
| 1951 | Doris Hart (USA) | Shirley Fry Irvin (USA) | 6–1, 6–0 |
| 1950 | Louise Brough Clapp (USA) | Margaret Osborne duPont (USA) | 6–1, 3–6, 6–1 |
| 1949 | Louise Brough Clapp (USA) | Margaret Osborne duPont (USA) | 10–8, 1–6, 10–8 |
| 1948 | Louise Brough Clapp (USA) | Doris Hart (USA) | 6–3, 8–6 |
| 1947 | Margaret Osborne duPont (USA) | Doris Hart (USA) | 6–2, 6–4 |
| 1946 | Pauline Betz Addie (USA) | Louise Brough Clapp (USA) | 6–2, 6–4 |
| 1939 | Alice Marble (USA) | Kay Stammers Bullitt (GBR) | 6–2, |
| 1938 | Helen Wills Moody (USA) | Helen Jacobs (USA) | 6–4, 6–0 |
| 1937 | Dorothy Round Little (GBR) | Jadwiga Jędrzejowska (POL) | 6–2, 2–6, 7–5 |
| 1936 | Helen Jacobs (USA) | Hilde Krahwinkel Sperling (DEN) | 6–2, 4–6, 7–5 |
| 1935 | Helen Wills Moody (USA) | Helen Jacobs (USA) | 6–3, 3–6, 7–5 |
| 1934 | Dorothy Round Little (GBR) | Helen Jacobs (USA) | 6–2, 5–7, 6–3 |
| 1933 | Helen Wills Moody (USA) | Dorothy Round Little (GBR) | 6–4, 6–8, 6–3 |
| 1932 | Helen Wills Moody (USA) | Helen Jacobs (USA) | 6–3, 6–1 |
| 1931 | Cilly Aussem (GER) | Hilde Krahwinkel Sperling (GER) | 6–2, 7–5 |
| 1930 | Helen Wills Moody (USA) | Elizabeth Ryan (USA) | 6–2, 6–2 |
| 1929 | Helen Wills Moody (USA) | Helen Jacobs (USA) | 6–1, 6–2 |
| 1928 | Helen Wills Moody (USA) | Lili de Alvarez (ESP) | 6–2, 6–3 |
| 1927 | Helen Wills Moody (USA) | Lili de Alvarez (ESP) | 6–2, 6–4 |
| 1926 | Kitty McKane Godfree (GBR) | Lili de Alvarez (ESP) | 6–2, 4–6, 6–3 |
| 1925 | Suzanne Lenglen (FRA) | Joan Fry (GBR) | 6–2, 6–0 |
| 1924 | Kitty McKane Godfree (GBR) | Helen Wills Moody (USA) | 4–6, 6–4, 6–4 |
| 1923 | Suzanne Lenglen (FRA) | Kitty McKane Godfree (GBR) | 6–2, 6–2 |
| 1922 | Suzanne Lenglen (FRA) | Molla Bjurstedt Mallory (USA) | 6–2, 6–0 |
| 1921 | Suzanne Lenglen (FRA) | Elizabeth Ryan (USA) | 6–2, 6–0 |
| 1920 | Suzanne Lenglen (FRA) | Dorothea Douglass Lambert Chambers (BRI) | 6–3, 6–0 |
| 1919 | Suzanne Lenglen (FRA) | Dorothea Douglass Lambert Chambers (BRI) | 10–8, 4–6, 9–7 |
| 1914 | Dorothea Douglass Lambert Chambers (BRI) | Ethel Thomson Larcombe (BRI) | 7–5, 6–4 |
| 1913 | Dorothea Douglass Lambert Chambers (BRI) | Winifred McNair (BRI) | 6–0, 6–4 |
| 1912 | Ethel Thomson Larcombe (BRI) | Charlotte Cooper Sterry (BRI) | 6–3, 6–1 |
| 1911 | Dorothea Douglass Lambert Chambers (BRI) | Dora Boothby (BRI) | 6–0, 6–0 |
| 1910 | Dorothea Douglass Lambert Chambers (BRI) | Dora Boothby (BRI) | 6–2, 6–2 |
| 1909 | Dora Boothby (BRI) | Agnes Morton (BRI) | 6–4, 4–6, 8–6 |
| 1908 | Charlotte Cooper Sterry (BRI) | Agnes Morton (BRI) | 6–4, 6–4 |
| 1907 | May Sutton Bundy (USA) | Dorothea Douglass Lambert Chambers (BRI) | 6–1, 6–4 |
| 1906 | Dorothea Douglass Lambert Chambers (BRI) | May Sutton Bundy (USA) | 6–3, 9–7 |
| 1905 | May Sutton Bundy (USA) | Dorothea Douglass Lambert Chambers (BRI) | 6–3, 6–4 |
| 1904 | Dorothea Douglass Lambert Chambers (BRI) | Charlotte Cooper Sterry (BRI) | 6–0, 6–3 |
| 1903 | Dorothea Douglass Lambert Chambers (BRI) | Ethel Thomson Larcombe (BRI) | 4–6, 6–4, 6–2 |
| 1902 | Muriel Robb (BRI) | Charlotte Cooper Sterry (BRI) | 7–5, 6–1 |
| 1901 | Charlotte Cooper Sterry (BRI) | Blanche Bingley Hillyard (BRI) | 6–2, 6–2 |
| 1900 | Blanche Bingley Hillyard (BRI) | Charlotte Cooper Sterry (BRI) | 4–6, 6–4, 6–4 |
| 1899 | Blanche Bingley Hillyard (BRI) | Charlotte Cooper Sterry (BRI) | 6–2, 6–3 |
| 1898 | Charlotte Cooper Sterry (BRI) | Louise Martin (BRI) | 6–4, 6–4 |
| 1897 | Blanche Bingley Hillyard (BRI) | Charlotte Cooper Sterry (BRI) | 5–7, 7–5, 6–2 |
| 1896 | Charlotte Cooper Sterry (BRI) | Alice Simpson-Pickering (BRI) | 6–2, 6–3 |
| 1895 | Charlotte Cooper Sterry (BRI) | Helen Jackson (BRI) | 7–5, 8–6 |
| 1894 | Blanche Bingley Hillyard (BRI) | Edith Austin (BRI) | 6–1, 6–1 |
| 1893 | Lottie Dod (BRI) | Blanche Bingley Hillyard (BRI) | 6–8, 6–1, 6–4 |
| 1892 | Lottie Dod (BRI) | Blanche Bingley Hillyard (BRI) | 6–1, 6–1 |
| 1891 | Lottie Dod (BRI) | Blanche Bingley Hillyard (BRI) | 6–2, 6–1 |
| 1890 | Lena Rice (BRI) | May Jacks (BRI) | 6–4, 6–1 |
| 1889 | Blanche Bingley Hillyard (BRI) | Lena Rice (BRI) | 4–6, 8–6, 6–4 |
| 1888 | Lottie Dod (BRI) | Blanche Bingley Hillyard (BRI) | 6–3, 6–3 |
| 1887 | Lottie Dod (BRI) | Blanche Bingley Hillyard (BRI) | 6–2, 6–0 |
| 1886 | Blanche Bingley Hillyard (BRI) | Maud Watson (BRI) | 6–3, 6–3 |
| 1885 | Maud Watson (BRI) | Blanche Bingley Hillyard (BRI) | 6–1, 7–5 |
| 1884 | Maud Watson (BRI) | Lillian Watson (BRI) | 6–8, 6–3, 6–3 |