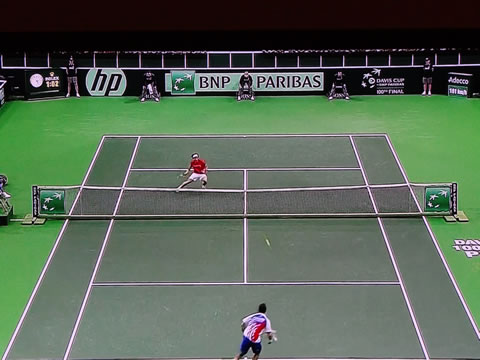 See a complete list of Davis Cup Champions. The 2019 Davis Cup Champions is Spain. They won the title by defeating Canda 2-0 in the finals.

Fast Facts:
The Davis Cup's inaugural match was between Great Britain and USA in 1900.
13 different nations have held the Davis Cup title.
The tournament was previously known as the International Lawn Tennis Challenge.
The 2020 Davis Cup will take place November 23 – November 29.
Many great tennis players have competed in the Davis Cup that include, Rod Laver, Mats Wilander, Stefan Edberg, Ivan Lendl, John McEnroe, Boris Becker, Andre Agassi and Pete Sampras.
Davis Cup Champions:
Year
Champion
Runner up
Score
Venue
2019
Spain
Canada
2-0
Caja Mágica, Spain
2018
Croatia
France
3-1
Stade Pierre-Mauroy, France
2017
France
Belgium
3-2
Stade Pierre-Mauroy, France
2016
Argentina
Croatia
3-2
Arena Zagreb, Croatia
2015
Great Britain
Belgium
3-1
Flanders Expo, Belgium
2014
Switzerland
France
3-1
Stade Pierre-Mauroy, Lille, France
2013
Czech Republic
Serbia
3-2
Kombank Arena, Belgrade, Serbia
2012
Czech Republic
Spain
3-2
O2 Arena, Prague, Czech Republic
2011
Spain
Argentina
3-1
Olympic Stadium, Seville, Spain
2010
Serbia
France
3-2
Belgrade Arena, Belgrade, Serbia
2009
Spain
Czech Republic
5-0
Palau Sant Jordi, Barcelona, Spain
2008
Spain
Argentina
3-1
Estadio Islas Malvinas, Mar del Plata, Argentina
2007
USA
Russia
4-1
Memorial Coliseum, Portland, Oregon, USA
2006
Russia
Argentina
3-2
Olympic Stadium, Moscow, Russia
2005
Croatia
Slovak Republic
3-2
Sibamac Arena National Tennis Centre
Bratislava, Slovak Republic
2004
Spain
USA
3-2
Olympic Stadium, Seville, Spain
2003
Australia
Spain
3-1
Melbourne Park, Melbourne, Australia
2002
Russia
France
3-2
Palais Omnisports Paris Bercy, Paris, France
2001
France
Australia
3-2
Melbourne Park, Melbourne, Australia
2000
Spain
Australia
3-1
Palau Sant Jordi, Barcelona, Spain
1999
Australia
France
3-2
Acropolis Exhibition Hall, Nice, France
1998
Sweden
Italy
4-1
Forum, Milan, Italy
1997
Sweden
USA
5-0
Scandinavium, Gothenburg, Sweden
1996
France
Sweden
3-2
Massan Hall, Malmo, Sweden
1995
USA
Russia
3-2
Olympic Stadium, Moscow, Russia
1994
Sweden
Russia
4-1
Olympic Stadium, Moscow, Russia
1993
Germany
Australia
4-1
Exhibition Hall, Dusseldorf, Germany
1992
USA
Switzerland
3-1
Tarrant County Centre, Fort Worth, TX, USA
1991
France
USA
3-1
Gerland Sports Palace, Lyon, France
1990
USA
Australia
3-2
Sun Coast Dome, St Petersburg, FL, USA
1989
Germany F.R.
Sweden
3-2
Schleyer Halle, Stuttgart, West Germany
1988
Germany F.R.
Sweden
4-1
The Scandinavium, Gothenburg, Sweden
1987
Sweden
India
5-0
The Scandinavium, Gothenburg, Sweden
1986
Australia
Sweden
3-2
Kooyong, Melbourne, Australia
1985
Sweden
Germany F.R.
3-2
Olympia Halle, Munich, West Germany
1984
Sweden
USA
4-1
The Scandinavium, Gothenburg, Sweden
1983
Australia
Sweden
3-2
Kooyong, Melbourne, Australia
1982
USA
France
4-1
Sports Palace, Grenoble, France
1981
USA
Argentina
3-1
Riverfront Coliseum, Cincinnati, OH, USA
1980
Czechoslovakia
Italy
4-1
Sportovni Hall, Prague, Czechoslovakia
1979
USA
Italy
5-0
Civic Auditorium, San Francisco, CA, USA
1978
USA
Great Britain
4-1
Mission Hills CC, Rancho Mirage, CA, USA
1977
Australia
Italy
3-1
White City Stadium, Sydney, Australia
1976
Italy
Chile
4-1
Estadio Nacional, Santiago, Chile
1975
Sweden
Czechoslovakia
3-2
Kungliga Tennishallen, Stockholm, Sweden
1974
South Africa
India
–
South Africa won by walkover
1973
Australia
USA
5-0
Public Auditorium, Cleveland, OH, USA
1972
USA
Romania
3-2
Club Sportiv Progresul, Bucharest, Romania
1971
USA
Romania
3-2
Olde Providence Racquet Club
Charlotte, NC, USA
1970
USA
Germany F.R.
5-0
Harold Clark Courts, Cleveland, OH, USA
1969
USA
Romania
5-0
Harold Clark Courts, Cleveland, OH, USA
1968
USA
Australia
4-1
Memorial Drive, Adelaide, Australia
1967
Australia
Spain
4-1
Milton Courts, Brisbane, Australia
1966
Australia
India
4-1
Kooyong, Melbourne, Australia
1965
Australia
Spain
4-1
White City Stadium, Sydney, Australia
1964
Australia
USA
3-2
Harold Clark Courts, Cleveland, OH, USA
1963
USA
Australia
3-2
Memorial Drive, Adelaide, Australia
1962
Australia
Mexico
5-0
Milton Courts, Brisbane, Australia
1961
Australia
Italy
5-0
Kooyong, Melbourne, Australia
1960
Australia
Italy
4-1
White City Stadium, Sydney, Australia
1959
Australia
USA
3-2
West Side TC, Forest Hills, NY, USA
1958
USA
Australia
3-2
Milton Courts, Brisbane, Australia
1957
Australia
USA
3-2
Kooyong, Melbourne, Australia
1956
Australia
USA
5-0
Memorial Drive, Adelaide, Australia
1955
Australia
USA
5-0
West Side TC, Forest Hills, NY, USA
1954
USA
Australia
3-2
White City Stadium, Sydney, Australia
1953
Australia
USA
3-2
Kooyong, Melbourne, Australia
1952
Australia
USA
4-1
Memorial Drive, Adelaide, Australia
1951
Australia
USA
3-2
White City Stadium, Sydney, Australia
1950
Australia
USA
4-1
West Side TC, Forest Hills, NY, USA
1949
USA
Australia
4-1
West Side TC, Forest Hills, NY, USA
1948
USA
Australia
5-0
West Side TC, Forest Hills, NY, USA
1947
USA
Australia
4-1
West Side TC, Forest Hills, NY, USA
1946
USA
Australia
5-0
Kooyong, Melbourne, Australia
1939
Australia
USA
3-2
Merion Cricket Club, Haverford, PA, USA
1938
USA
Australia
3-2
Germantown Cricket Club
Philadelphia, PA, USA
1937
USA
Great Britain
4-1
Centre Court, Wimbledon, London, England
1936
Great Britain
Australia
3-2
Centre Court, Wimbledon, London, England
1935
Great Britain
USA
5-0
Centre Court, Wimbledon, London, England
1934
Great Britain
USA
4-1
Centre Court, Wimbledon, London, England
1933
Great Britain
France
3-2
Roland Garros, Auteuil, Paris, France
1932
France
USA
3-2
Roland Garros, Auteuil, Paris, France
1931
France
Great Britain
3-2
Roland Garros, Auteuil, Paris, France
1930
France
USA
4-1
Roland Garros, Auteuil, Paris, France
1929
France
USA
3-2
Roland Garros, Auteuil, Paris, France
1928
France
USA
4-1
Roland Garros, Auteuil, Paris, France
1927
France
USA
3-2
Germantown Cricket Club, Philadelphia, PA, USA
1926
USA
France
4-1
Germantown Cricket Club, Philadelphia, PA, USA
1925
USA
France
5-0
Germantown Cricket Club, Philadelphia, PA, USA
1924
USA
Australia
5-0
Germantown Cricket Club, Philadelphia, PA, USA
1923
USA
Australia
4-1
West Side TC, Forest Hills, NY, USA
1922
USA
Australasia
4-1
West Side TC, Forest Hills, NY, USA
1921
USA
Japan
5-0
West Side TC, Forest Hills, NY, USA
1920
USA
Australasia
5-0
Domain Cricket Club, Auckland, New Zealand
1919
Australasia
Great Britain
4-1
Double Bay Grounds, Sydney, Australia
1914
Australasia
USA
3-2
West Side TC, Forest Hills, NY, USA
1913
USA
Great Britain
3-2
Worple Road, Wimbledon, London, England
1912
British Isles
Australasia
3-2
Albert Ground, Melbourne, Australia
1911
Australasia
USA
5-0
Hagley Park, Christchurch, New Zealand
1909
Australasia
USA
5-0
Double Bay Grounds, Sydney, Australia
1908
Australasia
USA
3-2
Albert Ground, Melbourne, Australia
1907
Australasia
British Isles
3-2
Worple Road, Wimbledon, London, England
1906
British Isles
USA
5-0
Worple Road, Wimbledon, London, England
1905
British Isles
USA
5-0
Worple Road, Wimbledon, London, England
1904
British Isles
Belgium
5-0
Worple Road, Wimbledon, London, England
1903
British Isles
USA
4-1
Longwood Cricket Club, Boston, MA, USA
1902
USA
British Isles
3-2
Crescent Athletic Club, Brooklyn, NY, USA
1900
USA
British Isles
3-0
Longwood Cricket Club, Boston, MA, USA