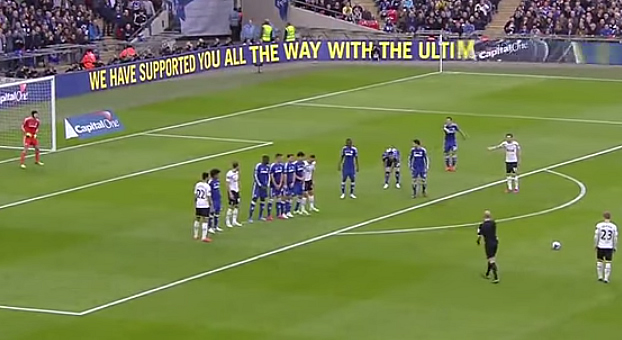 See a complete list of Football League Cup Champions. Manchester City won their sixth League Cup Championship in the 2018-19 season.

Fast Facts:
The Football League Cup is also known as League Cup which is also referred to by it's current sponsor name, Capital One Cup.
The League Cup is played between Football teams from England and Wales.
Liverpool has won 8 League Cup's which is the most of any other team.
League Cup Champions
| | | | |
| --- | --- | --- | --- |
| Year | Winner | Score | Runner Up |
| 2019 | Manchester City | 0–0 (4-3 shootout) | Chelsea |
| 2018 | Manchester City | 3–0 | Arsenal |
| 2017 | Manchester United | 3–2 | Tottenham Hotspur |
| 2016 | Manchester City | 1-2 (3–1 shootout) | Liverpool |
| 2015 | Chelsea | 2–0 | Tottenham Hotspur |
| 2014 | Manchester City | 3–1 | Sunderland |
| 2013 | Swansea City | 5–0 | Bradford City |
| 2012 | Liverpool | 2–2 | Cardiff City |
| 2011 | Birmingham City | 2–1 | Arsenal |
| 2010 | Manchester United | 2–1 | Aston Villa |
| 2009 | Manchester United | 0–0 | Tottenham Hotspur |
| 2008 | Tottenham Hotspur | 2–1 | Chelsea |
| 2007 | Chelsea | 2–1 | Arsenal |
| 2006 | Manchester United | 4–0 | Wigan Athletic |
| 2005 | Chelsea | 3–2 | Liverpool |
| 2004 | Middlesbrough | 2–1 | Bolton Wanderers |
| 2003 | Liverpool | 2–0 | Manchester United |
| 2002 | Blackburn Rovers | 2–1 | Tottenham Hotspur |
| 2001 | Liverpool | 1–1 | Birmingham City |
| 2000 | Leicester City | 2–1 | Tranmere Rovers |
| 1999 | Tottenham Hotspur | 1–0 | Leicester City |
| 1998 | Chelsea | 2–0 | Middlesbrough |
| 1997 | Leicester City | 1–0 | Middlesbrough |
| 1996 | Aston Villa | 3–0 | Leeds United |
| 1995 | Liverpool | 2–1 | Bolton Wanderers |
| 1994 | Aston Villa | 3–1 | Manchester United |
| 1993 | Arsenal | 2–1 | Sheffield Wednesday |
| 1992 | Manchester United | 1–0 | Nottingham Forest |
| 1991 | Sheffield Wednesday | 1–0 | Manchester United |
| 1990 | Nottingham Forest | 1–0 | Oldham Athletic |
| 1989 | Nottingham Forest | 3–1 | Luton Town |
| 1988 | Luton Town | 3–2 | Arsenal |
| 1987 | Arsenal | 2–1 | Liverpool |
| 1986 | Oxford United | 3–0 | Queens Park Rangers |
| 1985 | Norwich City | 1–0 | Sunderland |
| 1984 | Liverpool | 1–0 | Everton |
| 1983 | Liverpool | 2–1 | Manchester United |
| 1982 | Liverpool | 3–1 | Tottenham Hotspur |
| 1981 | Liverpool | 2–1 | West Ham United |
| 1980 | Wolverhampton Wanderers | 1–0 | Nottingham Forest |
| 1979 | Nottingham Forest | 3–2 | Southampton |
| 1978 | Nottingham Forest | 1–0 | Liverpool |
| 1977 | Aston Villa | 3–2 | Everton |
| 1976 | Manchester City | 2–1 | Newcastle United |
| 1975 | Aston Villa | 1–0 | Norwich City |
| 1974 | Wolverhampton Wanderers | 2–1 | Manchester City |
| 1973 | Tottenham Hotspur | 1–0 | Norwich City |
| 1972 | Stoke City | 2–1 | Chelsea |
| 1971 | Tottenham Hotspur | 2–0 | Aston Villa |
| 1970 | Manchester City | 2–1 | West Bromwich Albion |
| 1969 | Swindon Town | 3–1 | Arsenal |
| 1968 | Leeds United | 1–0 | Arsenal |
| 1967 | Queens Park Rangers | 3–2 | West Bromwich Albion |
| 1966 | West Bromwich Albion (A) | 5–3 | West Ham United |
| 1965 | Chelsea (A) | 4–2 | Leicester City |
| 1964 | Leicester City (A) | 4–3 | Stoke City |
| 1963 | Birmingham City (A) | 3–1 | Aston Villa |
| 1962 | Norwich City (A) | 4–0 | Rochdale |
| 1961 | Aston Villa (A) | 3–2 | Rotherham United |
(A) Aggregate goals