Bobsleigh
FIBT Bobsleigh World Cup – Four Man Champions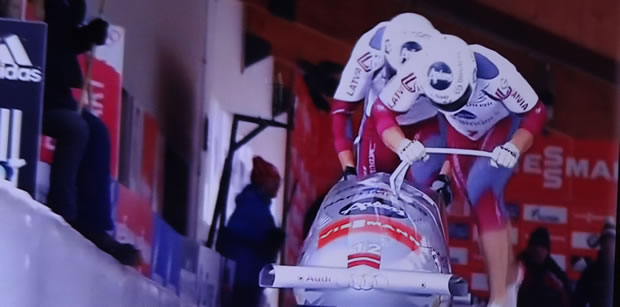 See a complete list of Bobsleigh World Cup Four-Man Champions. The 2017/18 Four-Man Bobsled Champion is Johannes Lochner from Germany. This was his first World Cup title.
Fast Facts:
Fédération internationale de bobsleigh et de tobogganing (FIBT).
The 2015-16 season started in Altenberg, Germany on November 27, 2015 and ended on February 28, 2016 in Königssee, Germany.
The sport of bobsleigh didn't begin until the late 19th century when the Swiss attached a steering mechanism to a toboggan.
Switzerland and Germany have dominated World Cup competitions with the most medals. The Canadian teams are closely behind.
FIBT Bobsleigh World Cup – Four Man Champions
| | | | |
| --- | --- | --- | --- |
| Season | Winner | Runner up | Third |
| 2017–18 | Johannes Lochner (GER) | Francesco Friedrich (GER) | Nico Walther (GER) |
| 2016–17 | Alexander Kasjanov (RUS) | Rico Peter (SUI) | Steven Holcomb (USA) |
| 2015–16 | Maximilian Arndt (GER) | Francesco Friedrich (GER) | Rico Peter (SUI) |
| 2014–15 | Oskars Melbardis (LVA) | Alexander Kasyanov (RUS) | Maximilian Arndt (GER) |
| 2013–14 | Maximilian Arndt (GER) | Steven Holcomb (USA) | Thomas Florschuetz (GER) |
| 2012–13 | Alexandr Zubkov (RUS) | Oskars Melbārdis (LVA) | Manuel Machata (GER) |
| 2012–13 | Alexandr Zubkov (RUS) | Maximilian Arndt (GER) | Manuel Machata (GER) |
| 2011–12 | Manuel Machata (GER) | Steven Holcomb (USA) | Alexandr Zubkov (RUS) |
| 2010–11 | Steve Holcomb (USA) | Janis Minins (LVA) | Andre Lange (GER) |
| 2008-09 | Alexandr Zubkov (RUS) | Janis Minins (LVA) | Andre Lange (GER) |
| 2007-08 | Andre Lange (GER) | Alexandr Zubkov (RUS) | Janis Minins (LVA) |
| 2006-07 | Yevgeni Popov (RUS) | Steven Holcomb (USA) | Martin Annen (SUI) |
| 2005-06 | Alexandr Zubkov (RUS) | Pierre Lueders (CAN) | Martin Annen (SUI) |
| 2004-05 | Alexandr Zubkov (RUS) | Martin Annen (SUI) | Pierre Lueders (CAN) |
| 2003-04 | Andre Lange (GER) | Alexandr Zubkov (RUS) | Todd Hays (USA) |
| 2002-03 | Andre Lange (GER) | Sandis Prusis (LVA) | Ralph Rüegg (SUI) |
| 2001-02 | Martin Annen (SUI) | Andre Lange (GER) | Christian Reich (SUI) |
| 2000-01 | Andre Lange (GER) | Sandis Prusis (LVA) | Matthias Benesch (GER) |
| 1999-2000 | Marcel Rohner (SUI) | Sandis Prusis (LVA) | Pierre Lueders (CAN) |
| 1998-99 | Christoph Langen (GER) | Marcel Rohner (SUI) | Andre Lange (GER) |
| 1997-98 | Harald Czudaj (GER) | Marcel Rohner (SUI) | Hubert Schösser (AUT) |
| 1996-97 | Marcel Rohner (SUI) | Wolfgang Hoppe (GER) | Gunther Huber (ITA) |
| 1995-96 | Wolfgang Hoppe (GER) | Christoph Langen (GER) | Chris Lori (CAN) |
| 1994-95 | Pierre Lueders (CAN) | Mark Tout (GBR) | Dirk Wiese (GER) |
| 1993-94 | Hubert Schösser (AUT) | Dirk Wiese (GER) | Mark Tout (GBR) |
| 1992-93 | Brian Shimer (USA) | Chris Lori (CAN) | Wolfgang Hoppe (GER) |
| 1991-92 | Wolfgang Hoppe (GER) | Gustav Weder (SUI) | Mark Tout (GBR) |
| 1990-91 | Gustav Weder (SUI) | Ingo Appelt (AUT) | Chris Lori (CAN) |
| 1989-90 | Chris Lori (CAN) | Maris Poikans Soviet Union | Dietmar Falkenberg (GER) |
| 1988-89 | Ingo Appelt (AUT) | Gustav Weder (SUI) | Peter Kienast (AUT) |
| 1987-88 | Ingo Appelt /(AUT) (AUT) | None awarded | Volker Dietrich (GER) |
| 1986-87 | Matt Roy (USA) | Wolfgang Hoppe (GER) | Peter Kienast (AUT) |
| 1985-86 | Ekkehard Fasser (SUI) | Walter Delle Karth (AUT) | Matt Roy (USA) |
| 1984-85 | Jeffrey Jost (USA) | | |