Nascar
NASCAR Sprint Cup Series Drivers Champions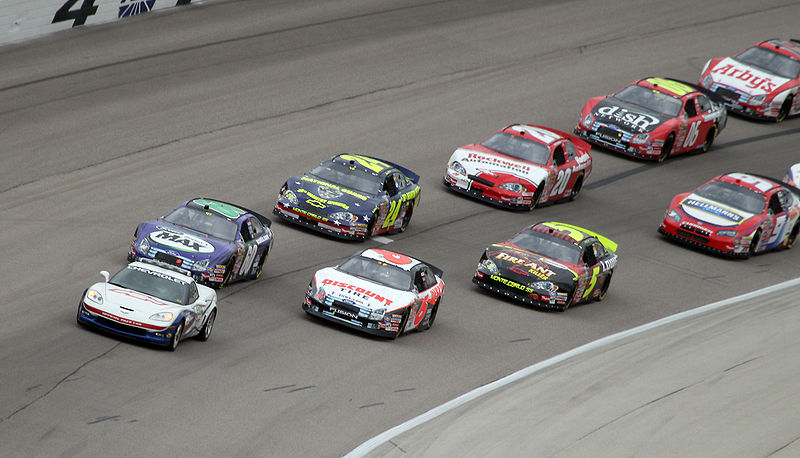 See a complete list of NASCAR Sprint Cup Series Drivers Champions. Chase Elliott won the 2020 NASCAR Cup Series. This was his first title.
Fast Facts:
The NASCAR Sprint Cup Series Drivers' Championship is awarded by the chairman of NASCAR to the most successful Sprint Cup Series racing car driver over a season, as determined by a points system based on race results.
34 different drivers have won the Championship, with Richard Petty and Dale Earnhardt holding the record for most titles at seven.
Jimmie Johnson won five races in a row from 2006 to 2010 and again in 2013 earning him the title as the most successful driver to win consecutive Championships.
The auto manufacturer Chevrolet has the most championship wins with thirty-nine.
NASCAR Sprint Cup Series champions:
| | | |
| --- | --- | --- |
| Year | Driver | Make |
| 2020 | Chase Elliott (1) | Chevrolet |
| 2019 | Kyle Busch (2) | Toyota |
| 2018 | Joey Logano | Ford |
| 2017 | Martin Truex Jr. | Toyota |
| 2016 | Jimmie Johnson (7) | Chevrolet |
| 2015 | Kyle Busch | Toyota |
| 2014 | Kevin Harvick | Chevrolet |
| 2013 | Jimmie Johnson (6) | Chevrolet |
| 2012 | Brad Keselowski | Dodge Charger |
| 2011 | Tony Stewart (3) | Chevrolet Impala |
| 2010 | Jimmie Johnson (5) | Chevrolet Impala |
| 2009 | Jimmie Johnson (4) | Chevrolet Impala SS |
| 2008 | Jimmie Johnson (3) | Chevrolet Impala SS |
| 2007 | Jimmie Johnson (2) | Chevrolet Monte Carlo SS/Chevrolet Impala SS |
| 2006 | Jimmie Johnson | Chevrolet Monte Carlo SS |
| 2005 | Tony Stewart (2) | Chevrolet Monte Carlo |
| 2004 | Kurt Busch | Ford Taurus |
| 2003 | Matt Kenseth | Ford Taurus |
| 2002 | Tony Stewart | Pontiac Grand Prix |
| 2001 | Jeff Gordon (4) | Chevrolet Monte Carlo |
| 2000 | Bobby Labonte | Pontiac Grand Prix |
| 1999 | Dale Jarrett | Ford Taurus |
| 1998 | Jeff Gordon (3) | Chevrolet Monte Carlo |
| 1997 | Jeff Gordon (2) | Chevrolet Monte Carlo |
| 1996 | Terry Labonte (2) | Chevrolet Monte Carlo |
| 1995 | Jeff Gordon | Chevrolet Monte Carlo |
| 1994 | Dale Earnhardt (7) | Chevrolet Lumina |
| 1993 | Dale Earnhardt (6) | Chevrolet Lumina |
| 1992 | Alan Kulwicki | Ford Thunderbird |
| 1991 | Dale Earnhardt (5) | Chevrolet Lumina |
| 1990 | Dale Earnhardt (4) | Chevrolet Lumina |
| 1989 | Rusty Wallace | Pontiac Grand Prix |
| 1988 | Bill Elliott | Ford Thunderbird |
| 1987 | Dale Earnhardt (3) | Chevrolet Monte Carlo |
| 1986 | Dale Earnhardt (2) | Chevrolet Monte Carlo |
| 1985 | Darrell Waltrip (3) | Chevrolet Monte Carlo |
| 1984 | Terry Labonte | Chevrolet Monte Carlo |
| 1983 | Bobby Allison | Buick Regal |
| 1982 | Darrell Waltrip (2) | Buick Regal |
| 1981 | Darrell Waltrip | Buick Regal |
| 1980 | Dale Earnhardt | Chevrolet Monte Carlo |
| 1979 | Richard Petty (7) | Chevrolet Monte Carlo |
| 1978 | Cale Yarborough (3) | Oldsmobile Cutlass |
| 1977 | Cale Yarborough (2) | Chevrolet Malibu |
| 1976 | Cale Yarborough | Chevrolet Chevelle |
| 1975 | Richard Petty (6) | Dodge Charger |
| 1974 | Richard Petty (5) | Dodge Charger |
| 1973 | Benny Parsons | Chevrolet Chevelle |
| 1972 | Richard Petty (4) | Plymouth Satellite |
| 1971 | Richard Petty (3) | Plymouth Satellite |
| 1970 | Bobby Isaac | Dodge Charger |
| 1969 | David Pearson (3) | Ford Torino |
| 1968 | David Pearson (2) | Ford Torino |
| 1967 | Richard Petty (2) | Plymouth Sport Fury |
| 1966 | David Pearson | Dodge Charger |
| 1965 | Ned Jarrett (2) | Ford Galaxie |
| 1964 | Richard Petty | Plymouth Sport Fury |
| 1963 | Joe Weatherly (2) | Pontiac |
| 1962 | Joe Weatherly | Pontiac |
| 1961 | Ned Jarrett | Chevrolet Impala |
| 1960 | Rex White | Chevrolet Impala |
| 1959 | Lee Petty (3) | Plymouth |
| 1958 | Lee Petty (2) | Oldsmobile |
| 1957 | Buck Baker (2) | Chevrolet |
| 1956 | Buck Baker | Chrysler 300 |
| 1955 | Tim Flock (2) | Chrysler 300 |
| 1954 | Lee Petty | Chrysler New Yorker |
| 1953 | Herb Thomas (2) | Hudson Hornet |
| 1952 | Tim Flock | Hudson Hornet |
| 1951 | Herb Thomas | Hudson Hornet |
| 1950 | Bill Rexford | Oldsmobile |
| 1949 | Red Byron | Oldsmobile |