Football
Army vs Navy Football Champions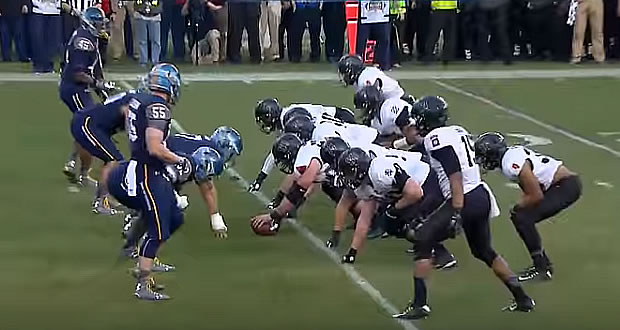 See a complete list of the winning team in the Army versus Navy football game rivalry. The 121st game played in 2020 was won by the Army. The Navy leads the series 61–53–7

Fast Facts:
The American college football rivalry between Army–Navy was first played in 1890.
The all-time record is held by the Navy 61–52–7.
The Army–Navy game is played by the United States Military Academy (USMA) at West Point, New York and the United States Naval Academy (USNA) at Annapolis, Maryland.
| | | | | | |
| --- | --- | --- | --- | --- | --- |
| Year | Winner | Score | Location | City | Series |
| 2020 | Army | 15–0 | Michie Stadium | West Point, NY | Navy 61–53–7 |
| 2019 | Navy | 31–7 | Lincoln Financial Field | Philadelphia, PA | Navy 61–52–7 |
| 2018 | Army | 17–10 | Lincoln Financial Field | Philadelphia, PA | Navy 60–52–7 |
| 2017 | Army | 14–13 | Lincoln Financial Field | Philadelphia, PA | Navy 60–51–7 |
| 2016 | Army | 21–17 | M&T Bank Stadium | Baltimore, MD | Navy 60–50–7 |
| 2015 | Navy | 21–17 | Lincoln Financial Field | Philadelphia, PA | Navy 60–49–7 |
| 2014 | Navy | 17–10 | M&T Bank Stadium | Baltimore, MD | Navy 59–49–7 |
| 2013 | Navy | 34–7 | Lincoln Financial Field | Philadelphia, PA | Navy 58–49–7 |
| 2012 | Navy | 17–13 | Lincoln Financial Field | Philadelphia, PA | Navy 57–49–7 |
| 2011 | Navy | 27–21 | FedExField | Landover, MD | Navy 56–49–7 |
| 2010 | Navy | 31–17 | Lincoln Financial Field | Philadelphia, PA | Navy 55–49–7 |
| 2009 | Navy | 17–3 | Lincoln Financial Field | Philadelphia, PA | Navy 54–49–7 |
| 2008 | Navy | 34–0 | Lincoln Financial Field | Philadelphia, PA | Navy 53–49–7 |
| 2007 | Navy | 38–3 | M&T Bank Stadium | Baltimore, MD | Navy 52–49–7 |
| 2006 | Navy | 26–14 | Lincoln Financial Field | Philadelphia, PA | Navy 51–49–7 |
| 2005 | Navy | 42–23 | Lincoln Financial Field | Philadelphia, PA | Navy 50–49–7 |
| 2004 | Navy | 42–13 | Lincoln Financial Field | Philadelphia, PA | Tied 49–49–7 |
| 2003 | Navy | 34–6 | Lincoln Financial Field | Philadelphia, PA | Army 49–48–7 |
| 2002 | Navy | 58–12 | Giants Stadium | East Rutherford, NJ | Army 49–47–7 |
| 2001 | Army | 26–17 | Veterans Stadium | Philadelphia, PA | Army 49–46–7 |
| 2000 | Navy | 30–28 | PSINet Stadium | Baltimore, MD | Army 48–46–7 |
| 1999 | Navy | 19–9 | Veterans Stadium | Philadelphia, PA | Army 48–45–7 |
| 1998 | Army | 34–30 | Veterans Stadium | Philadelphia, PA | Army 48–44–7 |
| 1997 | Navy | 39–7 | Giants Stadium | East Rutherford, NJ | Army 47–44–7 |
| 1996 | Army | 28–24 | Veterans Stadium | Philadelphia, PA | Army 47–43–7 |
| 1995 | Army | 14–13 | Veterans Stadium | Philadelphia, PA | Army 46–43–7 |
| 1994 | Army | 22–20 | Veterans Stadium | Philadelphia, PA | Army 45–43–7 |
| 1993 | Army | 16–14 | Giants Stadium | East Rutherford, NJ | Army 44–43–7 |
| 1992 | Army | 25–24 | Veterans Stadium | Philadelphia, PA | Tied 43–43–7 |
| 1991 | Navy | 24–3 | Veterans Stadium | Philadelphia, PA | Navy 43–42–7 |
| 1990 | Army | 30–20 | Veterans Stadium | Philadelphia, PA | Tied 42–42–7 |
| 1989 | Navy | 19–17 | Giants Stadium | East Rutherford, NJ | Navy 42–41–7 |
| 1988 | Army | 20–15 | Veterans Stadium | Philadelphia, PA | Tied 41–41–7 |
| 1987 | Army | 17–3 | Veterans Stadium | Philadelphia, PA | Navy 41–40–7 |
| 1986 | Army | 27–7 | Veterans Stadium | Philadelphia, PA | Navy 41–39–7 |
| 1985 | Navy | 17–7 | Veterans Stadium | Philadelphia, PA | Navy 41–38–7 |
| 1984 | Army | 28–11 | Veterans Stadium | Philadelphia, PA | Navy 40–38–7 |
| 1983 | Navy | 42–13 | Rose Bowl | Pasadena, CA | Navy 40–37–7 |
| 1982 | Navy | 24–7 | Veterans Stadium | Philadelphia, PA | Navy 39–37–7 |
| 1981 | Tie | 3–3 | Veterans Stadium | Philadelphia, PA | Navy 38–37–7 |
| 1980 | Navy | 33–6 | Veterans Stadium | Philadelphia, PA | Navy 38–37–6 |
| 1979 | Navy | 31–7 | John F. Kennedy Stadium | Philadelphia, PA | Tied 37–37–6 |
| 1978 | Navy | 28–0 | John F. Kennedy Stadium | Philadelphia, PA | Army 37–36–6 |
| 1977 | Army | 17–14 | John F. Kennedy Stadium | Philadelphia, PA | Army 37–35–6 |
| 1976 | Navy | 38–10 | John F. Kennedy Stadium | Philadelphia, PA | Army 36–35–6 |
| 1975 | Navy | 30–6 | John F. Kennedy Stadium | Philadelphia, PA | Army 36–34–6 |
| 1974 | Navy | 19–0 | John F. Kennedy Stadium | Philadelphia, PA | Army 36–33–6 |
| 1973 | Navy | 51–0 | John F. Kennedy Stadium | Philadelphia, PA | Army 36–32–6 |
| 1972 | Army | 23–15 | John F. Kennedy Stadium | Philadelphia, PA | Army 36–31–6 |
| 1971 | Army | 24–23 | John F. Kennedy Stadium | Philadelphia, PA | Army 35–31–6 |
| 1970 | Navy | 11–7 | John F. Kennedy Stadium | Philadelphia, PA | Army 34–31–6 |
| 1969 | Army | 27–0 | John F. Kennedy Stadium | Philadelphia, PA | Army 34–30–6 |
| 1968 | Army | 21–14 | John F. Kennedy Stadium | Philadelphia, PA | Army 33–30–6 |
| 1967 | Navy | 19–14 | John F. Kennedy Stadium | Philadelphia, PA | Army 32–30–6 |
| 1966 | Army | 20–7 | John F. Kennedy Stadium | Philadelphia, PA | Army 32–29–6 |
| 1965 | Tie | 7–7 | John F. Kennedy Stadium | Philadelphia, PA | Army 31–29–6 |
| 1964 | Army | 11–8 | John F. Kennedy Stadium | Philadelphia, PA | Army 31–29–5 |
| 1963 | Navy | 21–15 | Philadelphia Stadium | Philadelphia, PA | Army 30–29–5 |
| 1962 | Navy | 34–14 | Philadelphia Stadium | Philadelphia, PA | Army 30–28–5 |
| 1961 | Navy | 13–7 | Philadelphia Stadium | Philadelphia, PA | Army 30–27–5 |
| 1960 | Navy | 17–12 | Philadelphia Stadium | Philadelphia, PA | Army 30–26–5 |
| 1959 | Navy | 43–12 | Municipal Stadium | Philadelphia, PA | Army 30–25–5 |
| 1958 | Army | 22–6 | Municipal Stadium | Philadelphia, PA | Army 30–24–5 |
| 1957 | Navy | 14–0 | Municipal Stadium | Philadelphia, PA | Army 29–24–5 |
| 1956 | Tie | 7–7 | Municipal Stadium | Philadelphia, PA | Army 29–23–5 |
| 1955 | Army | 14–6 | Municipal Stadium | Philadelphia, PA | Army 29–23–4 |
| 1954 | Navy | 27–20 | Municipal Stadium | Philadelphia, PA | Army 28–23–4 |
| 1953 | Army | 20–7 | Municipal Stadium | Philadelphia, PA | Army 28–22–4 |
| 1952 | Navy | 7–0 | Municipal Stadium | Philadelphia, PA | Army 27–22–4 |
| 1951 | Navy | 42–7 | Municipal Stadium | Philadelphia, PA | Army 27–21–4 |
| 1950 | Navy | 14–2 | Municipal Stadium | Philadelphia, PA | Army 27–20–4 |
| 1949 | Army | 38–0 | Municipal Stadium | Philadelphia, PA | Army 27–19–4 |
| 1948 | Tie | 21–21 | Municipal Stadium | Philadelphia, PA | Army 26–19–4 |
| 1947 | Army | 21–0 | Municipal Stadium | Philadelphia, PA | Army 26–19–3 |
| 1946 | Army | 21–18 | Municipal Stadium | Philadelphia, PA | Army 25–19–3 |
| 1945 | Army | 32–13 | Municipal Stadium | Philadelphia, PA | Army 24–19–3 |
| 1944 | Army | 23–7 | Municipal Stadium | Baltimore, MD | Army 23–19–3 |
| 1943 | Navy | 13–0 | Michie Stadium | West Point, NY | Army 22–19–3 |
| 1942 | Navy | 14–0 | Thompson Stadium | Annapolis, MD | Army 22–18–3 |
| 1941 | Navy | 14–6 | Municipal Stadium | Philadelphia, PA | Army 22–17–3 |
| 1940 | Navy | 14–0 | Municipal Stadium | Philadelphia, PA | Army 22–16–3 |
| 1939 | Navy | 10–0 | Municipal Stadium | Philadelphia, PA | Army 22–15–3 |
| 1938 | Army | 14–7 | Municipal Stadium | Philadelphia, PA | Army 22–14–3 |
| 1937 | Army | 6–0 | Municipal Stadium | Philadelphia, PA | Army 21–14–3 |
| 1936 | Navy | 7–0 | Municipal Stadium | Philadelphia, PA | Army 20–14–3 |
| 1935 | Army | 28–6 | Franklin Field | Philadelphia, PA | Army 20–13–3 |
| 1934 | Navy | 3–0 | Franklin Field | Philadelphia, PA | Army 19–13–3 |
| 1933 | Army | 12–7 | Franklin Field | Philadelphia, PA | Army 19–12–3 |
| 1932 | Army | 20–0 | Franklin Field | Philadelphia, PA | Army 18–12–3 |
| 1931 | Army | 17–7 | Yankee Stadium | Bronx, NY | Army 17–12–3 |
| 1930 | Army | 6–0 | Yankee Stadium | Bronx, NY | Army 16–12–3 |
| 1927 | Army | 14–9 | Polo Grounds | New York, NY | Army 15–12–3 |
| 1926 | Tie | 21–21 | Soldier Field | Chicago, IL | Army 14–12–3 |
| 1925 | Army | 10–3 | Polo Grounds | New York, NY | Army 14–12–2 |
| 1924 | Army | 12–0 | Municipal Stadium | Baltimore, MD | Army 13–12–2 |
| 1923 | Tie | 0–0 | Polo Grounds | New York, NY | Tied 12–12–2 |
| 1922 | Army | 17–14 | Franklin Field | Philadelphia, PA | Tied 12–12–1 |
| 1921 | Navy | 7–0 | Polo Grounds | New York, NY | Navy 12–11–1 |
| 1920 | Navy | 7–0 | Polo Grounds | New York, NY | Tied 11–11–1 |
| 1919 | Navy | 6–0 | Polo Grounds | New York, NY | Army 11–10–1 |
| 1916 | Army | 15–7 | Polo Grounds | New York, NY | Army 11–9–1 |
| 1915 | Army | 14–0 | Polo Grounds | New York, NY | Army 10–9–1 |
| 1914 | Army | 20–0 | Franklin Field | Philadelphia, PA | Tied 9–9–1 |
| 1913 | Army | 22–9 | Polo Grounds | New York, NY | Navy 9–8–1 |
| 1912 | Navy | 6–0 | Franklin Field | Philadelphia, PA | Navy 9–7–1 |
| 1911 | Navy | 3–0 | Franklin Field | Philadelphia, PA | Navy 8–7–1 |
| 1910 | Navy | 3–0 | Franklin Field | Philadelphia, PA | Tied 7–7–1 |
| 1908 | Army | 6–4 | Franklin Field | Philadelphia, PA | Army 7–6–1 |
| 1907 | Navy | 6–0 | Franklin Field | Philadelphia, PA | Tied 6–6–1 |
| 1906 | Navy | 10–0 | Franklin Field | Philadelphia, PA | Army 6–5–1 |
| 1905 | Tie | 6–6 | Osborne Field | Princeton, NJ | Army 6–4–1 |
| 1904 | Army | 11–0 | Franklin Field | Philadelphia, PA | Army 6–4 |
| 1903 | Army | 40–5 | Franklin Field | Philadelphia, PA | Army 5–4 |
| 1902 | Army | 22–8 | Franklin Field | Philadelphia, PA | Tied 4–4 |
| 1901 | Army | 11–5 | Franklin Field | Philadelphia, PA | Navy 4–3 |
| 1900 | Navy | 11–7 | Franklin Field | Philadelphia, PA | Navy 4–2 |
| 1899 | Army | 17–5 | Franklin Field | Philadelphia, PA | Navy 3–2 |
| 1893 | Navy | 6–4 | Worden Field | Annapolis, MD | Navy 3–1 |
| 1892 | Navy | 12–4 | "The Plain" | West Point, NY | Navy 2–1 |
| 1891 | Army | 32–16 | Worden Field USNA | Annapolis, MD | Tied 1–1 |
| 1890 | Navy | 24–0 | "The Plain" USMA | West Point, NY | Navy 1–0 |