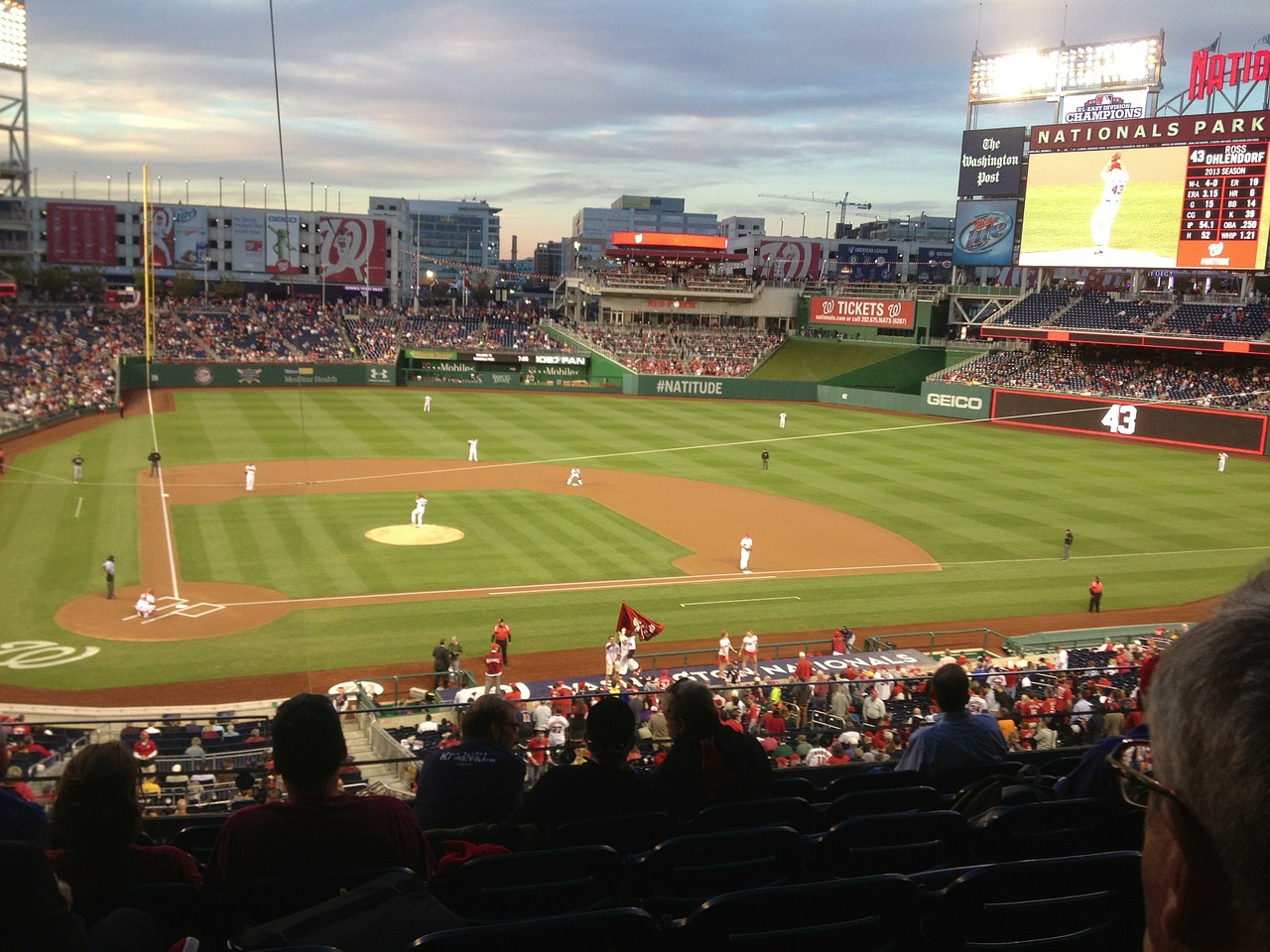 See a complete list of Major League Baseball World Series Champions. The 2020 World Series Champions are the Los Angeles Dodgers. This was their fourth franchise title.

Fast Facts:
The World Series is played in October, hence being refereed to in Major League Baseball as the "Fall Classic".
The New York Yankees have played in 40 World Series and have won 27.
The world Series is the championship series that is played every year in Major League Baseball.
The World Series champion is decided in the best of seven games that has the American League playing against the National League.
There are 30 teams in the league that include, twenty nine from the United States and one from Canada.
Major League Baseball World Series Champions:
| | | | |
| --- | --- | --- | --- |
| Season | Winner | Series | Losers |
| 2020 | Los Angeles Dodgers | 4-2 | Tampa Bay Rays |
| 2019 | Washington Nationals | 4-3 | Houston Astros |
| 2018 | Boston Red Sox | 4-1 | Los Angeles Dodgers |
| 2017 | Houston Astros | 4-3 | Los Angeles Dodgers |
| 2016 | Chicago Cubs | 4-3 | Cleveland Indians |
| 2015 | Kansas City Royals | 4-1 | New York Mets |
| 2014 | San Francisco Giants | 4-3 | Kansas City Royals |
| 2013 | Boston Red Sox | 4-2 | St. Louis Cardinals |
| 2012 | San Francisco Giants | 4-0 | Detroit Tigers |
| 2011 | St. Louis Cardinals | 4-3 | Texas Rangers |
| 2010 | San Francisco Giants | 4-1 | Texas Rangers |
| 2009 | New York Yankees | 4-2 | Philadelphia Phillies |
| 2008 | Philadelphia Phillies | 4-1 | Tampa Bay Rays |
| 2007 | Boston Red Sox | 4-0 | Colorado Rockies |
| 2006 | St. Louis Cardinals | 4-1 | Detroit Tigers |
| 2005 | Chicago White Sox | 4-0 | Houston Astros |
| 2004 | Boston Red Sox | 4-0 | St. Louis Cardinals |
| 2003 | Florida Marlins | 4-2 | New York Yankees |
| 2002 | Anaheim Angels | 4-3 | San Francisco Giants |
| 2001 | Arizona Diamondbacks | 4-3 | New York Yankees |
| 2000 | New York Yankees | 4-1 | New York Mets |
| 1999 | New York Yankees | 4-0 | Atlanta Braves |
| 1998 | New York Yankees | 4-0 | San Diego Padres |
| 1997 | Florida Marlins | 4-3 | Cleveland Indians |
| 1996 | New York Yankees | 4-2 | Atlanta Braves |
| 1995 | Atlanta Braves | 4-2 | Cleveland Indians |
| 1993 | Toronto Blue Jays | 4-2 | Philadelphia Phillies |
| 1992 | Toronto Blue Jays | 4-2 | Atlanta Braves |
| 1991 | Minnesota Twins | 4-3 | Atlanta Braves |
| 1990 | Cincinnati Reds | 4-0 | Oakland Athletics |
| 1989 | Oakland Athletics | 4-0 | San Francisco Giants |
| 1988 | Los Angeles Dodgers | 4-1 | Oakland Athletics |
| 1987 | Minnesota Twins | 4-3 | St. Louis Cardinals |
| 1986 | New York Mets | 4-3 | Boston Red Sox |
| 1985 | Kansas City Royals | 4-3 | St. Louis Cardinals |
| 1984 | Detroit Tigers | 4-1 | San Diego Padres |
| 1983 | Baltimore Orioles | 4-1 | Philadelphia Phillies |
| 1982 | St. Louis Cardinals | 4-3 | Milwaukee Brewers |
| 1981 | Los Angeles Dodgers | 4-2 | New York Yankees |
| 1980 | Philadelphia Phillies | 4-2 | Kansas City Royals |
| 1979 | Pittsburgh Pirates | 4-3 | Baltimore Orioles |
| 1978 | New York Yankees | 4-2 | Los Angeles Dodgers |
| 1977 | New York Yankees | 4-2 | Los Angeles Dodgers |
| 1976 | Cincinnati Reds | 4-0 | New York Yankees |
| 1975 | Cincinnati Reds | 4-3 | Boston Red Sox |
| 1974 | Oakland Athletics | 4-1 | Los Angeles Dodgers |
| 1973 | Oakland Athletics | 4-3 | New York Mets |
| 1972 | Oakland Athletics | 4-3 | Cincinnati Reds |
| 1971 | Pittsburgh Pirates | 4-3 | Baltimore Orioles |
| 1970 | Baltimore Orioles | 4-1 | Cincinnati Reds |
| 1969 | New York Mets | 4-1 | Baltimore Orioles |
| 1968 | Detroit Tigers | 4-3 | St. Louis Cardinals |
| 1967 | St. Louis Cardinals | 4-3 | Boston Red Sox |
| 1966 | Baltimore Orioles | 4-0 | Los Angeles Dodgers |
| 1965 | Los Angeles Dodgers | 4-3 | Minnesota Twins |
| 1964 | St. Louis Cardinals | 4-3 | New York Yankees |
| 1963 | Los Angeles Dodgers | 4-0 | New York Yankees |
| 1962 | New York Yankees | 4-3 | San Francisco Giants |
| 1961 | New York Yankees | 4-1 | Cincinnati Reds |
| 1960 | Pittsburgh Pirates | 4-3 | New York Yankees |
| 1959 | Los Angeles Dodgers | 4-2 | Chicago White Sox |
| 1958 | New York Yankees | 4-3 | Milwaukee Braves |
| 1957 | Milwaukee Braves | 4-3 | New York Yankees |
| 1956 | New York Yankees | 4-3 | Brooklyn Dodgers |
| 1955 | Brooklyn Dodgers | 4-3 | New York Yankees |
| 1954 | New York Giants | 4-0 | Cleveland Indians |
| 1953 | New York Yankees | 4-2 | Brooklyn Dodgers |
| 1952 | New York Yankees | 4-3 | Brooklyn Dodgers |
| 1951 | New York Yankees | 4-2 | New York Giants |
| 1950 | New York Yankees | 4-0 | Philadelphia Phillies |
| 1949 | New York Yankees | 4-1 | Brooklyn Dodgers |
| 1948 | Cleveland Indians | 4-2 | Boston Braves |
| 1947 | New York Yankees | 4-3 | Brooklyn Dodgers |
| 1946 | St. Louis Cardinals | 4-3 | Boston Red Sox |
| 1945 | Detroit Tigers | 4-3 | Chicago Cubs |
| 1944 | St. Louis Cardinals | 4-2 | St. Louis Browns |
| 1943 | New York Yankees | 4-1 | St. Louis Cardinals |
| 1942 | St. Louis Cardinals | 4-1 | New York Yankees |
| 1941 | New York Yankees | 4-1 | Brooklyn Dodgers |
| 1940 | Cincinnati Reds | 4-3 | Detroit Tigers |
| 1939 | New York Yankees | 4-0 | Cincinnati Reds |
| 1938 | New York Yankees | 4-0 | Chicago Cubs |
| 1937 | New York Yankees | 4-1 | New York Giants |
| 1936 | New York Yankees | 4-2 | New York Giants |
| 1935 | Detroit Tigers | 4-2 | Chicago Cubs |
| 1934 | St. Louis Cardinals | 4-3 | Detroit Tigers |
| 1933 | New York Giants | 4-1 | Washington Nationals |
| 1932 | New York Yankees | 4-0 | Chicago Cubs |
| 1931 | St. Louis Cardinals | 4-3 | Philadelphia Athletics |
| 1930 | Philadelphia Athletics | 4-2 | St. Louis Cardinals |
| 1929 | Philadelphia Athletics | 4-1 | Chicago Cubs |
| 1928 | New York Yankees | 4-0 | St. Louis Cardinals |
| 1927 | New York Yankees | 4-0 | Pittsburgh Pirates |
| 1926 | St. Louis Cardinals | 4-3 | New York Yankees |
| 1925 | Pittsburgh Pirates | 4-3 | Washington Nationals |
| 1924 | Washington Nationals | 4-3 | New York Giants |
| 1923 | New York Yankees | 4-2 | New York Giants |
| 1922 | New York Giants | 4-0 | New York Yankees |
| 1921 | New York Giants | 5-3 | New York Yankees |
| 1920 | Cleveland Indians | 5-2 | Brooklyn Robins |
| 1919 | Cincinnati Reds | 5-3 | Chicago White Sox |
| 1918 | Boston Red Sox | 4-2 | Chicago Cubs |
| 1917 | Chicago White Sox | 4-2 | New York Giants |
| 1916 | Boston Red Sox | 4-1 | Brooklyn Robins |
| 1915 | Boston Red Sox | 4-1 | Philadelphia Phillies |
| 1914 | Boston Braves | 4-0 | Philadelphia Athletics |
| 1913 | Philadelphia Athletics | 4-1 | New York Giants |
| 1912 | Boston Red Sox | 4-3 | New York Giants |
| 1911 | Philadelphia Athletics | 4-2 | New York Giants |
| 1910 | Philadelphia Athletics | 4-1 | Chicago Cubs |
| 1909 | Pittsburgh Pirates | 4-3 | Detroit Tigers |
| 1908 | Chicago Cubs | 4-1 | Detroit Tigers |
| 1907 | Chicago Cubs | 4-0 | Detroit Tigers |
| 1906 | Chicago White Sox | 4-2 | Chicago Cubs |
| 1905 | New York Giants | 4-1 | Philadelphia Athletics |
| 1903 | Boston Americans | 5-3 | Pittsburgh Pirates |
Image by Laurel Meadows from Pixabay