Nascar
NASCAR Gander Outdoors Truck Series Champions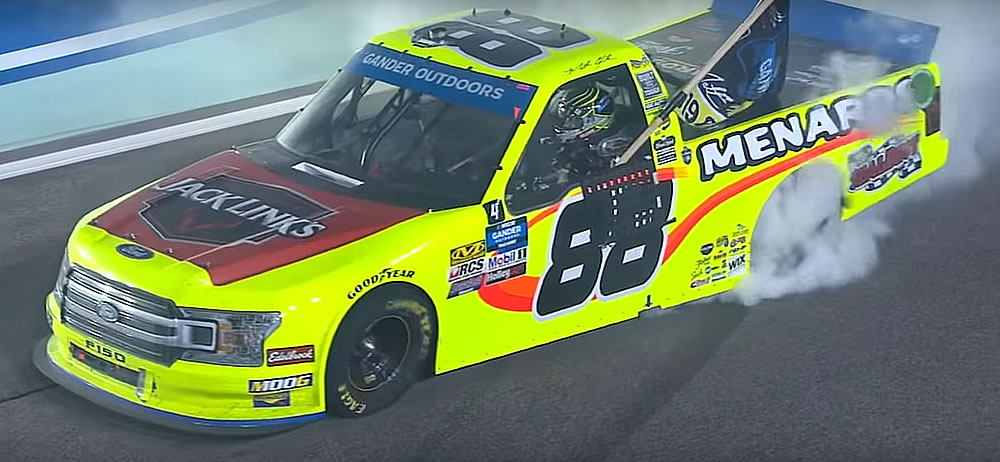 See a complete list of NASCAR Truck Series Champions. Matt Crafton won his third NASCAR Truck Series Championship title in 2019.
Fast Facts:
The NASCAR Camping World Truck Series (formerly the NASCAR SuperTruck Series) was first raced in 1995.
The pickup truck racing series is one of the three national divisions of NASCAR.
In the twentyfifth season of the NASCAR Truck series, Camping World changed names to its subsidiary Gander Outdoors.
NASCAR Camping World Truck Series Champions
| | | | | |
| --- | --- | --- | --- | --- |
| Year | Driver | Owner | Make | Wins |
| 2019 | Matt Crafton | Duke Thorson | Ford | 3 |
| 2018 | Brett Moffitt | Shigeaki Hattori | Toyota | 6 |
| 2017 | Christopher Bell | Kyle Busch | Toyota | 5 |
| 2016 | Johnny Sauter | Maurice Gallagher Jr. | Chevrolet | 3 |
| 2015 | Erik Jones | Kyle Busch | Toyota | 3 |
| 2014 | Matt Crafton | Duke Thorson | Toyota | 2 |
| 2013 | Matt Crafton | Duke Thorson | Toyota | 1 |
| 2012 | James Buescher | Steve Turner | Chevrolet | 4 |
| 2011 | Austin Dillon | Richard Childress | Chevrolet | 2 |
| 2010 | Todd Bodine | Stephen Germain | Toyota | 4 |
| 2009 | Ron Hornaday Jr. | Kevin Harvick | Chevrolet | 6 |
| 2008 | Johnny Benson | Bill Davis | Toyota | 5 |
| 2007 | Ron Hornaday Jr. | Kevin Harvick | Chevrolet | 4 |
| 2006 | Todd Bodine | Stephen Germain | Toyota | 3 |
| 2005 | Ted Musgrave | Jim Smith | Dodge | 1 |
| 2004 | Bobby Hamilton | Self-owned | Dodge | 4 |
| 2003 | Travis Kvapil | Steve Coulter | Chevrolet | 1 |
| 2002 | Mike Bliss | Steve Coulter | Chevrolet | 5 |
| 2001 | Jack Sprague | Rick Hendrick | Chevrolet | 4 |
| 2000 | Greg Biffle | Jack Roush | Ford | 5 |
| 1999 | Jack Sprague | Rick Hendrick | Chevrolet | 3 |
| 1998 | Ron Hornaday Jr. | Dale Earnhardt | Chevrolet | 6 |
| 1997 | Jack Sprague | Rick Hendrick | Chevrolet | 3 |
| 1996 | Ron Hornaday Jr. | Dale Earnhardt | Chevrolet | 4 |
| 1995 | Mike Skinner | Richard Childress | Chevrolet | 8 |