Marathon
Tokyo Marathon Men's and Women's Champions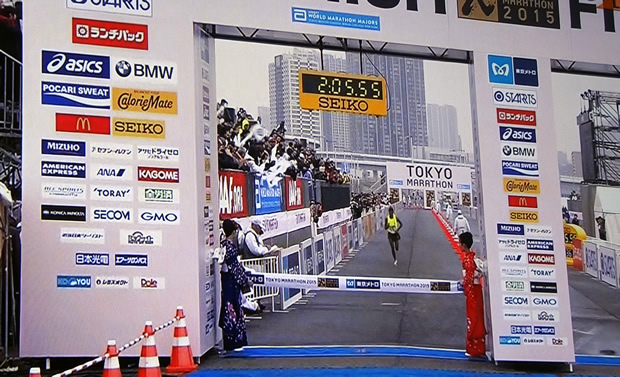 See a complete list of the Tokyo Marathon Men's and Women's Champions. The winners of the Men's and Women's 2017 Tokyo Marathon are both from Ethiopia, Birhanu Legese and Sarah Ruti Aga.
Fast Facts:
The Tokyo Marathon is one of the six World Marathon Majors.
The first Tokyo marathon took place in 2006.
Tokyo Marathon Men's and Women's Champions
| | | | | |
| --- | --- | --- | --- | --- |
| Year | Men's winner | Time (m:s) | Women's winner | Time (m:s) |
| 2019 | Birhanu Legese (ETH) | 2:04:48 | Ruti Aga (ETH) | 2:20:40 |
| 2018 | Dickson Chumba (KEN) | 2:05:30 | Birhane Dibaba (ETH) | 2:19:51 |
| 2017 | Wilson Kipsang (KEN) | 2:03:58 | Sarah Chepchirchir (KEN) | 2:19:47 |
| 2016 | Feyisa Lilesa (ETH) | 2:06:56 | Helah Kiprop (KEN) | 2:21:27 |
| 2015 | Endeshaw Negesse (ETH) | 2:06 | Birhane Dibaba (ETH) | 2:23:14 |
| 2014 | Dickson Chumba (KEN) | 2:05:42 | Tirfi Tsegaye (ETH) | 2:22:23 |
| 2013 | Dennis Kimetto (KEN) | 2:06:50 | Aberu Kebede (ETH) | 2:25:34 |
| 2012 | Michael Kipyego (KEN) | 2:07:37 | Atsede Habtamu (ETH) | 2:25:28 |
| 2011 | Hailu Mekonnen (ETH) | 2:07:35 | Noriko Higuchi (JPN) | 2:28:49 |
| 2010 | Masakazu Fujiwara (JPN) | 2:12:19 | Alevtina Biktimirova (RUS) | 2:34:39 |
| 2009 | Salim Kipsang (KEN) | 2:10:27 | Mizuho Nasukawa (JPN) | 2:25:38 |
| 2008 | Viktor Röthlin (SUI) | 2:07:23 | Claudia Dreher (GER) | 2:35:35 |
| 2007 | Daniel Njenga (KEN) | 2:09:45 | Hitomi Niiya (JPN) | 2:31:02 |