Bobsleigh
FIBT Bobsleigh World Cup – Two-Man Champions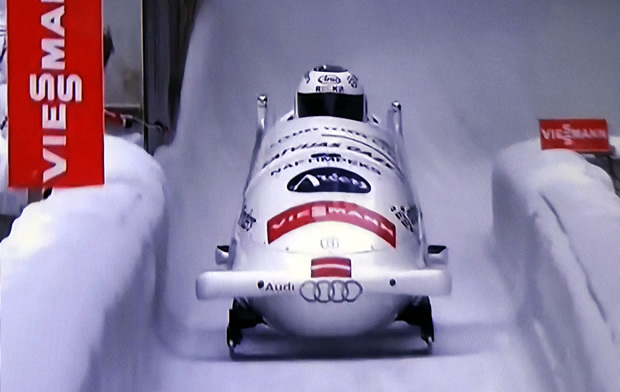 See a complete list of Bobsleigh World Cup Two-Man Champions. The 2017-18 season Two-Man Bobsled Champion is Justin Kripps from Canada. This was his first World Cup title.
Fast Facts:
Fédération internationale de bobsleigh et de tobogganing (FIBT).
The first official Two-Man Bobsleigh World Cup event took place in 1991.
Germany has dominated World Cup competitions with the most medals.
The 2018-19 season started in Sigulda, Latvia on December 8, 2018 and ended on February 24, 2019 in Calgary, Canada.
FIBT Bobsleigh World Cup – Two-Man Champions:
| | | | |
| --- | --- | --- | --- |
| Season | Winner | Runner Up | Third |
| 2017–18 | Justin Kripps (CAN) | Francesco Friedrich (GER) | Christopher Spring (CAN) |
| 2016–17 | Francesco Friedrich (GER) | Steven Holcomb (USA) | Won Yun-jong (KOR) |
| 2015–16 | Won Yun-jong (ROK) | Nico Walther (GER) | Uģis Žaļims (LTV) |
| 2014–15 | Oskars Melbārdis (LTV) | Beat Hefti (SUI) | Rico Peter (SUI) |
| 2013–14 | Steven Holcomb USA) | Beat Hefti (SUI) | Francesco Friedrich (GER) |
| 2012–13 | Lyndon Rush (CAN) | Oskars Melbārdis(LTV) | Manuel Machata (GER) |
| 2011–12 | Beat Hefti (SUI) | Maximilian Arndt (GER) | Alexandr Zubkov (RUS) |
| 2010–11 | Alexandr Zubkov (RUS) | Manuel Machata (GER) | Simone Bertazzo (ITA) |
| 2009–10 | Ivo Rüegg (SUI) | Thomas Florschütz (GER) | Karl Angerer (GER) |
| 2008-09 | Beat Hefti (SUI) | André Lange (GER) | Thomas Florschuetz (GER) |
| 2007-08 | André Lange (GER) | Ivo Rüegg (SUI) | Alexandr Zubkov (RUS) |
| 2006-07 | Steven Holcomb USA) | Pierre Lueders (CAN) | André Lange (GER) |
| 2005-06 | Pierre Lueders (CAN) | Alexandr Zubkov (RUS) | Todd Hays USA) |
| 2004-05 | Martin Annen (SUI) | Pierre Lueders (CAN) | Alexandr Zubkov (RUS) |
| 2003-04 | Christoph Langen (GER) | Pierre Lueders (CAN) | André Lange (GER) |
| 2002-03 | Pierre Lueders (CAN) | René Spies (GER) | André Lange (GER) |
| 2001-02 | Martin Annen (SUI) | Pierre Lueders (CAN) | Christian Reich (SUI) |
| 2000-01 | Martin Annen (SUI) | René Spies (GER) | André Lange (GER) |
| 1999-2000 | Christian Reich (SUI) | Reto Götschi (SUI) | Marcel Rohner (SUI) |
| 1998-99 | Christoph Langen (GER) | Reto Götschi (SUI) | Pierre Lueders (CAN) |
| 1997-98 | Pierre Lueders (CAN) | Gunther Huber (ITA) | Sandis Prusis (LTV) |
| 1996-97 | Pierre Lueders (CAN) | Gunther Huber (ITA) | Brian Shimer USA) |
| 1995-96 | Christoph Langen (GER) | Pierre Lueders (CAN) | Sepp Dostthaler (GER) |
| 1994-95 | Pierre Lueders (CAN) | Reto Götschi (SUI) | Gunther Huber (ITA) |
| 1993-94 | Pierre Lueders (CAN) | Christoph Langen (GER) | Gunther Huber (ITA) |
| 1992-93 | Gunther Huber (ITA) | Gustav Weder (SUI) | Brian Shimer USA) |
| 1991-92 | Gunther Huber (ITA) | Gustav Weder (SUI) | Rudi Lochner (GER) |
| 1990-91 | Wolfgang Hoppe (GER) | Gustav Weder (SUI) | Chris Lori (CAN) |
| 1989-90 | Christian Schebitz (GER) | Greg Haydenluck (CAN) | Maris Poikans (SOV) |
| 1988-89 | Gustav Weder (SUI) | Detlef Richter (GER) | Nico Baracchi (SUI) |
| 1987-88 | Jānis Ķipurs (SOV) | Volker Dietrich (GER) | Zintis Ekmanis (SOV) |
| 1986-87 | Anton Fischer (GER) | Matt Roy (USA) | Wolfgang Hoppe (GER) |
| 1985-86 | Maris Poikans (SOV) | Vyacheslav Savlev (SOV) | Ekkehard Fasser (SUI) |
| 1984-85 | Anton Fischer (GER) | | |