Snowboarding
Men's and Women's FIS World Snowboard Halfpipe Champions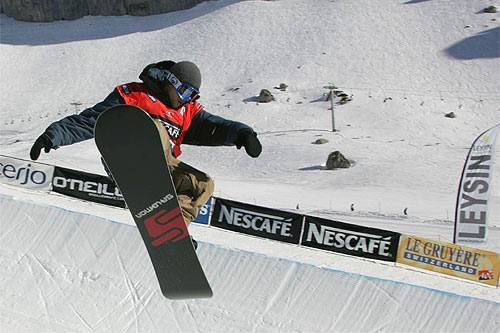 See a complete list of Men's and Women's FIS World Snowboard Halfpipe Champions. The 2019 World Championship Gold medals went to Scotty James of Australia on the men's side and Chloe Kim of the US on the women's side. The event was held in Utah, in resorts Park City, Deer Valley and Solitude Mountain.
Fast Facts:
The next Championships will take place in 2021.
FIS (Federation International Ski) Snowboarding World Championships is the world championship organized by the FIS for Snowboarding.
The first snowboarding championships was held in 1996 and is now held every odd year.
The championship events include Parallel slalom, Half-pipe, Parallel giant slalom, Snowboard cross and Slopestyle for both genders and the Big air event for men.
Men's Snowboard Halfpipe World Champions:
| | | | | |
| --- | --- | --- | --- | --- |
| Year | Location | Gold | Silver | Bronze |
| 2019 | Utah | Scotty James (AUS) | Yuto Totsuka(JPN) | Patrick Burgener (SUI) |
| 2017 | Sierra Nevada | Scotty James (AUS) | Iouri Podladtchikov (SUI) | Patrick Burgener (SUI) |
| 2015 | Kreischberg | Scotty James (AUS) | Yiwei Zhang (CHN) | Tim-Kevin Ravnjak (SLO) |
| 2013 | Stoneham-et-Tewkesbury | Iouri Podladtchikov (SUI) | Taku Hiraoka (JPN) | Markus Malin (FIN) |
| 2011 | La Molina | Nathan Johnston (AUS) | Iouri Podladtchikov (SUI) | Markus Malin (FIN) |
| 2009 | Gangwon | Ryo Aono (JPN) | Jeff Batchelor (CAN) | Mathieu Crepel (FRA) |
| 2007 | Arosa | Mathieu Crepel (FRA) | Kazuhiro Kokubo (JPN) | Brad Martin (CAN) |
| 2005 | Whistler | Antti Autti (FIN) | Justin Lamoureux (CAN) | Kim Christiansen (NOR) |
| 2003 | Kreischberg | Markus Keller (SUI) | Stefan Karlsson (SWE) | Steven Fisher (USA) |
| 2001 | Madonna di Campiglio | Kim Christiansen (NOR) | Daniel Franck (NOR) | Markus Herme (FIN) |
| 1999 | Berchtesgaden | Ricky Bower (USA) | Fredrick Sterner (SWE) | Timo Aho (FIN) |
| 1997 | Innichen | Fabien Rohrer (SUI) | Markus Hurme (FIN) | Roger Hjelmstadstuen (NOR) |
| 1996 | Lienz | Ross Powers (USA) | Lael Gregory (USA) | Rob Kingwill (USA) |
Women's Snowboard Halfpipe World Champions:
| | | | | |
| --- | --- | --- | --- | --- |
| Year | Location | Gold | Silver | Bronze |
| 2019 | Utah | Chloe Kim (USA) | Cai Xuetong (CHN) | Maddie Mastro (USA) |
| 2017 | Sierra Nevada | Cai Xuetong (CHN) | Haruna Matsumoto (JPN) | Clémence Grimal (FRA) |
| 2015 | Kreischberg | Xuetong Cai (CHN) | Queralt Castellet (ESP) | Clémence Grimal (FRA) |
| 2013 | Stoneham-et-Tewkesbury | Arielle Gold (USA) | Holly Crawford (AUS) | Sophie Rodriguez (FRA) |
| 2011 | La Molina | Holly Crawford (AUS) | Ursina Haller (SUI) | Jiayu Liu (CHN) |
| 2009 | Gangwon | Jiayu Liu (CHN) | Holly Crawford (AUS) | Paulina Ligocka (POL) |
| 2007 | Arosa | Manuela Laura Pesko (SUI) | Soko Yamaoko (JPN) | Paulina Ligocka (POL) |
| 2005 | Whistler | Doriane Vidal (FRA) | Manuela Laura Pesko (SUI) | Hannah Teter (USA) |
| 2003 | Kreischberg | Doriane Vidal (FRA) | Nicola Pederzolli (AUT) | Fabienne Reuteler (SUI) |
| 2001 | Madonna di Campiglio | Doriane Vidal (FRA) | Stine Kjeldaas (NOR) | Sari Gronholm (FIN) |
| 1999 | Berchtesgaden | Kim Stacey (USA) | Doriane Vidal (FRA) | Anna Hellman (SWE) |
| 1997 | Innichen | Anita Schwaller (SUI) | Christel Thoresen (NOR) | Sabine Wehr-Hasler (GER) |
| 1996 | Lienz | Caroline van Kilsdonk (NED) | Annemarie Uliasz (USA) | Cammy Potter (USA) |