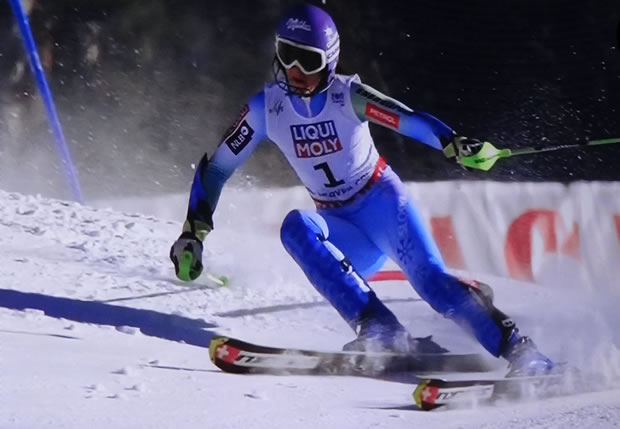 See a complete list of Alpine Skiing World Slalom Women's Champions. Mikaela Shiffrin of the United States is the 2019 World Slalom Women's Champion. This was her third time winning the title of which she is the defending champion.
Fast Facts:
In 2015, Mikaela Shiffrin was only 19 years old when she won her second Alpine Skiing World Slalom Championship title.
In 1946 the competition was canceled due to the limited number of participants during wartime.
In 1995 a lack of snow caused the competition to be postponed in southern Spain until the following year.
The next World Slalom Women's Championships in 2021 will take place Februrary 9-21 in Cortina d'Ampezzo, Italy.
Alpine Skiing World Slalom Women's Champions:
| | | |
| --- | --- | --- |
| Year | Location | Slalom |
| 2019 | Are, Sweden | Mikaela Shiffrin (USA) |
| 2017 | St. Moritz | Mikaela Shiffrin (USA) |
| 2015 | Beaver Creek/Vail | Mikaela Shiffrin (USA) |
| 2013 | Schladming | Mikaela Shiffrin (USA) |
| 2011 | Garmisch | Marlies Schild (AUT) |
| 2009 | Val d'Isere | Maria Riesch (GER) |
| 2007 | Are | Sarka Zahrobska (CZE) |
| 2005 | Bormio | Janica Kostelic (CRO) |
| 2003 | St. Moritz | Janica Kostelic (CRO) |
| 2001 | St. Anton | Anja Pärson (SWE) |
| 1999 | Vail | Zali Steggall (AUS) |
| 1997 | Sestriere | Deborah Compagnoni (ITA) |
| 1996 | Sierra Nevada | Pernilla Wiberg (SWE) |
| 1993 | Morioka | Karin Buder (AUT) |
| 1991 | Saalbach | Vreni Schneider (SUI) |
| 1989 | Vail | Mateja Svet (SUI) |
| 1987 | Crans-Montana | Erika Hess (SUI) |
| 1985 | Bormio | Perrine Pelen (FRA) |
| 1982 | Haus im Ennstal | Erika Hess (SUI) |
| 1980 | Lake Placid | Hanni Wenzel (LIE) |
| 1978 | Garmisch | Lea Solkner (AUT) |
| 1976 | Innsbruck | Rosi Mittermaier (GER) |
| 1974 | St. Moritz | Hanni Wenzel (LIE) |
| 1972 | Sapporo | Barbara Ann Cochran (USA) |
| 1970 | Val Gardena | Ingrid Lafforgue (FRA) |
| 1968 | Grenoble | Marielle Goitschel (FRA) |
| 1966 | Portillo | Annie Famose (FRA) |
| 1964 | Innsbruck | Christine Goitschel (FRA) |
| 1962 | Chamonix | Marianne Jahn (AUT) |
| 1960 | Squaw Valley | Anne Heggtveit (CAN) |
| 1958 | Bad Gastein | Inger Bjornbakken (NOR) |
| 1956 | Cortina | Renée Colliard (SUI) |
| 1954 | Are | Trude Klecker (AUT) |
| 1952 | Oslo | Andrea Mead-Lawrence (USA)) |
| 1950 | Aspen | Dagmar Rom (AUT) |
| 1948 | St. Moritz | Gretchen Frazer (USA) |
| 1939 | Zakopane | Christl Cranz (GER) |
| 1938 | Engelberg | Christl Cranz (GER) |
| 1937 | Chamonix | Christl Cranz (GER) |
| 1936 | Innsbruck | Gerda Paumgarten (AUT) |
| 1935 | Mürren | Anny Rüegg (SUI) |
| 1934 | St. Moritz | Christl Cranz (GER) |
| 1933 | Innsbruck | Inge Wersin-Lantschner (AUT) |
| 1932 | Cortina | Rosli Streiff (SUI) |
| 1931 | Murren | Esme Mackinnon GBR) |