NFL
Walter Payton NFL Man of the Year Award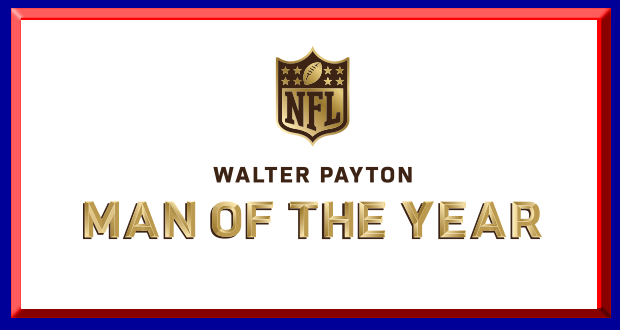 Every year the National Football League honors a distinguishable player with the Walter Payton NFL Man of the Year Award. This award is presented to an NFL player that has shown an exemplary effort to give back to the community through charity and volunteer work and their excellent skills on the field.

Fast Facts:
The Award is given away the day before the Super Bowl.
Award recipients are selected from each one of the 32 NFL teams.
The Man of the Year receives a $500,000 donation to be used for the charity of his choice.
The Chicago Bears and Kansas City Chiefs have had 5 winners which is the most of any other teams.
| | | | |
| --- | --- | --- | --- |
| Year | Player | Position | Team |
| 2016 | Eli Manning | Quarterback | New York Giants |
| 2016 | Larry Fitzgerald | Wide receiver | Arizona Cardinals |
| 2015 | Anquan Boldin | Wide receiver | San Francisco 49ers |
| 2014 | Thomas Davis | Linebacker | Carolina Panthers |
| 2013 | Charles Tillman | Cornerback | Chicago Bears |
| 2012 | Jason Witten | Tight end | Dallas Cowboys |
| 2011 | Matt Birk | Center | Baltimore Ravens |
| 2010 | Madieu Williams | Safety | Minnesota Vikings |
| 2009 | Brian Waters | Guard | Kansas City Chiefs |
| 2008 | Kurt Warner | Quarterback | Arizona Cardinals |
| 2007 | Jason Taylor | Defensive end | Miami Dolphins |
| 2006 | Drew Brees | Quarterback | New Orleans Saints |
| 2006 | LaDainian Tomlinson | Running back | San Diego Chargers |
| 2005 | Peyton Manning | Quarterback | Indianapolis Colts |
| 2004 | Warrick Dunn | Running back | Atlanta Falcons |
| 2003 | Will Shields | Guard | Kansas City Chiefs |
| 2002 | Troy Vincent | Cornerback | Philadelphia Eagles |
| 2001 | Jerome Bettis | Running back | Pittsburgh Steelers |
| 2000 | Derrick Brooks | Linebacker | Tampa Bay Buccaneers |
| 2000 | Jim Flanigan | Defensive Line | Chicago Bears |
| 1999 | Cris Carter | Wide receiver | Minnesota Vikings |
| 1998 | Dan Marino | Quarterback | Miami Dolphins |
| 1997 | Troy Aikman | Quarterback | Dallas Cowboys |
| 1996 | Darrell Green | Cornerback | Washington Redskins |
| 1995 | Boomer Esiason | Quarterback | New York Jets |
| 1994 | Junior Seau | Linebacker | San Diego Chargers |
| 1993 | Derrick Thomas | Linebacker | Kansas City Chiefs |
| 1992 | John Elway | Quarterback | Denver Broncos |
| 1991 | Anthony Muñoz | Tackle | Cincinnati Bengals |
| 1990 | Mike Singletary | Linebacker | Chicago Bears |
| 1989 | Warren Moon | Quarterback | Houston Oilers |
| 1988 | Steve Largent | Wide receiver | Seattle Seahawks |
| 1987 | Dave Duerson | Safety | Chicago Bears |
| 1986 | Reggie Williams | Linebacker | Cincinnati Bengals |
| 1985 | Dwight Stephenson | Center | Miami Dolphins |
| 1984 | Marty Lyons | Defensive tackle | New York Jets |
| 1983 | Rolf Benirschke | Placekicker | San Diego Chargers |
| 1982 | Joe Theismann | Quarterback | Washington Redskins |
| 1981 | Lynn Swann | Wide receiver | Pittsburgh Steelers |
| 1980 | Harold Carmichael | Wide receiver | Philadelphia Eagles |
| 1979 | Joe Greene | Defensive lineman | Pittsburgh Steelers |
| 1978 | Roger Staubach | Quarterback | Dallas Cowboys |
| 1977 | Walter Payton | Running back | Chicago Bears |
| 1976 | Franco Harris | Running back | Pittsburgh Steelers |
| 1975 | Ken Anderson | Quarterback | Cincinnati Bengals |
| 1974 | George Blanda | Quarterback | Oakland Raiders |
| 1973 | Len Dawson | Quarterback | Kansas City Chiefs |
| 1972 | Willie Lanier | Linebacker | Kansas City Chiefs |
| 1971 | John Hadl | Quarterback | San Diego Chargers |
| 1970 | Johnny Unitas | Quarterback | Baltimore Colts |