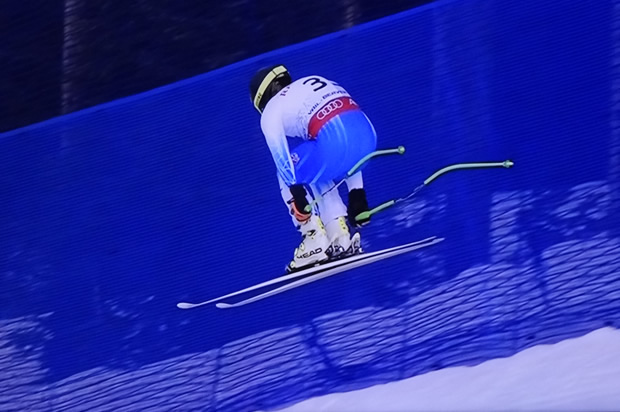 See a complete list of Alpine Skiing World Downhill Men's Champions. Kjetil Jansrud from Norway is the 2019 Downhill Alpine Skiing World Champion.

Fast Facts:
The 2021 Alpine Skiing World Championships will be held in Cortina d'Ampezzo, Italy, Februrary 9 – 21.
The 2015 Alpine Skiing World Championships was held in Beaver Creek Colorado. This was the first time since 1999 that the event was held in the United States.
In 1946 the competition was cancelled due to the limited number of participants during wartime.
In 1995 a lack of snow caused the competition to be postponed in southern Spain until the following year.
Alpine Skiing World Downhill Men's Champions
| | | |
| --- | --- | --- |
| Year | Location | Champion |
| 2019 | Åre | Kjetil Jansrud |
| 2017 | St. Moritz | Beat Feuz |
| 2015 | Beaver Creek/Vail | Patrick Kueng |
| 2013 | Schladming | Aksel Lund Svindal |
| 2011 | Garmisch | Erik Guay |
| 2009 | Val d'Isère | John Kucera |
| 2007 | Are | Aksel Lund Svindal |
| 2005 | Bormio | Bode Miller |
| 2003 | St. Moritz | Michael Walchhofer |
| 2001 | St. Anton | Hannes Trinkl |
| 1999 | Vail | Hermann Maier |
| 1997 | Sestriere | Bruno Kernen |
| 1996 | Sierra Nevada | Patrick Ortlieb |
| 1993 | Morioka | Urs Lehmann |
| 1991 | Saalbach | Franz Heinzer |
| 1989 | Vail | Hans-Jörg Tauscher |
| 1987 | Crans-Montana | Peter Müller |
| 1985 | Bormio | Pirmin Zurbriggen |
| 1982 | Schladming | Harti Weirather |
| 1980 | Lake Placid | Leonhard Stock |
| 1978 | Garmisch | Josef Walcher |
| 1976 | Innsbruck | Franz Klammer |
| 1974 | St. Moritz | David Zwilling |
| 1972 | Sapporo | Bernhard Russi |
| 1970 | Val Gardena | Bernhard Russi |
| 1968 | Grenoble | Jean-Claude Killy |
| 1966 | Portillo | Jean-Claude Killy |
| 1964 | Innsbruck | Egon Zimmermann |
| 1962 | Chamonix | Karl Schranz |
| 1960 | Squaw Valley | Jean Vuarnet |
| 1958 | Bad Gastein | Toni Sailer |
| 1956 | Cortina | Toni Sailer |
| 1954 | Åre | Christian Pravda |
| 1952 | Oslo | Zeno Colò |
| 1950 | Aspen | Zeno Colò |
| 1948 | St. Moritz | Henri Oreiller |
| 1941 | Cortina | Cancelled |
| 1939 | Zakopane | Hellmut Lantschner |
| 1938 | Engelberg | James Couttet |
| 1937 | Chamonix | Émile Allais |
| 1936 | Innsbruck | Rudolf Rominger |
| 1935 | Mürren | Franz Zingerle |
| 1934 | St. Moritz | David Zogg |
| 1933 | Innsbruck | Walter Prager |
| 1932 | Cortina | Gustav Lantschner |
| 1931 | Mürren | Walter Prager |