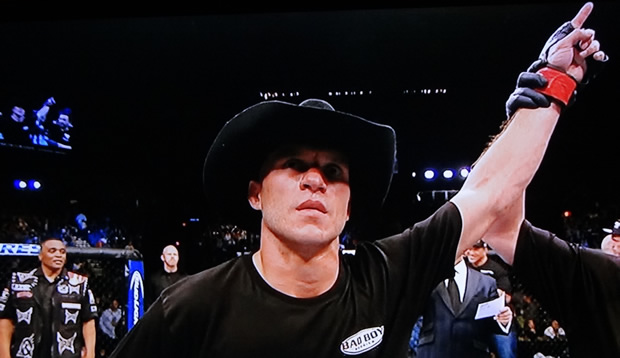 Donald Cerrone popularly referred to as "Cowboy", currently fights in the lightweight division of the UFC. His solid skill's in the cage has earned him many Fight of the Night and Knock out of the Night honors. See a full fight record of Donald Cerrone courtesy of Sherdog.
True to his Cowboy roots, Cerrone lives on a 40 acre ranch in New Mexico where he also trains with other Mixed Martial Artists. Cerrone is part of the Greg Jackson and Mike Winklejohn MMA academy and is a training partner to some of the top fighters in the UFC.
Check out Donald 'Cowboy' Cerrone on Social Buzz and get current updates from him on Facebook, Instagram and Twitter.
Donald Cerrone Fast Facts:
Born: March 29, 1983 in Denver, Colorado.
Nickname: Cowboy
Titles: S-1 Muay Thai United States Champion
Cowboy's activities outside the cage include rock climbing, wakeboarding, flying and race car driving.
Cowboy started professional bull riding when he was in high school.
Cowboy Cerrone fought in the WEC and had a 6-3 record with 1 no contest.
He currently fights in the UFC Lightweight division.
Started his fighting career in Kickboxing and then added Muay Thai to his skillset.
Cowboy has been fighting as a pro since 2006.
Trains at Jackson's MMA in New Mexico.
Check out video highlight's of Donald "Cowboy" Cerrone Knockouts and Submissions.
Sources:
http://www.ufc.com/fighter/Donald-Cerrone
http://www.si.com/mma/2013/01/25/donald-cowboy-cerone-mma