Wimbledon
Men's Single's Wimbledon Tennis Champions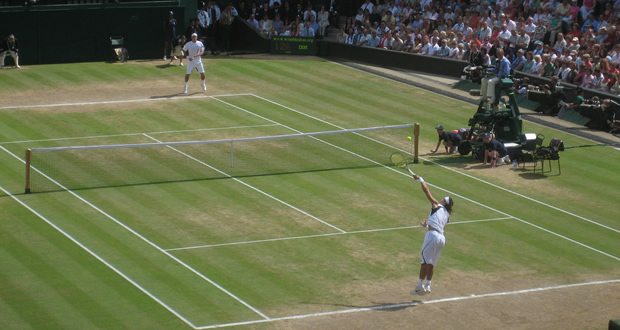 See a complete list of Men's Single's Wimbledon Tennis Champions. Novak Djokovic of Serbia is the 2019 Men's Wimbledon Single's Tennis Champion. This was his Fifth Wimbledon championship title.

Fast Facts:
The Wimbledon Tennis tournament is held annually in London England and starts in June and extends into July.
Roger Federer has won the most Men's Single's Championship's of any other player.
All men's matches determine the winner by the best-of-five sets.
Roger Federer and Björn Borg co-hold the record for most consecutive victories with five.
Men's Wimbledon Singles champions:
| | | | |
| --- | --- | --- | --- |
| Year | Champion | Runner-up | Score |
| 2019 | Novak Djokovic (SRB) | Roger Federer (SUI) | 7–6(7–5), 1–6, 7–6(7–4), 4–6, 13–12(7–3) |
| 2018 | Novak Djokovic (SRB) | Kevin Anderson RSA) | 6–2, 6–2, 7–6(7–3) |
| 2017 | Roger Federer (SUI) | Marin Čilić (CRO) | 6–3, 6–1, 6–4 |
| 2016 | Andy Murray (GBR) | Milos Raonic (CAN) | 6–4, 7–6(7–3), 7–6(7–2) |
| 2015 | Novak Djokovic (SRB) | Roger Federer (SUI) | 7-6(7-1), 6-7(10-12), 6-4, 6-3 |
| 2014 | Novak Djokovic (SRB) | Roger Federer (SUI) | 6-7(7-9),6-4,7-6(7-4),5-7,6-4 |
| 2013 | Andy Murray (GBR) | Novak Djokovic (SRB) | 6-4,7-5,6-4 |
| 2012 | Roger Federer (SUI) | Andy Murray (GBR) | 4-6,7-5,6-3,6-4 |
| 2011 | Novak Djokovic (SRB) | Rafael Nadal (ESP) | 6-4,6-1,1-6,6-3 |
| 2010 | Rafael Nadal (ESP) | Tomáš Berdych (CZE) | 6-3,7-5,6-4 |
| 2009 | Roger Federer (SUI) | Andy Roddick (USA) | 5-7,7-6(8-6),7-6(7-5),3-6,16-14 |
| 2008 | Rafael Nadal (ESP) | Roger Federer (SUI) | 6-4,6-4,6-7(5-7),6-7(8-10),9-7 |
| 2007 | Roger Federer (SUI) | Rafael Nadal (ESP) | 7-6(9-7),4-6,7-6(7-3),2-6,6-2 |
| 2006 | Roger Federer (SUI) | Rafael Nadal (ESP) | 6-0,7-6(7-5),6-7(2-7),6-3 |
| 2005 | Roger Federer (SUI) | Andy Roddick (USA) | 6-2,7-6(7-2),6-4 |
| 2004 | Roger Federer (SUI) | Andy Roddick (USA) | 4-6,7-5,7-6(7-3),6-4 |
| 2003 | Roger Federer (SUI) | Mark Philippoussis (AUS) | 7-6(7-5),6-2,7-6(7-3) |
| 2002 | Lleyton Hewitt (AUS) | David Nalbandian (ARG) | 6-1,6-3,6-2 |
| 2001 | Goran Ivanišević (CRO) | Patrick Rafter (AUS) | 6-3,3-6,6-3,2-6,9-7 |
| 2000 | Pete Sampras (USA) | Patrick Rafter (AUS) | 6-7(10-12),7-6(7-5),6-4,6-2 |
| 1999 | Pete Sampras (USA) | Andre Agassi (USA) | 6-3,6-4,7-5 |
| 1998 | Pete Sampras (USA) | Goran Ivanišević (CRO) | 6-7(2-7),7-6(11-9),6-4,3-6,6-2 |
| 1997 | Pete Sampras (USA) | Cédric Pioline (FRA) | 6-4,6-2,6-4 |
| 1996 | Richard Krajicek (NED) | MaliVai Washington (USA) | 6-3,6-4,6-3 |
| 1995 | Pete Sampras (USA) | Boris Becker (GER) | 6-7(5-7),6-2,6-4,6-2 |
| 1994 | Pete Sampras (USA) | Goran Ivanišević (CRO) | 7-6(7-2),7-6(7-5),6-0 |
| 1993 | Pete Sampras (USA) | Jim Courier (USA) | 7-6(7-3),7-6(8-6),3-6,6-3 |
| 1992 | Andre Agassi (USA) | Goran Ivanišević (CRO) | 6-7(8-10),6-4,6-4,1-6,6-4 |
| 1991 | Michael Stich (GER) | Boris Becker (GER) | 6-4,7-6(7-4),6-4 |
| 1990 | Stefan Edberg (SWE) | Boris Becker (GER) | 6-2,6-2,3-6,3-6,6-4 |
| 1989 | Boris Becker (FRG) | Stefan Edberg (SWE) | 6-0,7-6(7-1),6-4 |
| 1988 | Stefan Edberg (SWE) | Boris Becker (FRG) | 4-6,7-6(7-2),6-4,6-2 |
| 1987 | Pat Cash (AUS) | Ivan Lendl (TCH) | 7-6(7-5),6-2,7-5 |
| 1986 | Boris Becker (FRG) | Ivan Lendl (TCH) | 6-4,6-3,7-5 |
| 1985 | Boris Becker (FRG) | Kevin Curren (USA) | 6-3,6-7(4-7),7-6(7-3),6-4 |
| 1984 | John McEnroe (USA) | Jimmy Connors (USA) | 6-1,6-1,6-2 |
| 1983 | John McEnroe (USA) | Chris Lewis (NZL) | 6-2,6-2,6-2 |
| 1982 | Jimmy Connors (USA) | John McEnroe (USA) | 3-6,6-3,6-7(2-7),7-6(7-5),6-4 |
| 1981 | John McEnroe (USA) | Björn Borg (SWE) | 4-6,7-6(7-1),7-6(7-4),6-4 |
| 1980 | Björn Borg (SWE) | John McEnroe (USA) | 1-6,7-5,6-3,6-7(16-18),8-6 |
| 1979 | Björn Borg (SWE) | Roscoe Tanner (USA) | 6-7(4-7),6-1,3-6,6-3,6-4 |
| 1978 | Björn Borg (SWE) | Jimmy Connors (USA) | 6-2,6-2,6-3 |
| 1977 | Björn Borg (SWE) | Jimmy Connors (USA) | 3-6,6-2,6-1,5-7,6-4 |
| 1976 | Björn Borg (SWE) | Ilie Năstase (ROU) | 6-4,6-2,9-7 |
| 1975 | Arthur Ashe (USA) | Jimmy Connors (USA) | 6-1,6-1,5-7,6-4 |
| 1974 | Jimmy Connors (USA) | Ken Rosewall (AUS) | 6-1,6-1,6-4 |
| 1973 | Jan Kodeš (TCH) | Alex Metreveli (URS) | 6-1,9-8(7-5),6-3 |
| 1972 | Stan Smith (USA) | Ilie Năstase (ROU) | 4-6,6-3,6-3,4-6,7-5 |
| 1971 | John Newcombe (AUS) | Stan Smith (USA) | 6-3,5-7,2-6,6-4,6-4 |
| 1970 | John Newcombe (AUS) | Ken Rosewall (AUS) | 5-7,6-3,6-2,3-6,6-1 |
| 1969 | Rod Laver (AUS) | John Newcombe (AUS) | 6-4,5-7,6-4,6-4 |
| 1968 | Rod Laver[b] (AUS) | Tony Roche (AUS) | 6-3,6-4,6-2 |
| 1967 | John Newcombe (AUS) | Wilhelm Bungert (FRG) | 6-3,6-1,6-1 |
| 1966 | Manuel Santana (ESP) | Dennis Ralston (USA) | 6-4,11-9,6-4 |
| 1965 | Roy Emerson (AUS) | Fred Stolle (AUS) | 6-2,6-4,6-4 |
| 1964 | Roy Emerson (AUS) | Fred Stolle (AUS) | 6-4,12-10,4-6,6-3 |
| 1963 | Chuck McKinley (USA) | Fred Stolle (AUS) | 9-7,6-1,6-4 |
| 1962 | Rod Laver (AUS) | Martin Mulligan (AUS) | 6-2,6-2,6-1 |
| 1961 | Rod Laver (AUS) | Chuck McKinley (USA) | 6-3,6-1,6-4 |
| 1960 | Neale Fraser (AUS) | Rod Laver (AUS) | 6-4,3-6,9-7,7-5 |
| 1959 | Alex Olmedo (USA) | Rod Laver (AUS) | 6-4,6-3,6-4 |
| 1958 | Ashley Cooper (AUS) | Neale Fraser (AUS) | 3-6,6-3,6-4,13-11 |
| 1957 | Lew Hoad (AUS) | Ashley Cooper (AUS) | 6-2,6-1,6-2 |
| 1956 | Lew Hoad (AUS) | Ken Rosewall (AUS) | 6-2,4-6,7-5,6-4 |
| 1955 | Tony Trabert (USA) | Kurt Nielsen (DEN) | 6-3,7-5,6-1 |
| 1954 | Jaroslav Drobný (EGY) | Ken Rosewall (AUS) | 13-11,4-6,6-2,9-7 |
| 1953 | Vic Seixas (USA) | Kurt Nielsen (DEN) | 9-7,6-3,6-4 |
| 1952 | Frank Sedgman (AUS) | Jaroslav Drobný (EGY) | 4-6,6-2,6-3,6-2 |
| 1951 | Dick Savitt (USA) | Ken McGregor (AUS) | 6-4,6-4,6-4 |
| 1950 | Budge Patty (USA) | Frank Sedgman (AUS) | 6-1,8-10,6-2,6-3 |
| 1949 | Ted Schroeder (USA) | Jaroslav Drobný (TCH) | 3-6,6-0,6-3,4-6,6-4 |
| 1948 | Bob Falkenburg (USA) | John Bromwich (AUS) | 7-5,0-6,6-2,3-6,7-5 |
| 1947 | Jack Kramer (USA) | Tom Brown (USA) | 6-1,6-3,6-2 |
| 1946 | Yvon Petra (FRA) | Geoff Brown (AUS) | 6-2,6-4,7-9,5-7,6-4 |
| 1939 | Bobby Riggs (USA) | Elwood Cooke (USA) | 2-6,8-6,3-6,6-3,6-2 |
| 1938 | Don Budge (USA) | Bunny Austin (GBR) | 6-1,6-0,6-3 |
| 1937 | Don Budge (USA) | Gottfried von Cramm (GER) | 6-3,6-4,6-2 |
| 1936 | Fred Perry (GBR) | Gottfried von Cramm (GER) | 6-1,6-1,6-0 |
| 1935 | Fred Perry (GBR) | Gottfried von Cramm (GER) | 6-2,6-4,6-4 |
| 1934 | Fred Perry (GBR) | Jack Crawford (AUS) | 6-3,6-0,7-5 |
| 1933 | Jack Crawford (AUS) | Ellsworth Vines (USA) | 4-6,11-9,6-2,2-6,6-4 |
| 1932 | Ellsworth Vines (USA) | Bunny Austin (GBR) | 6-4,6-2,6-0 |
| 1931 | Sidney Wood (USA) | Frank Shields (USA) | walkover[h] |
| 1930 | Bill Tilden (USA) | Wilmer Allison (USA) | 6-3,9-7,6-4 |
| 1929 | Henri Cochet (FRA) | Jean Borotra (FRA) | 6-4,6-3,6-4 |
| 1928 | René Lacoste (FRA) | Henri Cochet (FRA) | 6-1,4-6,6-4,6-2 |
| 1927 | Henri Cochet (FRA) | Jean Borotra (FRA) | 4-6,4-6,6-3,6-4,7-5 |
| 1926 | Jean Borotra (FRA) | Howard Kinsey (USA) | 8-6,6-1,6-3 |
| 1925 | René Lacoste (FRA) | Jean Borotra (FRA) | 6-3,6-3,4-6,8-6 |
| 1924 | Jean Borotra (FRA) | René Lacoste (FRA) | 6-1,3-6,6-1,3-6,6-4 |
| 1923 | Bill Johnston (USA) | Francis Hunter (USA) | 6-0,6-3,6-1 |
| 1922 | Gerald Patterson (AUS) | Randolph Lycett (BRI) | 6-3,6-4,6-2 |
| 1921 | Bill Tilden (USA) | Brian Norton (RSA) | 4-6,2-6,6-1,6-0,7-5 |
| 1920 | Bill Tilden (USA) | Gerald Patterson (AUS) | 2-6,6-3,6-2,6-4 |
| 1919 | Gerald Patterson (AUS) | Norman Brookes (AUS) | 6-3,7-5,6-2 |
| 1914 | Norman Brookes (AUS) | Anthony Wilding (NZL) | 6-4,6-4,7-5 |
| 1913 | Anthony Wilding (NZL) | Maurice McLoughlin (USA) | 8-6,6-3,10-8 |
| 1912 | Anthony Wilding (NZL) | Arthur Gore (BRI) | 6-4,6-4,4-6,6-4 |
| 1911 | Anthony Wilding (NZL) | Herbert Barrett (BRI) | 6-4,4-6,2-6,6-2,retired[f] |
| 1910 | Anthony Wilding (NZL) | Arthur Gore (BRI) | 6-4,7-5,4-6,6-2 |
| 1909 | Arthur Gore (BRI) | Josiah Ritchie (BRI) | 6-8,1-6,6-2,6-2,6-2 |
| 1908 | Arthur Gore (BRI) | Herbert Barrett (BRI) | 6-3,6-2,4-6,3-6,6-4 |
| 1907 | Norman Brookes (AUS) | Arthur Gore (BRI) | 6-4,6-2,6-2 |
| 1906 | Lawrence Doherty (BRI) | Frank Riseley (BRI) | 6-4,4-6,6-2,6-3 |
| 1905 | Lawrence Doherty (BRI) | Norman Brookes (AUS) | 8-6,6-2,6-4 |
| 1904 | Lawrence Doherty (BRI) | Frank Riseley (BRI) | 6-1,7-5,8-6 |
| 1903 | Lawrence Doherty (BRI) | Frank Riseley (BRI) | 7-5,6-3,6-0 |
| 1902 | Lawrence Doherty (BRI) | Arthur Gore (BRI) | 6-4,6-3,3-6,6-0 |
| 1901 | Arthur Gore (BRI) | Reginald Doherty (BRI) | 4-6,7-5,6-4,6-4 |
| 1900 | Reginald Doherty (BRI) | Sydney Smith (BRI) | 6-8,6-3,6-1,6-2 |
| 1899 | Reginald Doherty (BRI) | Arthur Gore (BRI) | 1-6,4-6,6-3,6-3,6-3 |
| 1898 | Reginald Doherty (BRI) | Lawrence Doherty (BRI) | 6-3,6-3,2-6,5-7,6-1 |
| 1897 | Reginald Doherty (BRI) | Harold Mahony (BRI) | 6-4,6-4,6-3 |
| 1896 | Harold Mahony (BRI) | Wilfred Baddeley (BRI) | 6-2,6-8,5-7,8-6,6-3 |
| 1895 | Wilfred Baddeley (BRI) | Wilberforce Eaves (BRI) | 4-6,2-6,8-6,6-2,6-3 |
| 1894 | Joshua Pim (BRI) | Wilfred Baddeley (BRI) | 10-8,6-2,8-6 |
| 1893 | Joshua Pim (BRI) | Wilfred Baddeley (BRI) | 3-6,6-1,6-3,6-2 |
| 1892 | Wilfred Baddeley (BRI) | Joshua Pim (BRI) | 4-6,6-3,6-3,6-2 |
| 1891 | Wilfred Baddeley (BRI) | Joshua Pim (BRI) | 6-4,1-6,7-5,6-0 |
| 1890 | Willoughby Hamilton (BRI) | William Renshaw (BRI) | 6-8,6-2,3-6,6-1,6-1 |
| 1889 | William Renshaw (BRI) | Ernest Renshaw (BRI) | 6-4,6-1,3-6,6-0 |
| 1888 | Ernest Renshaw (BRI) | Herbert Lawford (BRI) | 6-3,7-5,6-0 |
| 1887 | Herbert Lawford (BRI) | Ernest Renshaw (BRI) | 1-6,6-3,3-6,6-4,6-4 |
| 1886 | William Renshaw (BRI) | Herbert Lawford (BRI) | 6-0,5-7,6-3,6-4 |
| 1885 | William Renshaw (BRI) | Herbert Lawford (BRI) | 7-5,6-2,4-6,7-5 |
| 1884 | William Renshaw (BRI) | Herbert Lawford (BRI) | 6-0,6-4,9-7 |
| 1883 | William Renshaw (BRI) | Ernest Renshaw (BRI) | 2-6,6-3,6-3,4-6,6-3 |
| 1882 | William Renshaw (BRI) | Ernest Renshaw (BRI) | 6-1,2-6,4-6,6-2,6-2 |
| 1881 | William Renshaw (BRI) | John Hartley (BRI) | 6-0,6-1,6-1 |
| 1880 | John Hartley (BRI) | Herbert Lawford (BRI) | 6-3,6-2,2-6,6-3 |
| 1879 | John Hartley (BRI) | Vere St. Leger Goold (BRI) | 6-2,6-4,6-2 |
| 1878 | Frank Hadow (BRI) | Spencer Gore (BRI) | 7-5,6-1,9-7 |
| 1877 | Spencer Gore (BRI) | William Marshall (BRI) | 6-1,6-2,6-4 |