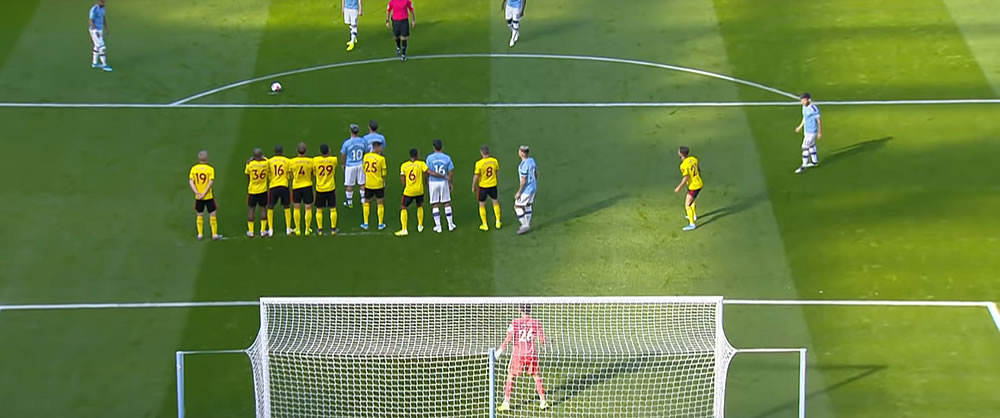 See a complete list of teams that have won the FA Cup. Manchester City defeated Watford in the 2018/19 FA Cup final. This was their sixth FA Cup title.
Fast Facts:
FA Cup aka Football Association Challenge Cup.
The competition is played in a knockout format that is comprised of English football teams.
The tournament is open to all clubs in the top ten levels of the English football league system.
The finals for the cup is usually played in May after the regular league season.
Arsenal has the most FA Cup wins with 3 titles.
Winners of the FA Cup:
| | | | |
| --- | --- | --- | --- |
| Season | Winner | Score | Runners-up |
| 2018-19 | Manchester City | 1:0 | Watford |
| 2017-18 | Chelsea | 6:0 | Manchester United |
| 2016-17 | Arsenal | 2:1 | Chelsea |
| 2014-15 | Manchester United | 2:1 | Crystal Palace |
| 2013-14 | Arsenal | 4:0 | Aston Villa |
| 2012-13 | Wigan Athletic | 2:0 | Manchester City |
| 2011-12 | Chelsea | 2:0 | Liverpool |
| 2010-11 | Manchester City | 1:1 | Stoke City |
| 2009-10 | Chelsea | 2:0 | Portsmouth |
| 2008-09 | Chelsea | 1:1 | Everton |
| 2007-08 | Portsmouth | 3:0 | Cardiff City |
| 2006-07 | Chelsea | 2:1 | Manchester United |
| 2005-06 | Liverpool | 3:1 | West Ham United |
| 2004-05 | Arsenal | 1:0 | Manchester United |
| 2003-04 | Manchester United | 1:0 | Millwall |
| 2002-03 | Arsenal | 3:0 | Southampton |
| 2001-02 | Arsenal | 1:0 | Chelsea |
| 2000-01 | Liverpool | 2:1 | Arsenal |
| 1999-2000 | Chelsea | 2:1 | Aston Villa |
| 1998-99 | Manchester United | 2:0 | Newcastle United |
| 1997-98 | Arsenal | 0:0 | Newcastle United |
| 1996-97 | Chelsea | 2:0 | Middlesbrough |
| 1995-96 | Manchester United | 2:0 | Liverpool |
| 1994-95 | Everton | 2:1 | Manchester United |
| 1993-94 | Manchester United | 3:0 | Chelsea |
| 1992-93 | Arsenal | 6:1 | Sheffield Wednesday |
| 1992-93 | Arsenal | 3:1 | Sheffield Wednesday |
| 1991-92 | Liverpool | 3:0 | Sunderland |
| 1990-91 | Tottenham Hotspur | 1:0 | Nottingham Forest |
| 1989-90 | Manchester United | 4:1 | Crystal Palace |
| 1989-90 | Manchester United | 1:0 | Crystal Palace |
| 1988-89 | Liverpool | 2:1 | Everton |
| 1987-88 | Wimbledon | 3:2 | Liverpool |
| 1986-87 | Coventry City | 3:1 | Tottenham Hotspur |
| 1985-86 | Liverpool | 4:1 | Everton |
| 1984-85 | Manchester United | 4:0 | Everton |
| 1983-84 | Everton | 2:2 | Watford |
| 1982-83 | Manchester United | 3:1 | Brighton & Hove Albion |
| 1982-83 | Manchester United | 1:1 | Brighton & Hove Albion |
| 1981-82 | Tottenham Hotspur | 2:1 | Queens Park Rangers |
| 1981-82 | Tottenham Hotspur | 6:0 | Queens Park Rangers |
| 1980-81 | Tottenham Hotspur | 1:0 | Manchester City |
| 1980-81 | Tottenham Hotspur | 2:0 | Manchester City |
| 1979-80 | West Ham United | 1:0 | Arsenal |
| 1978-79 | Arsenal | 2:1 | Manchester United |
| 1977-78 | Ipswich Town | 3:1 | Arsenal |
| 1976-77 | Manchester United | 1:0 | Liverpool |
| 1975-76 | Southampton | 1:1 | Manchester United |
| 1974-75 | West Ham United | 2:0 | Fulham |
| 1973-74 | Liverpool | 0:0 | Newcastle United |
| 1972-73 | Sunderland | 1:0 | Leeds United |
| 1971-72 | Leeds United | 0:0 | Arsenal |
| 1970-71 | Arsenal | 1:0 | Liverpool |
| 1969-70 | Chelsea | 1:0 | Leeds United |
| 1969-70 | Chelsea | 1:0 | Leeds United |
| 1968-69 | Manchester City | 3:0 | Leicester City |
| 1967-68 | West Bromwich Albion | 1:0 | Everton |
| 1966-67 | Tottenham Hotspur | 1:0 | Chelsea |
| 1965-66 | Everton | 1:0 | Sheffield Wednesday |
| 1964-65 | Liverpool | 2:0 | Leeds United |
| 1963-64 | West Ham United | 2:0 | Preston North End |
| 1962-63 | Manchester United | 1:0 | Leicester City |
| 1961-62 | Tottenham Hotspur | 1:0 | Burnley |
| 1960-61 | Tottenham Hotspur | 1:0 | Leicester City |
| 1959-60 | Wolverhampton Wanderers | 3:1 | Blackburn Rovers |
| 1958-59 | Nottingham Forest | 2:0 | Luton Town |
| 1957-58 | Bolton Wanderers | 2:0 | Manchester United |
| 1956-57 | Aston Villa | 2:1 | Manchester United |
| 1955-56 | Manchester City | 2:1 | Birmingham City |
| 1954-55 | Newcastle United | 3:0 | Manchester City |
| 1953-54 | West Bromwich Albion | 2:1 | Preston North End |
| 1952-53 | Blackpool | 4:2 | Bolton Wanderers |
| 1951-52 | Newcastle United | 1:0 | Arsenal |
| 1950-51 | Newcastle United | 3:1 | Blackpool |
| 1949-50 | Arsenal | 1:0 | Liverpool |
| 1948-49 | Wolverhampton Wanderers | 4:1 | Leicester City |
| 1947-48 | Manchester United | 4:1 | Blackpool |
| 1946-47 | Charlton Athletic | 1:0 | Burnley |
| 1945-46 | Derby County | 4:2 | Charlton Athletic |
| 1938-39 | Portsmouth | 3:1 | Wolverhampton Wanderers |
| 1937-38 | Preston North End | 2:0 | Huddersfield Town |
| 1936-37 | Sunderland | 2:0 | Preston North End |
| 1935-36 | Arsenal | 1:0 | Sheffield United |
| 1934-35 | Sheffield Wednesday | 4:3 | West Bromwich Albion |
| 1933-34 | Manchester City | 3:2 | Portsmouth |
| 1932-33 | Everton | 3:1 | Manchester City |
| 1931-32 | Newcastle United | 3:1 | Arsenal |
| 1930-31 | West Bromwich Albion | 2:1 | Birmingham |
| 1929-30 | Arsenal | 2:0 | Huddersfield Town |
| 1928-29 | Bolton Wanderers | 2:1 | Portsmouth |
| 1927-28 | Blackburn Rovers | 3:0 | Huddersfield Town |
| 1926-27 | Cardiff City | 2:0 | Arsenal |
| 1925-26 | Bolton Wanderers | 3:1 | Manchester City |
| 1924-25 | Sheffield United | 3:1 | Cardiff City |
| 1923-24 | Newcastle United | 3:2 | Aston Villa |
| 1922-23 | Bolton Wanderers | 2:1 | West Ham United |
| 1921-22 | Huddersfield Town | 3:2 | Preston North End |
| 1920-21 | Tottenham Hotspur | 2:1 | Wolverhampton Wanderers |
| 1919-20 | Aston Villa | 1:0 | Huddersfield Town |
| 1914-15 | Sheffield United | 1:0 | Chelsea |
| 1913-14 | Burnley | 2:2 | Liverpool |
| 1912-13 | Aston Villa | 2:1 | Sunderland |
| 1911-12 | Barnsley | 2:1 | West Bromwich Albion |
| 1911-12 | Barnsley | 1:0 | West Bromwich Albion |
| 1910-11 | Bradford City | 1:0 | Newcastle United |
| 1910-11 | Bradford City | 3:0 | Newcastle United |
| 1909-10 | Newcastle United | 2:0 | Barnsley |
| 1909-10 | Newcastle United | 1:0 | Barnsley |
| 1908-09 | Manchester United | 2:1 | Bristol City |
| 1907-08 | Wolverhampton Wanderers | 1:0 | Newcastle United |
| 1906-07 | The Wednesday | 3:2 | Everton |
| 1905-06 | Everton | 1:0 | Newcastle United |
| 1904-05 | Aston Villa | 1:1 | Newcastle United |
| 1903-04 | Manchester City | 3:2 | Bolton Wanderers |
| 1902-03 | Bury | 1:1 | Derby County |
| 1901-02 | Sheffield United | 1:0 | Southampton |
| 1901-02 | Sheffield United | 2:2 | Southampton |
| 1900-01 | Tottenham Hotspur | 4:0 | Sheffield United |
| 1900-01 | Tottenham Hotspur | 2:0 | Sheffield United |
| 1899-1900 | Bury | 1:0 | Southampton |
| 1898-99 | Sheffield United | 3:1 | Derby County |
| 1897-98 | Nottingham Forest | 3:2 | Derby County |
| 1896-97 | Aston Villa | 1:0 | Everton |
| 1895-96 | The Wednesday | 3:2 | Wolverhampton Wanderers |
| 1894-95 | Aston Villa | 3:3 | West Bromwich Albion |
| 1893-94 | Notts County | 1:0 | Bolton Wanderers |
| 1892-93 | Wolverhampton Wanderers | 2:1 | Everton |
| 1891-92 | West Bromwich Albion | 2:0 | Aston Villa |
| 1890-91 | Blackburn Rovers | 1:1 | Notts County |
| 1889-90 | Blackburn Rovers | 2:1 | The Wednesday |
| 1888-89 | Preston North End | 4:0 | Wolverhampton Wanderers |
| 1887-88 | West Bromwich Albion | 1:0 | Preston North End |
| 1886-87 | Aston Villa | 1:0 | West Bromwich Albion |
| 1885-86 | Blackburn Rovers | 2:0 | West Bromwich Albion |
| 1885-86 | Blackburn Rovers | 2:0 | West Bromwich Albion |
| 1884-85 | Blackburn Rovers | 2:0 | Queen's Park |
| 1883-84 | Blackburn Rovers | 1:0 | Queen's Park |
| 1882-83 | Blackburn Olympic | 2:1 | Old Etonians |
| 1881-82 | Old Etonians | 2:0 | Blackburn Rovers |
| 1880-81 | Old Carthusians | 1:0 | Old Etonians |
| 1879-80 | Clapham Rovers | 3:0 | Oxford University |
| 1878-79 | Old Etonians | 0:0 | Clapham Rovers |
| 1877-78 | Wanderers | 3:3 | Royal Engineers |
| 1876-77 | Wanderers | 1:0 | Oxford University |
| 1875-76 | Wanderers | 1:0 | Old Etonians |
| 1875-76 | Wanderers | 2:1 | Old Etonians |
| 1874-75 | Royal Engineers | 1:0 | Old Etonians |
| 1874-75 | Royal Engineers | 1:0 | Old Etonians |
| 1873-74 | Oxford University | 2:1 | Royal Engineers |
| 1872-73 | Wanderers | 1:0 | Oxford University |
| 1871-72 | Wanderers | 3:2 | Royal Engineers |