Bobsleigh
FIBT Bobsleigh World Cup – Two-Women Champions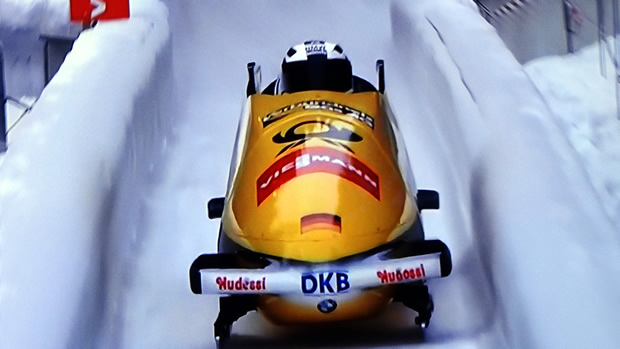 See a complete list of Bobsleigh World Cup Two-Woman Champions. The 2018-19 season Two-Woman Bobsled Champion is Mariama Jamanka of Germany. This was her first World Cup title.
Fast Facts:
Fédération internationale de bobsleigh et de tobogganing (FIBT).
The first Bobsleigh World Cup two-woman event took place in 1994-95 season.
Germany has dominated World Cup competitions with the most medals.
FIBT Bobsleigh World Cup – Two-Woman Champions
Season
Winner
Runner up
Third
2018–19
Mariama Jamanka (GER)
Elana Meyers Taylor (USA)
Stephanie Schneider (GER)
2017–18
Kaillie Humphries (CAN)
Elana Meyers Taylor (USA)
Mariama Jamanka (GER)
2016–17
Jamie Greubel Poser (USA)
Kaillie Humphries (CAN)
Elana Meyers Taylor (USA)
2015–16
Kaillie Humphries (CAN)
Jamie Greubel Poser (USA)
Christina Hengster (AUS)
2014–15
Elana Meyers (USA)
Kaillie Humphries (CAN)
Jazmine Fenlator (USA)
2013–14
Kaillie Humphries (CAN)
Elana Meyers (USA)
Jamie Greubel (USA)
2012–13
Kaillie Humphries (CAN)
Sandra Kiriasis (GER)
Cathleen Martini (GER)
2011–12
Cathleen Martini (GER)
Anja Schneiderheinze (GER)
Sandra Kiriasis (GER)
2010–11
Sandra Kiriasis (GER)
Cathleen Martini (GER)
Kaillie Humphries (CAN)
2009-10
Sandra Kiriasis (GER)
Kaillie Humphries (CAN)
Cathleen Martini (GER)
2008-09
Sandra Kiriasis (GER)
Cathleen Martini (GER)
Nicole Minichiello (GBR)
2007-08
Sandra Kiriasis (GER)
Cathleen Martini (GER)
Helen Upperton (CAN)
2006-07
Sandra Kiriasis (GER)
Shauna Rohbock (USA)
Cathleen Martini (GER)
2005-06
Sandra Kiriasis (GER)
Helen Upperton (CAN)
Shauna Rohbock (USA)
2004-05
Sandra Prokoff-Kiriasis (GER)
Cathleen Martini (GER)
Susi Erdmann (GER)
2003-04
Sandra Prokoff (GER)
Jean Racine (USA)
Susi Erdmann (GER) \
Gerda Weissensteiner (ITA)
2002-03
Susi Erdmann (GER)
Sandra Prokoff (GER)
Gerda Weissensteiner Italy
2001-02
Susi Erdmann (GER)
Sandra Prokoff (GER)
Jean Racine (USA)
2000-01
Jean Racine (USA)
Sandra Prokoff (GER)
Bonny Warner (USA)
1999-2000
Jean Racine (USA)
Jill Bakken (USA)
Françoise Burdet (SUI)
1998-99
Françoise Burdet (SUI)
Jean Racine (USA)
Michelle Coy (GBR)
1997-98
Françoise Burdet (SUI)
1996-97
Françoise Burdet (SUI)
1995-96
Françoise Burdet (SUI)
1994-95
Claudia Bühlmann (SUI)