In The News
Joanna Jedrzejczyk Is Exactly What The UFC Needs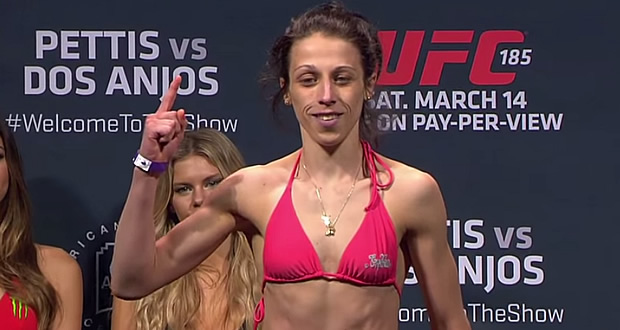 Polish MMA fighter Joanna Jedrzejczyk is the current champion of the relatively new UFC Women's Strawweight division. Despite being the underdog at UFC 185 where she fought for the belt against then-champion Carla Esparza, Jedrzejczyk dominated the fight on her feet and finished it via third-round, TKO to earn the title.
Although she's only had three fights in the UFC thus far, Jedrzejczyk has proven herself to be a unique and exciting component to not just the strawweight division, but women's MMA overall. Her personality and fighting style set her apart which is a great thing for the fans and UFC. It's still early in her career, but Jedrzejczyk has already managed to create a buzz and gain a solid fan base.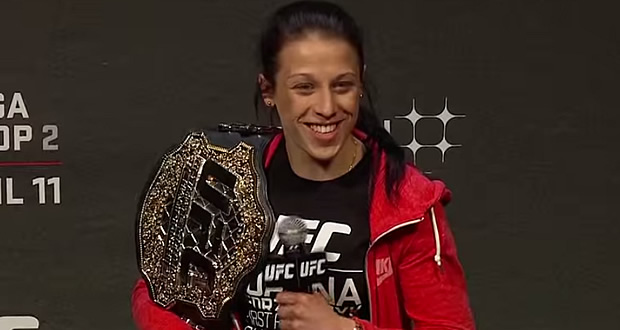 A large part of Jedrzejczyk's appeal is her personality. MMA fans from all over the world are interested in what she has to say and have been from the beginning. She has confidence and a braggadocious style that makes you want to find out more about this 5'6 fighter from Olsztyn, Poland.
She has a deep self-belief in herself and what she brings to the fight game. Her original trademark stare down is truly one of a kind. When Jedrzejczyk faces off against her opponent and dares them to look into her eye's, it's easy to see why you would either fear her or be totally amused by her peculiar style of intimidation.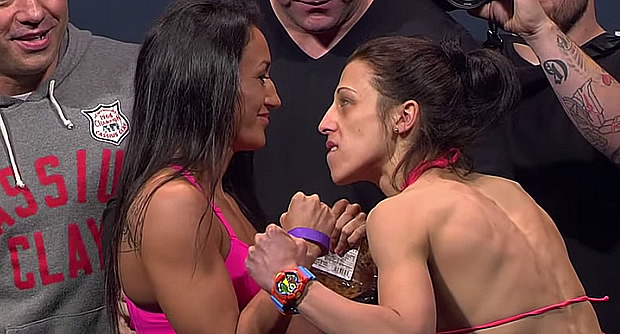 There's a growing interest of MMA in Poland and Jedrzejczyk is in good company with fighters that have already experienced notoriety. UFC and Bellator fighters Jan Błachowicz and Marcin Held respectively, are currently bringing attention to the Polish MMA scene due to their solid fight records and win's over top competition in their organizations. At the recent UFC Fight Night: Gonzaga vs Cro Cop 2 in Krakow, 10,000 fans were in attendance. Retired fighter, "The Polish Experiment" Krzysztof Soszynski had fought nine times in the UFC and was an Ultimate Fighting Championship veteran whose exciting style and impressive "Submission of the Night" win over Brian Stann will be remembered among fight fans. Another strong fighter from Poland was former UFC featherweight Bart Palaszewski who holds notable wins over Anthony Pettis, Tyson Griffin, and Ivan Menjivar.
Jedrzejczyk represents her country well and is the first female UFC champion that has come out of Europe. Even with this new found notoriety, Jedrzejczyk has stated that she is willing to work hard to remain the champion for a long time. Sharing the spotlight with Women's MMA superstar Ronda Rousey is not something she minds but, Jedrzejczyk has her own audience and it won't be long before everyone will know how to pronounce her name, (y-eh-n-J-AI-j-ih-k).
One of the main reasons Jedrzejczyk has developed such a following and become an important part of Women's MMA is because of how exciting she is to watch in the cage. Coming from a background in Muay Thai which she competed in for a decade before switching to MMA, Jedrzejczyk utilize's this striking-based style in the Octagon. Her skilled level of combat has led to several finishes in her undefeated MMA career which is great for her record and exciting for the fans.
In contrast to UFC bantamweight Champion Ronda Rousey's fight style, Jedrzejczyk keeps her fights on the feet where Rousey, uses her judo background and ability to control her opponent on the ground. While both fighters possess different techniques, they manage to get the job done in the cage which is evident in their fight records that do not include any defeats.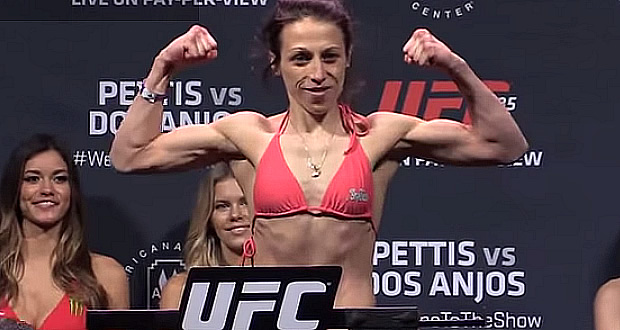 Although many high-level strikers exist in the UFC, few have the ability to defend takedowns at a championship level in order to utilize that striking. As was clear in her title-clenching UFC 185 fight against Carla Esparza, Jedrzejczyk has the ability to not only hang with the best wrestlers in the division, but also halt their takedown and ground game-based offense. This well-versed ground game defense is what propelled Jedrzejczyk from an elite striker to an impressive champion, it will continue to serve her well in the future.
The MMA community is going to get a lot of answers about Jedrzejczyk when she puts her belt on the line against Jessica Penne on June 20th at UFC Fight Night 69. Jessica Penne is a powerful strawweight and is coming off of a "Fight of the Night" victory over the talented Randa Markos. She is certainly a solid opponent and title challenger. The odds have Jedrzejczyk as the heavy favorite, but the match-up is much closer on paper then they indicate.
How well Jedrzejczyk performs in this fight will not only determine whether or not she keeps the belt, but also the direction of her entire career moving forward. All of the attention from the fans and media is on her for this fight. The pressure on Jedrzejczyk is new and only time will tell how well she'll be able to handle it.
For however long Jedrzejczyk maintains the belt, one can be certain that she'll continue to be a staple of the Strawweight division, as well as Women's MMA for many years to come.