NCAA
NCAA Men's Ice Hockey D1 Champions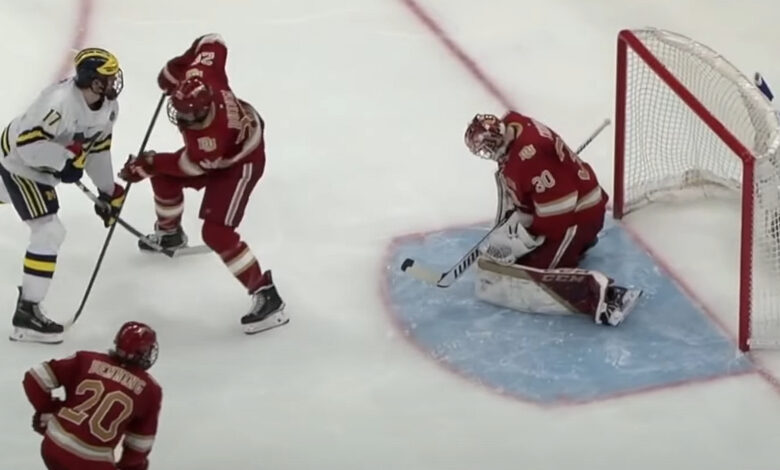 See a complete list of NCAA Men's Ice Hockey Division 1 Champions. The winner of the 2022 national title was Denver. This was their 9th championship title.

Fast Facts:
Michigan and Denver have won the NCAA Men's Ice Hockey D1 championships 9 times.
In 1999 The hockey championships final and semi-final games took on the name "Frozen Four".
NCAA Men's Ice Hockey Champions:
| | | | | |
| --- | --- | --- | --- | --- |
| Year | Champion | Score | Runner-up | Location |
| 2022 | Denver | 5-1 | Minnesota State | Boston, MA |
| 2021 | Massachusetts | 5-0 | St. Cloud State | Pittsburgh, PA |
| 2020 | CANCELED | | | |
| 2019 | Minnesota–Duluth | 3-0 | Massachusetts | Buffalo, NY |
| 2018 | Minnesota–Duluth | 2-1 | Notre Dame | Saint Paul, MN |
| 2017 | Denver Pioneers | 3-2 | Minnesota Duluth | Chicago, IL |
| 2016 | North Dakota | 5-1 | Quinnipiac | Tampa, FL. |
| 2015 | Providence College. | 4-3 | Boston College | Boston, M.S. |
| 2014 | Union (N.Y.) | 7-4 | Minnesota | Philadelphia, P.A. |
| 2013 | Yale | 4-0 | Quinnipiac | Pittsburgh, P.A. |
| 2012 | Boston College | 4-1 | Ferris State | Tampa, Fla. |
| 2011 | Minnesota Duluth | 3-2 (OT) | Michigan | St. Paul, Minn. |
| 2010 | Boston College | 5-0 | Wisconsin | Detroit |
| 2009 | Boston University | 4-3 (OT) | Miami (Ohio) | Washington D.C. |
| 2008 | Boston College | 4-1 | Notre Dame | Denver |
| 2007 | Michigan State | 3-1 | Boston College | St. Louis |
| 2006 | Wisconsin | 2-1 | Boston College | Milwaukee |
| 2005 | Denver | 4-1 | North Dakota | Columbus, Ohio |
| 2004 | Denver | 1-0 | Maine | Boston |
| 2003 | Minnesota | 5-1 | New Hampshire | Buffalo, N.Y. |
| 2002 | Minnesota | 4-3 (OT) | Maine | St. Paul, Minn. |
| 2001 | Boston College | 3-2 (OT) | North Dakota | Albany, N.Y. |
| 2000 | North Dakota | 4-2 | Boston College | Providence, R.I. |
| 1999 | Maine | 3-2 (OT) | New Hampshire | Anaheim, Calif. |
| 1998 | Michigan | 3-2 (OT) | Boston College | Boston |
| 1997 | North Dakota | 6-4 | Boston University | Milwaukee |
| 1996 | Michigan | 3-2 (OT) | Colorado College | Cincinnati |
| 1995 | Boston University | 6-2 | Maine | Providence, R.I. |
| 1994 | Lake Superior State | 9-1 | Boston University | St. Paul, Minn. |
| 1993 | Maine | 5-4 | Lake Superior State | Milwaukee |
| 1992 | Lake Superior State | 5-3 | #Wisconsin | Albany, N.Y. |
| 1991 | Northern Michigan | 8-7 (OT) | Boston University | St. Paul, Minn. |
| 1990 | Wisconsin | 7-3 | Colgate | Detroit |
| 1989 | Harvard | 4-3 (OT) | Minnesota | St. Paul, Minn. |
| 1988 | Lake Superior State | 4-3 (OT) | St. Lawrence | Lake Placid, N.Y. |
| 1987 | North Dakota | 5-3 | Michigan State | Detroit |
| 1986 | Michigan State | 6-5 | Harvard | Providence, R.I. |
| 1985 | Rensselaer | 2-1 | Providence | Detroit |
| 1984 | Bowling Green | 5-4 (OT) | Minnesota Duluth | Lake Placid, N.Y. |
| 1983 | Wisconsin | 6-2 | Harvard | Grand Forks, N.D. |
| 1982 | North Dakota | 5-2 | Wisconsin | Providence, R.I. |
| 1981 | Wisconsin | 6-3 | Minnesota | Duluth, Minnesota |
| 1980 | North Dakota | 5-2 | Northern Michigan | Providence, R.I. |
| 1979 | Minnesota | 4-3 | North Dakota | Detroit |
| 1978 | Boston University | 5-3 | Boston College | Providence, R.I. |
| 1977 | Wisconsin | 6-5 (OT) | Michigan | Detroit |
| 1976 | Minnesota | 6-4 | Michigan Tech | Denver |
| 1975 | Michigan Tech | 6-1 | Minnesota | St. Louis |
| 1974 | Minnesota | 4-2 | Michigan Tech | Boston |
| 1973 | Wisconsin | 4-2 | #Denver | Boston |
| 1972 | Boston University | 4-0 | Cornell | Boston |
| 1971 | Boston University | 4-2 | Minnesota | Syracuse, N.Y. |
| 1970 | Cornell | 6-4 | Clarkson | Lake Placid, N.Y. |
| 1969 | Denver | 4-3 | Cornell | Colorado Spring, Colo. |
| 1968 | Denver | 4-0 | North Dakota | Duluth, Minnesota |
| 1967 | Cornell | 4-1 | Boston University | Syracuse, N.Y. |
| 1966 | Michigan State | 6-1 | Clarkson | Minneapolis |
| 1965 | Michigan Tech | 8-2 | Boston College | Providence, R.I. |
| 1964 | Michigan | 6-3 | Denver | Denver |
| 1963 | North Dakota | 6-5 | Denver | Boston |
| 1962 | Michigan Tech | 7-1 | Clarkson | Utica, N.Y. |
| 1961 | Denver | 12-2 | St. Lawrence | Denver |
| 1960 | Denver | 5-3 | Michigan Tech | Boston |
| 1959 | North Dakota | 4-3 (OT) | Michigan State | Troy, N.Y. |
| 1958 | Denver | 6-2 | North Dakota | Minneapolis |
| 1957 | Colorado College | 13-6 | Michigan | Colorado Spring, Colo. |
| 1956 | Michigan | 7-5 | Michigan Tech | Colorado Spring, Colo. |
| 1955 | Michigan | 5-3 | Colorado College | Colorado Spring, Colo. |
| 1954 | Rensselaer | 5-4 (OT) | Minnesota | Colorado Spring, Colo. |
| 1953 | Michigan | 7-3 | Minnesota | Colorado Spring, Colo. |
| 1952 | Michigan | 4-1 | Colorado College | Colorado Spring, Colo. |
| 1951 | Michigan | 7-1 | Brown | Colorado Spring, Colo. |
| 1950 | Colorado College | 13-4 | Boston University | Colorado Spring, Colo. |
| 1949 | Boston College | 4-3 | Dartmouth | Colorado Spring, Colo. |
| 1948 | Michigan | 8-4 | Dartmouth | Colorado Spring, Colo. |