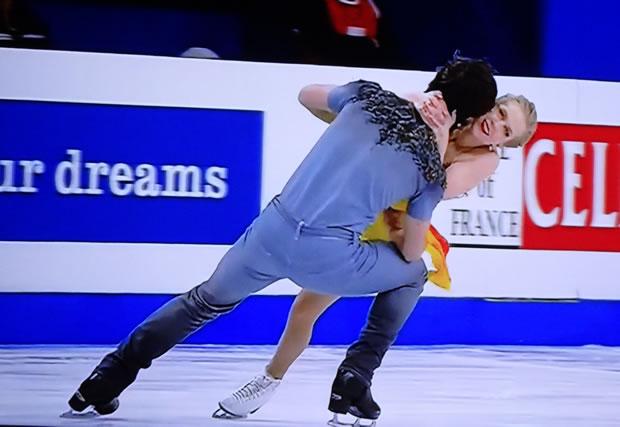 See a complete list of Four Continents Figure Skating Ice Dancing Champions. The 2020 Ice Dancing Champions is the US team of Madison Chock and Evan Bates. This was their second championship title. The event was canceled in 2021 due to the COVID-19 pandemic.
Fast Facts:
The 2021 Four Continents Figure Skating Championships will take place in Sydney.
The Four Continents competition was established in 1999 for all non European countries. The continents that participate are Africa, the Americas, Asia and Oceania.
Canada, China, Japan, and the United States have dominated the competition.
Four Continents Figure Skating Ice Dancing Champions
Year
Location
Gold
Silver
Bronze
2021
Event canceled
due to the
COVID-19 pandemic
2020
Seoul
Madison Chock / Evan Bates (USA)
Piper Gilles / Paul Poirier (CAN)
Madison Hubbell / Zachary Donohue (USA)
2019
Anaheim
Madison Chock / Evan Bates (USA)
Kaitlyn Weaver / Andrew Poje (CAN)
Piper Gilles / Paul Poirier (CAN)
2018
Taipei
Kaitlin Hawayek / Jean-Luc Baker(USA)
Carolane Soucisse / Shane Firus (CAN)
Kana Muramoto / Chris Reed (JPN)
2017
Gangneung
Tessa Virtue/Scott Moir (CAN)
Maia Shibutani/Alex Shibutani (USA)
Madison Chock/Evan Bates (USA)
2016
Taipei
Maia Shibutani/Alex Shibutani (USA)
Madison Chock/Evan Bates (USA)
Kaitlyn Weaver/Andrew Poje (CAN)
2015
Seoul
Kaitlyn Weaver/Andrew Poje (CAN)
Madison Chock/Evan Bates (USA)
Maia Shibutani/Alex Shibutani (USA)
2014
Taipei
Madison Hubbell/Zachary Donohue (USA)
Piper Gilles/Paul Poirier (CAN)
Alexandra Aldridge/Daniel Eaton (USA)
2013
Osaka
Meryl Davis/Charlie White (USA)
Tessa Virtue/Scott Moir (CAN)
Madison Chock/Evan Bates (USA)
2012
Colorado Springs
Tessa Virtue/Scott Moir (CAN)
Meryl Davis/Charlie White (USA)
Kaitlyn Weaver/Andrew Poje (CAN)
2011
Taipei
Meryl Davis/Charlie White (USA)
Maia Shibutani/Alex Shibutani (USA)
Vanessa Crone/Paul Poirier (CAN)
2010
Jeonju
Kaitlyn Weaver/Andrew Poje (CAN)
Allie Hann-McCurdy/Michael Coreno (USA)
Madison Hubbell/Keiffer Hubbell (USA)
2009
Vancouver
Meryl Davis/Charlie White (USA)
Tessa Virtue/Scott Moir (CAN)
Emily Samuelson/Evan Bates (USA)
2008
Goyang
Tessa Virtue/Scott Moir (CAN)
Meryl Davis/Charlie White (USA)
Kimberly Navarro/Brent Bommentre (USA)
2007
Colorado Springs
Marie-France Dubreuil/Patrice Lauzon (CAN)
Tanith Belbin/Benjamin Agosto (USA)
Tessa Virtue/Scott Moir (CAN)
2006
Colorado Springs
Tanith Belbin/Benjamin Agosto (USA)
Morgan Matthews/Maxim Zavozin (USA)
Tessa Virtue/Scott Moir (CAN)
2005
Gangneung
Tanith Belbin/Benjamin Agosto (USA)
Melissa Gregory/Denis Petukhov (USA)
Lydia Manon/Ryan O'Meara (USA)
2004
Hamilton
Tanith Belbin/Benjamin Agosto (USA)
Marie-France Dubreuil/Patrice Lauzon (CAN)
Megan Wing/Aaron Lowe (CAN)
2003
Beijing
Shae-Lynn Bourne/Victor Kraatz (CAN)
Tanith Belbin/Benjamin Agosto (USA)
Naomi Lang/Peter Tchernyshev (USA)
2002
Jeonju
Naomi Lang/Peter Tchernyshev (USA)
Tanith Belbin/Benjamin Agosto (USA)
Megan Wing/Aaron Lowe (CAN)
2001
Salt Lake City
Shae-Lynn Bourne/Victor Kraatz (CAN)
Naomi Lang/Peter Tchernyshev (USA)
Marie-France Dubreuil/Patrice Lauzon (CAN)
2000
Osaka
Naomi Lang/Peter Tchernyshev (USA)
Marie-France Dubreuil/Patrice Lauzon (CAN)
Jamie Silverstein/Justin Pekarek (USA)
1999
Halifax
Shae-Lynn Bourne/Victor Kraatz (CAN)
Chantal Lefebvre/Michel Brunet (CAN)
Naomi Lang/Peter Tchernyshev (USA)